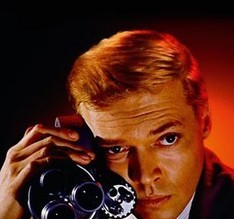 Podcast (twitchofthedeathnerve): Play in new window | Download
Subscribe: Apple Podcasts | RSS
Last year, Twitch of the Death Nerve had a great time covering Exhumed Films 24-hour Horrorthon, the best annual Philadelphia-area event. So here we are again, tired but still alive after a weekend of 15 movies (and trailers and cartoons) across about 26 hours. October 22nd was the 15th Horrorthon and a celebration of 25 years of Exhumed Films — basically Christmas for the cult cinema obsessed. People come from all over the country to attend and it's almost always a sold-out event.
Charles and Samm were joined by lovely friend Josh Christensen, a Philly actor and fellow movie nerd. He somehow agreed to record with us Sunday night, despite extreme sleep deprivation. We talk about everything from '80s vampire movies to '60s psychosexual thrillers, dream-sploitation, newer creature features, perverse Pre-Code terror, and much more.
Can you believe this weekend we are doing another 24-hour marathon at home?
Thanks as always for supporting the show. Pretty please rate, review, and share! You can also find us on Apple and Spotify and please follow us on Instagram.
Check out Essex Coffee Roasters (enter code CINEPUNX for 10% off).