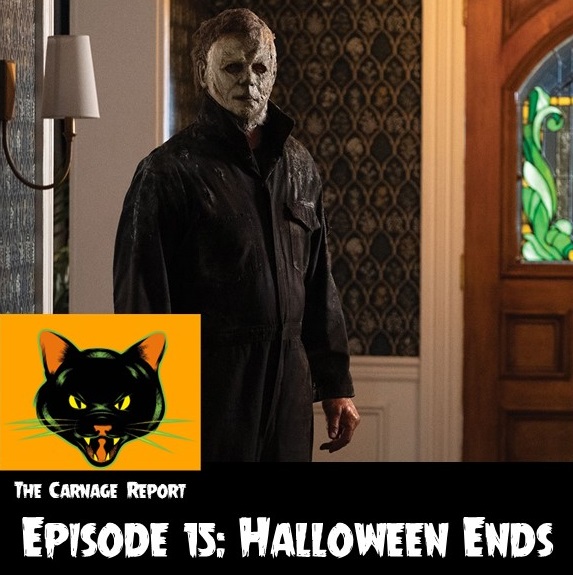 Podcast (carnagereport): Play in new window | Download
Subscribe: RSS
Hello and welcome to The Carnage Report, where we bring you the latest on all things horror-related, keeping you up to date with news you can use. Hosted by Julie Holland and Nick Spacek, this part of the Cinepunx family looks to fill a hole in your podcast feed by looking at new releases in the theaters, on-demand, and streaming, and featuring an in-depth discussion of a new release each episode.
On this episode of the podcast, Julie and Nick discuss director David Gordon Green's trilogy-concluding Halloween Ends, out now in theaters and on Peacock. In addition to what we think about the film, we recommend other odd franchise installments you might enjoy, along with news about the future of the Hellhouse LLC franchise and a Kickstarter for a Scored to Death documentary from J. Blake Fichera, plus trailers galore for M3GAN, Wednesday, Something in the Dirt, and more.
We also debut a new interview segment, "The Gate," where we ask horror creatives what first hooked them into the genre. For the first installment, we spoke with director Eric Swelstad and star Nick Baldasare of Heartland of Darkness, a lost horror film from 1989 which releases on November 8 from reissue label Visual Vengeance.
Music by Steve Spacek, who you can find on Instagram @starlingwoodworks and on Bandcamp.
You can follow The Carnage Report on Instagram @ReportCarnage, as well as on Twitter @ReportCarnage. Shoot us an email to carnagereportpod at gmail dot com to share your thoughts on the show, as well.