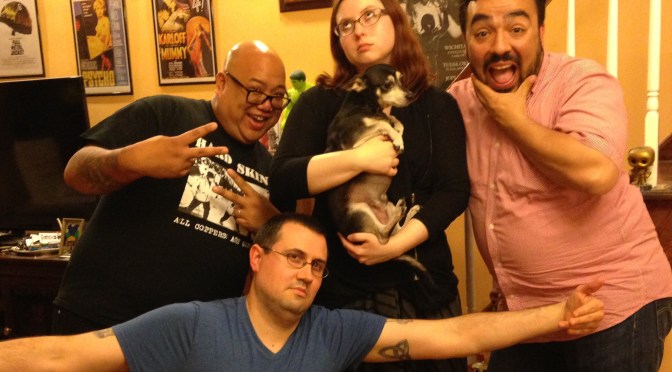 Podcast: Play in new window | Download
Subscribe: Apple Podcasts | RSS
CAUTION, AHEAD LIE SPOILERS FOR AGE OF ULTRON, LISTEN AT YOUR OWN RISK!
Welcome to yet another salacious edition of Cinepunx where we talk Ex-Fest!
This episode's guest is Jennifer Rodgers (@FinalGirlSG ) who you may know from her blog Final Girl Support Group! The episode also feature's our own Sean Bennis-Sine, one of our extended members. He is like the Falcon to our…oh wait, Falcon is a regular Avenger in the MCU now. Oh wait, gimme a sec here. He is like the Havok to our 80's Uncanny X-Men. That works right?
For those of you who do not know, Ex-Fest is a 12 hour Exploitation Film festival, all presented on 35mm, put together by our good friends over at Exhumed Films. If you would like to read more of Liam's thoughts on the fest you can find his review here. You probably don't though cause he talks a LOT on this episode. Usually when you have a guest on your show, you make room for them to talk. This is doubly true when you technically have two guests, even if one is Sean so he doesn't count. However, Liam is one talky Mcgee this episode and he feels bad about that. Sorry. Regardless, we discuss a few things as well as Ex-Fest such as:
AVENGERS: AGE OF ULTRON
ROAR
UNFRIENDED
SEAN BEING DRUNK
OUR EVENT ON MAY 11TH
ZOMBIE DRIVE IN
HOW STOKED WE ARE FOR FURY ROAD
You get the idea. Also, not in that order.
Thanks as always to all of you for listening, and to Jen and Sean for being on the show.
SOUND NOTES:
It is ok. Gets a little echo effect toward the end. Why does it do that? Most likely because you don't say your prayers anymore. We are, we hope, going to be making a concerted effort to raise the money to buy new equipment. Wanna help out? Easy, go to this event
and buy a shirt. Also, just give us some cash. Also, hit us up with connections to cheap sound equipment. We need a mixer with a usb out, some microphones that are ok, and chords. That is it yall.
Ok, thanks again for listening, subscribe to us in stuff, and be cool or whatever.
Don't want to miss an ep? Subscribe to us on iTunes!