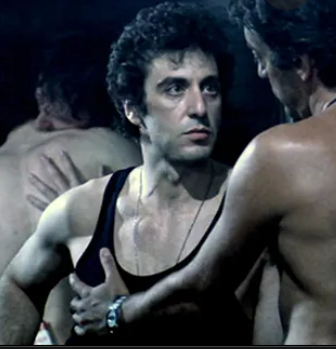 Podcast (twitchofthedeathnerve): Play in new window | Download
Subscribe: Apple Podcasts | RSS
Twitch of the Death Nerve is back with the show's single most requested episode: William Friedkin's controversial queer serial killer masterpiece, Cruising (1980). Charles, Jon, and Samm have wanted to talk about this film before the podcast officially began and — out of sheer excitement — the episode is a doozy. Of course we dive elbow deep into Cruising, the various controversies surrounding it, and our abiding love for the film. But we also discuss queer leather culture, '70s New York, William Friedkin's career more generally, the "bag murders" case that inspired the film, and much more. We also attempt to answer the age old question: hips or lips?
For those of you who have seen the film: after you listen to the episode, please comment and tell us what you think is going on in the film's conclusion! Thanks as always for supporting the show. Pretty please rate, review, and share! You can also find us on Apple and Spotify and please follow us on Instagram. Send us your favorite mushroom recipes!
Check out Essex Coffee Roasters (enter code CINEPUNX for 10% off).