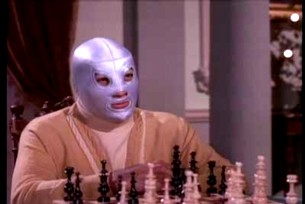 Podcast (twitchofthedeathnerve): Play in new window | Download
Subscribe: Apple Podcasts | RSS
Twitch of the Death Nerve really went off script for this latest episode, where Charles, Jon, and Samm discuss Mexican legend El Santo. One of the world's greatest pop culture heroes, Santo made 50 films in addition to his celebrated wrestling career (and run of comic books, etc), so we decided to celebrate his life in a broader sense, rather than focusing on one particular film. We do share our mutual love of Santo and Blue Demon Vs. Dracula and the Wolf Man (1973), and if we have any particular focus to the episode, it's the amazing horror films he made throughout his 20+ year span as a cult cinema star.
We also decided to do something new with this episode and interview an expert — in this case, academic and historian David Wilt. Among other things, he's a wealth of knowledge about Mexican pop culture. You might know his work with Mondo Macabro or CasaNegra, but he's written a number of books including The Mexican Filmography, 1916-2001, as well as the comprehensive newsletter, Mexican Film Bulletin. I also love his YouTube channel, particularly his series of episodes on Mexican vampire films.
Thanks as always for supporting the show! Pretty please rate, review, and share! You can also find us on Apple and Spotify and please follow us on Instagram.
Check out Essex Coffee Roasters (enter code CINEPUNX for 10% off).