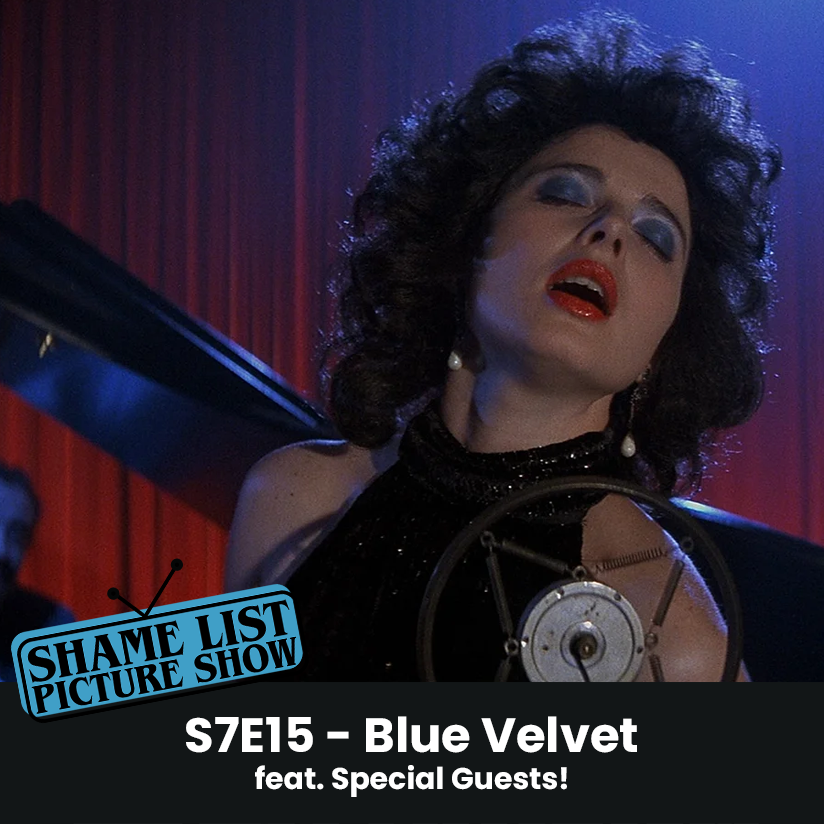 Podcast (shamelistpicture): Play in new window | Download
Subscribe: RSS
Season 7, Episode 15 (Originally released on October 22nd, 2023)
On today's Shame List Picture Show episode, Michael is joined by two special guests. First off, returning for their 6th appearance on SLPS we have Josephine Maria Yanasak-Leszczysnki. On top of that, we also have a first-time guest Amber Rose McNeill who is a filmmaker, intimacy coordinator, and founder of the Milwaukee Illuminate Film Festival. On today's episode, we will discuss David Lynch's controversial yet influential film BLUE VELVET. Topics discussed are the Queer themes of BLUE VELVET, the way violence is presented, trauma, and a healthy discussion on the age we were when first seeing BLUE VELVET.

Also, in a new segment called "It Came From Severin", Michael discusses Camillo Mastrocinque's CRYPT OF THE VAMPIRE which is featured in the boxset "The Eurocult of Christopher Lee" from Severin Films.

For more information on Severin films please visit them online at  https://severinfilms.com/
If you'd like more information on the book "ReFocus: The Films of Susan Seidelman" which Josephine wrote a chapter on, please go to  https://edinburghuniversitypress.com/book-refocus-the-films-of-susan-seidelman.html

Finally, if you'd like to submit to the Milwaukee Illuminate Film Festival please find them on FilmFreeway at  https://filmfreeway.com/MilwaukeeIlluminateFilmFestival and use the promo code MKEmiffLATEx24 for an extended deadline.

Previous episodes with Josephine Maria Yanasak-Leszczysnki as a co-host:
Season 3, Episode 18 — AUDITION
Season 4, Episode 5 — DUNE
Season 5, Episode 7 — THE WITCH WHO CAME FROM THE SEA
Season 7, Episode 4 — SPICE WORLD
Season 7, Episode 9 — 2001: A SPACE ODYSSEY
As always, please rate, review, and subscribe.
Be sure to check out our Patreon at www.patreon.com/shamelistpictureshow

Edited by: Michael Viers
Produced by: Michael Viers
Theme Music by: The Directionals
Opening Narration by: Zach McClain
Credits Music by: Ten-Speed
Logo Design by: Amanda Viers