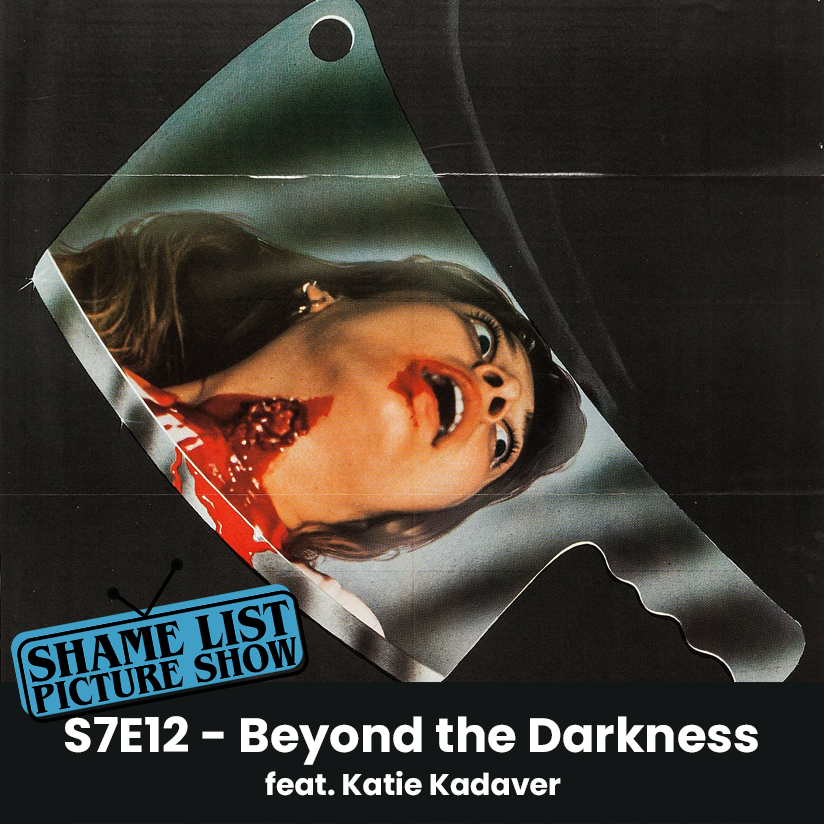 Podcast (shamelistpicture): Play in new window | Download
Subscribe: RSS
Season 7, Episode 12 (Originally released on August 19th, 2023)
On today's episode of the Shame List Picture Show Michael is joined by Katie Kadaver, a literal jack of all trades. Katie Kadaver is Milwaukee's Premiere Tromette having worked directly with Lloyd Kaufman and Troma Entertainment on multiple occasions; she's also the founder of the horror-themed burlesque troupe Grindhouse Tease; On top of all of that, she's now gotten into the world of podcasting having founded The VHS Vault podcast with Owen Brand which can be found on Youtube and Spotify.
On this episode, Michael and Katie discuss one of Katie's favorite horror flicks of all time — Joe D'Amato's BEYOND THE DARKNESS (or BUIO OMEGA). This film is fascinating with its realistic gore, gothic overtones, and general weirdness. If you've not seen this film you are in for a treat.
If you'd like to listen to the VHS Vault please visit them here: https://rss.com/podcasts/vhsvaultpodcast/
Previous episodes with Mark Krawczyk as a co-host:
Season 3, Episode 4 — BLUES BROTHERS
As always, please rate, review, and subscribe.
Be sure to check out our Patreon at www.patreon.com/shamelistpictureshow

Edited by: Michael Viers
Produced by: Michael Viers
Theme Music by: The Directionals
Opening Narration by: Zach McClain
Credits Music by: Ten-Speed
Logo Design by: Amanda Viers