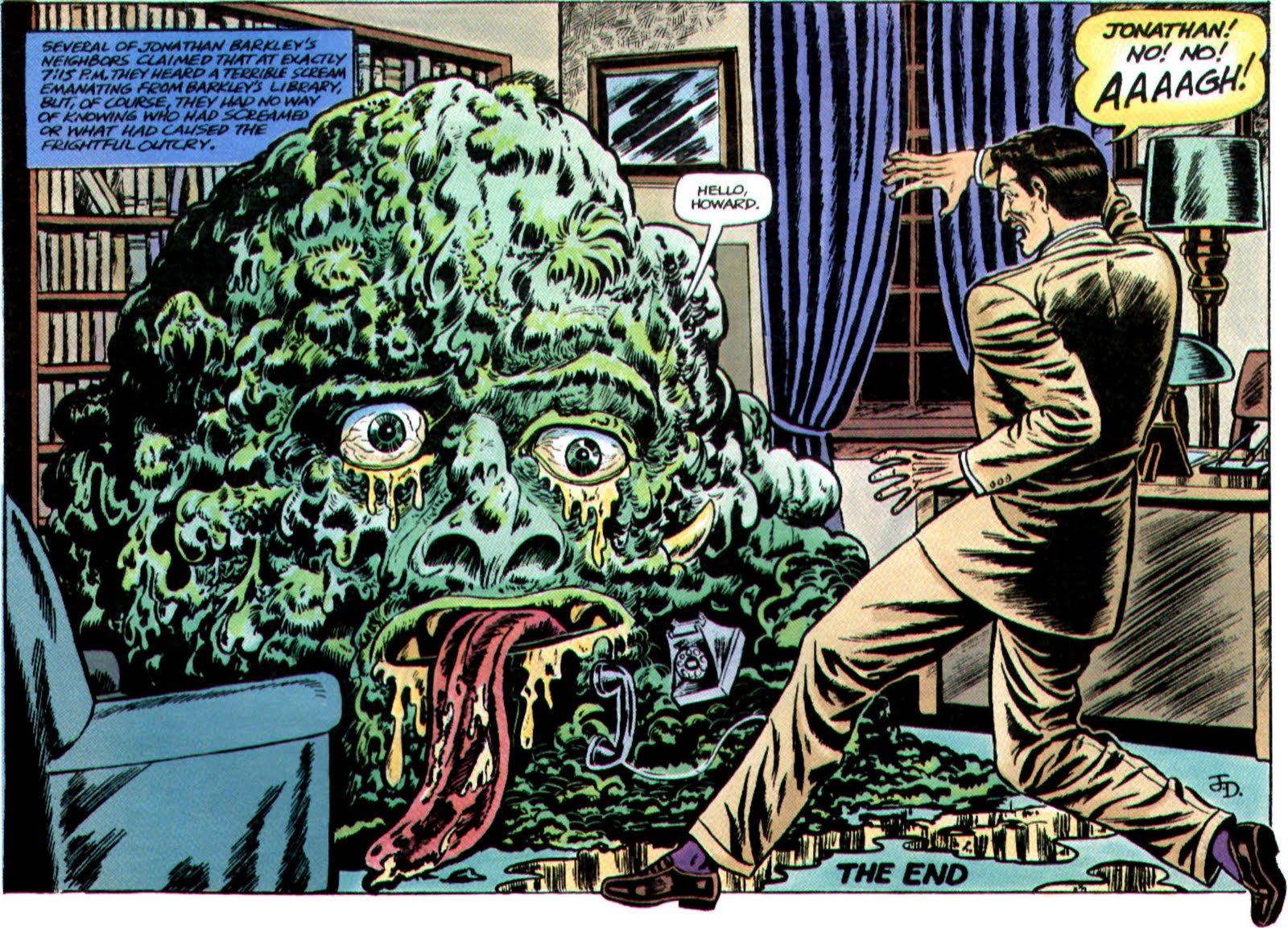 Hello boils and ghouls, it's yer 'ol pal Johnny here, and boy do I have quite a treat for you! Every day of this frightful month, I will be posting and spooking — I mean speaking — about deviant "Pre-Code" horror comic covers. Pre-Code refers to anything published before 1955, when the Comic Code Authority was created in 1954 to censor comics from publishing "lurid and unsavory" stories and art, meaning things such things as vampires, werewolves, ghouls, zombies, ect could no longer be portrayed in comic books. As a result, good must ALWAYS triumph over evil and villains can never be sympathetic. Words such as "horror" and "terror" could not be used on comic covers. Dark times indeed. My selection for the month isn't focused on those that are the most shocking (though a few are) but rather on the best of horror and terror (physical and psychological) and those which display a variety of classic horror images and settings. Over 20 different artists from over 10 different publishers will be featured. I hope you all enjoy!
Chamber of Chills #23 (1954) Harvey Comics, Warren Kremer (pencils) & Lee Elias (inks)
This cover for Chamber of Chills #23 by Warren Kremer, with inks by Lee Elias, is downright foul and disturbing. We have your standard 1950's woman, white, blonde, and in a red dress, fighting off a shambling cadaver's advances on her flesh and her life. The coloring of the corpse, in psychedelic shades of green and blue and purple, enhances his gruesome appearance. The coloring and composition draws the viewer's eye first to the woman's figure. Her expression is one of horror, and it isn't at all hard to gauge her reaction to the creature's foul touch! She is tearing at his shirt in a desperate bid for escape. It only takes one look in her eyes to see the fear and panic as she tries in vain to find a way out of this disgusting embrace. Her terrified gaze draws the viewer's eye across the page to the cool tones of the ghoulish corpse, who looks perfectly intent on keeping the woman trapped in this romance forever. Such a gross and sinister cover like this from the hand of Warren Kremer is almost humorous, considering it is coming from the man who created Harvey Comics characters such as Richie Rich, Hot Stuff, Stumbo the Giant. Kremer is also the creator of other defining characters, including Casper the Ghost, Joe Palooka, and Little Audrey. Kremer was Harvey's top artist and served as art editor for 35 years.