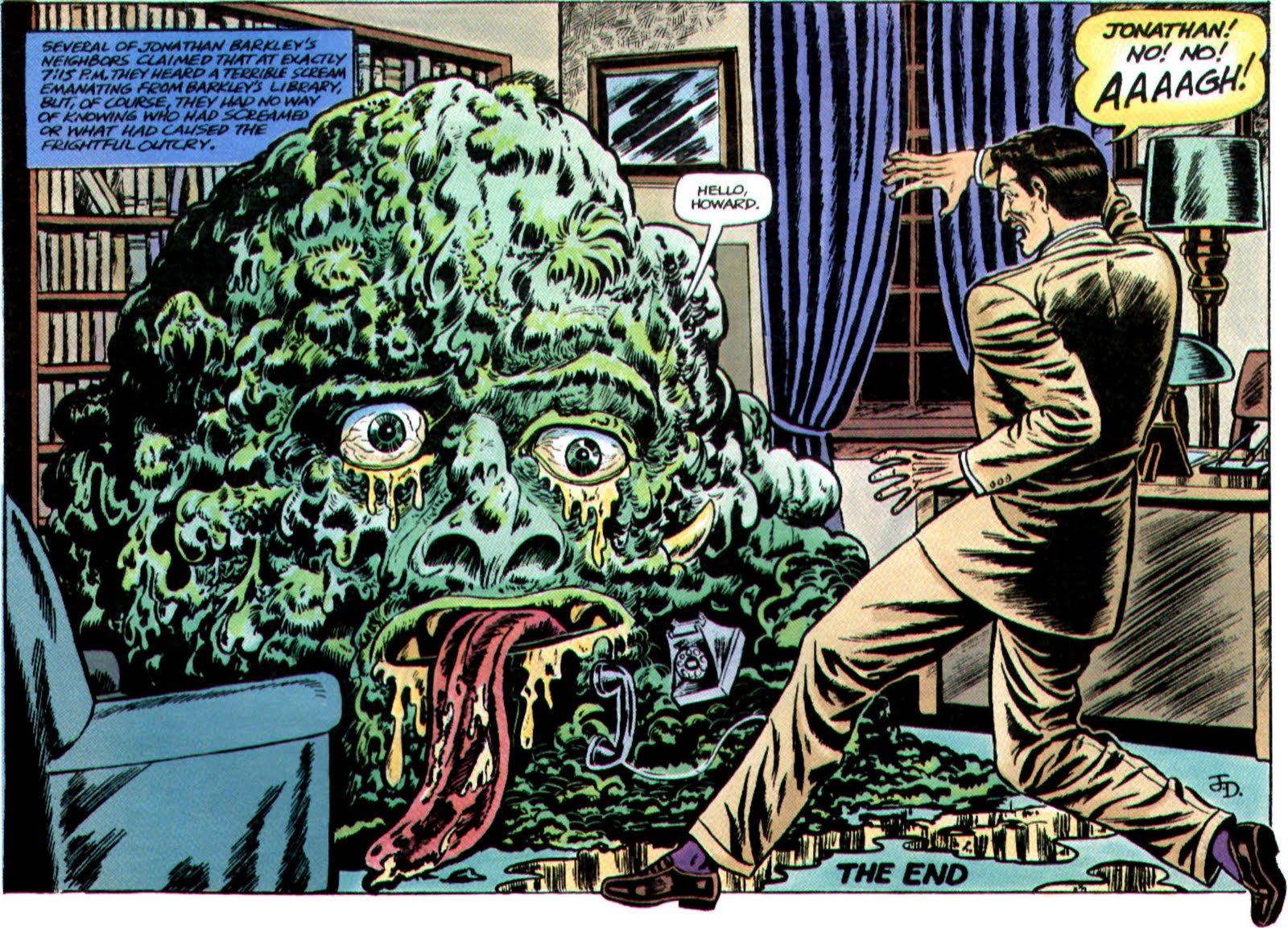 Hello boils and ghouls, it's yer 'ol pal Johnny here, and boy do I have quite a treat for you! Every day of this frightful month, I will be posting and spooking — I mean speaking — about deviant "Pre-Code" horror comic covers. Pre-Code refers to anything published before 1955, when the Comic Code Authority was created in 1954 to censor comics from publishing "lurid and unsavory" stories and art, meaning things such things as vampires, werewolves, ghouls, zombies, ect could no longer be portrayed in comic books. As a result, good must ALWAYS triumph over evil and villains can never be sympathetic. Words such as "horror" and "terror" could not be used on comic covers. Dark times indeed. My selection for the month isn't focused on those that are the most shocking (though a few are) but rather on the best of horror and terror (physical and psychological) and those which display a variety of classic horror images and settings. Over 20 different artists from over 10 different publishers will be featured. I hope you all enjoy!
Venus #19 (1952) Atlas Comics, Bill Everett
Happy Halloween everyone! What a wild and wacky month of devious, Pre-Code Horror covers! Speaking of wild, "Wild" Bill Everett kicked off our month, so it only is fitting that Ol' Bill finish it up. Here we have Everett's cover for Venus #19, and it is probably my favorite cover of this month's selection. First off, LOVE that green! Everything looks amazing on this cover — great line work and shading! Call me crazy or whatever, but that green makes this cover for me. The three, grey-robed skeletal shades lurking in the background, watching their skeleton brother in action are an excellent touch. And of course, we have our standard 1950's woman, white, blonde, red dress, terrified and screaming, caught in a fatal embrace with with a skeleton in a suit. The most disturbing part about this cover though is the way the human mask is pulled up over the skeleton's head, eyes empty and blank and mouth lazily agape, so unnatural and creepy! The level of detail on everything is fantastic and pretty much what we would expect from a Bill Everett picture. The wood grain and shadows in the background add so much mood and atmosphere to this image and the detail in the figures' clothing is excellent. From the pattern in the skeleton's suit to the softness in the woman's dress, Everett's ability to create textures is well showcased here. The thick, bold lines of the main two figures makes them really pop against the murky haunted background. Thank you everyone who read any of these, I hope you all enjoyed the selection this month. Next month, I'll be back to doing a monthly comic round-up so I'll talk to you all then. Happy Halloween, have fun and be safe!