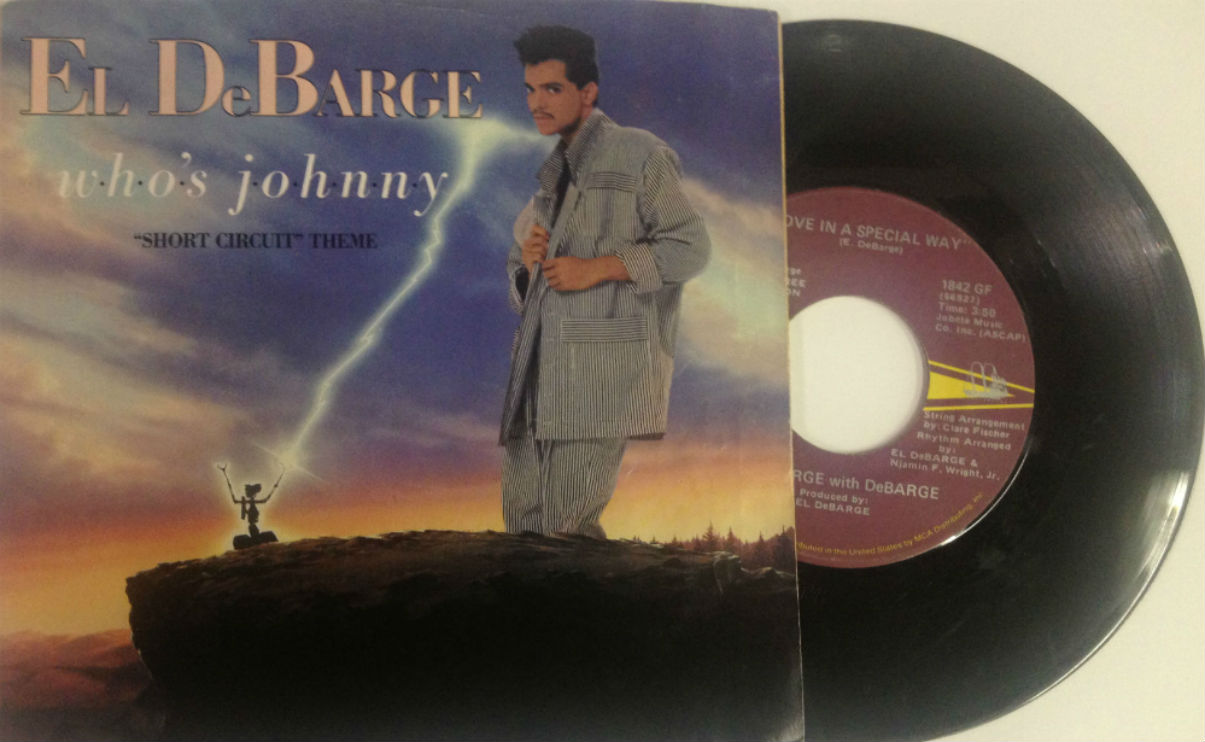 "Who's Johnny," by El Debarge from Short Circuit
DeBarge's 1985 album, Rhythm of the Night, and its eponymous title track were smash hits. The album went gold and the song went to number five on the Billboard Hot 100, thanks in some part due to its inclusion on the soundtrack for The Last Dragon, released just a month and a half after the single itself. The group would peter out after the group's lead singer, El, left the following year to release his self-titled debut solo release on Motown subsidiary Gordy.
The first track and lead single from that album, "Who's Johnny," would go on to be a massive hit, reaching number three on the Hot 100, which was itself due in no small part to its inclusion in the 1986 sci-fi comedy, Short Circuit, which starred Steve Guttenberg, Ally Sheedy, and Fisher Stevens. In the film, a military robot is hit by a lightning strike, gains sentience, and goes on a road trip.
The movie is mildly whimsical and definitely dated, featuring as it does that weird mid-'80s mix of slapstick humor and dark warnings which managed to worm its way into a number of films. The idea that people could be placed in mortal danger while also throwing in jokes about bad driving is just so conceptually jarring, yet it manages to pop up again and again. See also: Guttenberg's work in the Police Academy series, as well as the 1986 John Candy vehicle, Armed and Dangerous.
"Who's Johnny" was featured in the film during a scene wherein the robot — Number Five — takes over a van and drives away. He's listening to the radio, jumping around stations and searching for "input," when he comes across El DeBarge's song, and sings along while veering erratically down the road. The robot later takes his name from said song, becoming Johnny Five, furthering his growth as a singular creature. It's the kind of tie-in most artists can only dream of.
The single release tied into its appearance in Short Circuit, featuring El Debarge as part of the image of Number Five being struck by lightning. However, the movie never did have an official soundtrack release until years later when Varèse Sarabande put out David Shire's score in 2008. Interestingly, "Who's Johnny" is not included, nor is it evidently mentioned at all in the liner notes, despite being so closely associated with the movie.
Despite the fact that Short Circuit features big special effects, and features two of the bigger names in movies at the time, Steve Guttenberg doesn't appear in the music video at all — or, rather, doesn't appear in person. The video is somewhat infamous for the fact that it prominently features a cardboard cutout of the actor as Newton Crosby in place of Guttenberg himself. Also, the only part of Number Five that can be seen is the robot's arm, making this one of the creakiest and shoddiest videos I can ever recall seeing.
Ally Sheedy is there as her character, Stephanie Speck, which might demonstrate where she was on her career trajectory versus that of Guttenberg. Her roles dried up considerably after Short Circuit, whereas the actor was in the middle of a run which would continue on for another four or five years, until hitting a slump following 1990's Three Men and a Little Lady.
The one shining benefit of the video is the fact that Stevens isn't present as his character from the film, Ben Jabituya, widely recognized as one of the most egregious examples of brownface in cinema. I'd put Stevens' portrayal up there with C. Thomas Howell as Mark Watson in Soul Man or Mickey Rooney as Yunioshi in Breakfast at Tiffany's as one of the most racist caricatures in cinema history, and one which makes re-watching Short Circuit a real exercise in justification.
If nothing else, El DeBarge's work in DeBarge has gone on to have some interesting long tail influences on music. Wreckx-n-Effect's 1992 hit, "Rump Shaker," features guest vocals from Teddy Riley, who lifts from DeBarge's 1982 song "I Like It," giving the group songwriting credits. The same song was sampled for Nelly's 2001 single, "Ride wit Me," making those two songs the vast majority of the singer's IMDB credits.
Also, it gave us the "Weird Al" Yankovic parody, "Here's Johnny," from the 1986 album, Polka Party!, which is strangely mentioned nowhere in the Wikipedia entry for the original song. Hey-o!