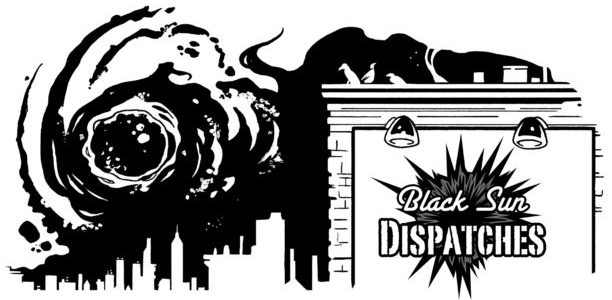 Podcast (blacksundispatches): Play in new window | Download
Subscribe: RSS
Welcome back to the city beneath the black sun. Found in a dark world, surrounded by an endless desert filled with countless threats, a man has forged a kingdom out of madness, and will do anything to keep it standing. But madness has a way of taking back its own, especially in a strange and hostile land where terror and wonder wait behind every corner.
Even in the city beneath the black sun, they make time for the Fourth of July. And the man McRae wants to make sure that everyone has an especially great time this year, for there are such dark times behind them and so very many dangers still to come.
But how to dazzle, how to amaze, how to inspire? By writing in the sky with fire of course. The job of finding such entertainments fall to a two-bit crook on a desperate end run for freedom, but what he finds will change his world forever.
Black Sun Dispatches is available via iTunes! Please rate and review the show to help spread the word!
For news, updates, and other weirdness, you can follow us on Twitter at @BlackSunShow. You can follow me on Twitter at @TheTrueBrendanF. And a huge thank you to the entire Cinepunx team for making the show possible!