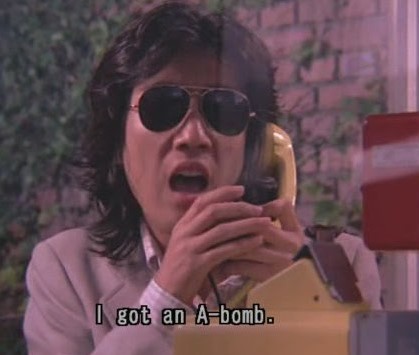 Podcast (twitchofthedeathnerve): Play in new window | Download
Subscribe: Apple Podcasts | RSS
For the latest episode of Twitch of the Death Nerve, Charles and Samm are joined by dear friend Eric Bresler, who runs beloved local venue PhilaMOCA and the Philly chapter of the Psychotronic Film Club. We pick his brain about the visionary film, art, and music programming at PhilaMOCA, and the ins and outs of the Psychotronic Film Club. Eric has encyclopedic knowledge of Japanese film, music, and pop culture, so we also take a deep dive into Kazuhiko Hasegawa's little seen The Man Who Stole the Sun (1979).
The film stars pop icon Kenji Sawada as a science teacher who decides to build his own atomic bomb, go head to head with a gruff inspector (who amongst us wouldn't try to get Bunta Sugawara's attention in such a dramatic way?), and hold Japan ransom. We also talk about the Art Theater Guild produced films, Kenji's career, depictions of Japanese masculinity and generational conflict, political violence, and Eric gives us a primer on Japanese rock music in the '60s and '70s. We also go into Hasegawa's only other feature film, the harrowing Youth Killer (1976).
Thanks as always for supporting the show. Pretty please rate, review, and share! You can also find us on Apple and Spotify and please follow us on Instagram.
Check out Essex Coffee Roasters (enter code CINEPUNX for 10% off).