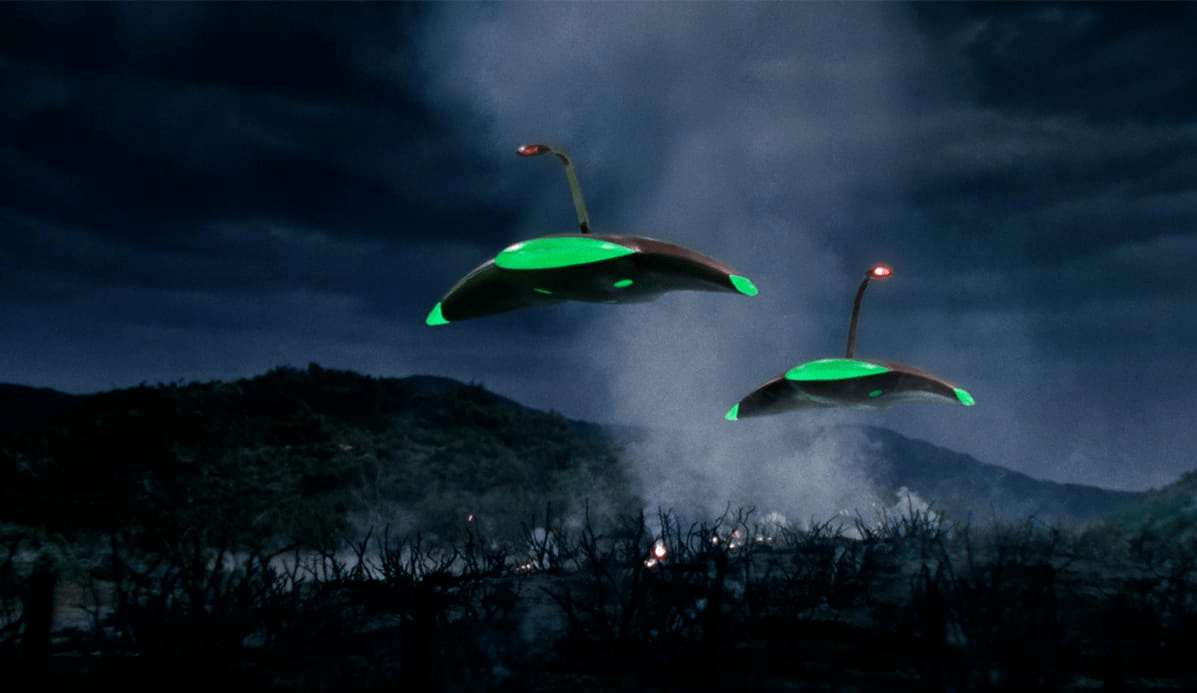 Byron Haskin's 1953 film adaptation of The War of the Worlds has become as synonymous with its literary source as Orson Welles' famed radio play that incited mass hysteria in 1938. As the first screen adaptation of H.G. Wells' novel, it paved the way for Steven Spielberg's well-received 2005 iteration, a slew of direct-to-video and TV adaptations, and films like Mars Attacks! which explicitly reference it. Approaching Haskin's film in 2020 was an interesting exercise — I hadn't seen it in over twenty years — and one made all the better with Criterion's brand new disc release.
Almost everyone knows the story by now, so I won't bother with synopsis here. Haskin's adaptation is a pretty loose one though, with an updated setting, both in time and place, allowing for commentary of current events and stridently American ideals to come front and center. Released in 1953, it's no mistake that The War of the Worlds in film form feels influenced by Cold War politics and paranoia (which much more informed writers have expounded upon; I highly recommend J. Hoberman's An Army of Phantoms) alongside America's longstanding identity as a Christian nation — with religion handled much more favorably, if not heroically, in the film versus its source. This is all still very palpable and that it manages to work and evoke the same sense of paranoia as it likely did (I wasn't around then, after all) nearly seven decades ago is a testament to Haskin's work as a director as well as the talented team behind the now iconic visual effects.
Aside from historical significance and sheer entertainment value — of which there is plenty of both — The War of the Worlds is a film (and story, in general) that feels evergreen in its malleability to current confrontations. The Us vs. Them dichotomy is easy to take at face value, but it's the rallying spirit of the people against an Other that rings so true today — even if we might not want to be on the side we immediately identify with. For a film that's so colorful and necessarily otherworldly, it manages to feel dour and human in the best ways and has the ability to make us question our nature as people while also dazzling us with technical wizardry. Few have managed to balance that this well since.
Criterion bring The War of the Worlds to blu-ray via Paramount's 4K restoration which was completed in 2018. This is the same master that was available on iTunes that year and released in Australia via [imprint] this year. That said, if you haven't seen this 4K restoration elsewhere, it's truly special. The colors are handled exceptionally well — especially those vibrant beams of colored light shining through the stained glass windows of the church — and there's no evidence of any source damage. The only thing that could have made this better is a proper UHD presentation with HDR; otherwise this is the best this will look on disc. Audio options include the original 1.0 and a remastered 5.1  track that was supervised by Ben Burtt. I imagine most will opt for the 5.1, especially with the necessary equipment, but I tend to err on the side of purity and opt for the original mono which sounds fantastic. I'd imagine you can't go wrong either way.
A robust supplements package begins with two brand new features. First up is "Movie Archeologists" which is a half hour long talk with Ben Burtt and Craig Barron about the use of sound and effects in the film. The next new feature is "From the Archive" a twenty minute piece that brings back Burtt and Barron alongside Andrea Kalas from Paramount to discuss the restoration. A half-hour long documentary titled "The Sky Is Falling," which was produced in 2005 by Paramount for their DVD release, is included alongside the original Orson Welles radio broadcast; a twenty five minute interview with Orson Welles and H.G. Wells, a nearly hour long audio recording of a seminar given by George Pal; the 2005 commentary with Joe Dante, Bob Burns and Bill Warren; and a theatrical trailer.
The War of the Worlds is as timeless as its source novel at this point and every bit as influential as the radio broadcast that preceded it. It has always been a pertinent allegory for trouble times and that's no different in 2020. With movie theaters being closed indefinitely, this very nice package from Criterion is the next best thing.