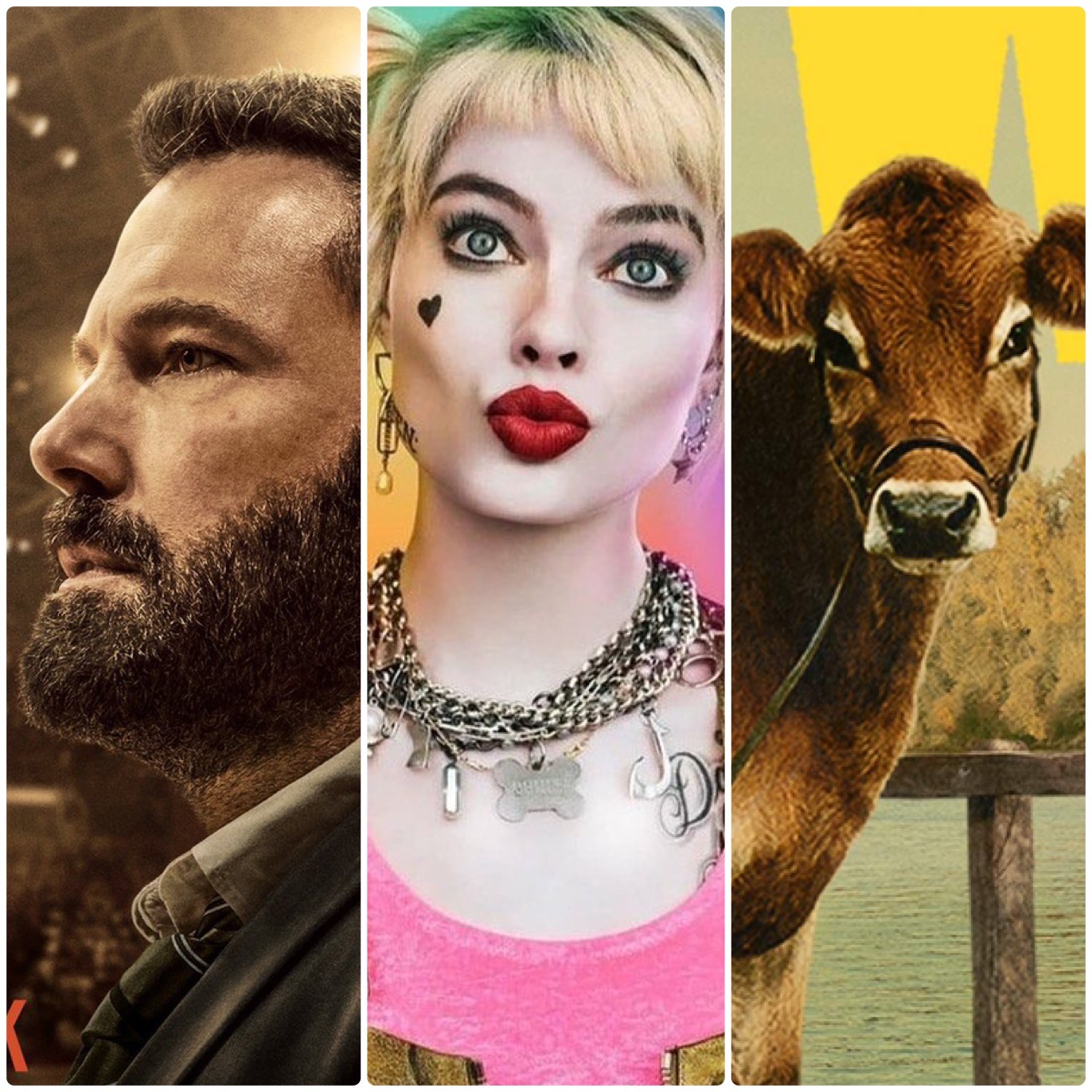 At this point in the year (normally on the exact halfway point) I like to write up a list of my favorite movies released thus far. Usually, I've seen a pretty interesting crop of movies I hope won't be forgotten by the fall. But I don't need to tell you that this year is different. We're probably not going to see another movie in theaters until 2021. That's a real bummer for me as someone who still considers the movie theater a second home. But I actually got to see a number of films before theaters closed (21 to be precise). Along with a few movies that have been released on streaming and "premium on-demand". I deeply miss theaters but I appreciate getting new cinema-grade films in any capacity. So if you're still looking for something to watch, while we all sit around with too much time on our hands, here are 11 that I really liked. In no particular order.
Underwater
Underwater looks like typical "January Dump Month" filler at first glance, but the sub-aquatic horror movie starring Kristen Stewart is a simple, really fun little thriller. When their undersea lab is hit by an earthquake, the remaining crew must walk along the ocean floor to get to safety, but they're far from alone down there. The cast is stacked (Vincent Cassell, John Gallagher Jr.), the visuals are spooky, and Stewart nails the action heroine role. It will make a great double feature with Charlies Angels one day. She wears short hair paired with an oversized, scuba-mech suit unsurprisingly well.
Underwater is available to rent digitally.
Birds of Prey (and the Fantabulous Emancipation of One Harley Quinn)
I mean, I went on about this movie a few months ago, so I can't explain it simpler than this: it's a superhero movie about female friendships with explosions, breakfast sandwiches, queer people, chic outfits, and a bomb-ass soundtrack. This movie was made for me. I actually got really disappointed that so few people saw it in theaters (when it's one of the most original and fun comic book movies in years) that I put a curse on the world that there would be no more superhero movies released theatrically. And well, um, it may have worked a little too well… Sorry about that!
Birds of Prey is available to rent digitally.
The Invisible Man
I am forever bummed that Universal's "Dark Universe" bombed after no one went to see The Mummy. I loved that very stupid movie and all that it has left behind is this barren Twitter account. Giving the Universal monsters to Blumhouse was a great choice, however. Can you make an outdated IP no one cares about interesting as a low budget thriller with themes that will resonate with modern audiences? The Invisible Man answers this question with a resounding "yes." Elizabeth Moss carries a really tense and gorgeous movie that will genuinely surprise you. Come for the jump scares, stay for the bad-ass female revenge story.
The Invisible Man is available to rent digitally.
The Way Back
It feels like it's been a while since we saw Ben Affleck right? The past couple years have been a little rocky for the actor, but if we want to compare him at all to his character Jack Cunningham, he's trying to be better. A middle-aged alcoholic with very little prospects for his future begins coaching his old high school's basketball team, and starts to find his sense of self in his work. It's a very somber movie and Affleck is not playing a very flattering character; he's basically the opposite of Batman. But that was exactly the role he needed right now. And it's a film that he should be very proud of.
The Way Back is available to rent digitally.
Emma
I straight up don't like English period pieces. I'm sorry. I'm always bored, I get tripped up in the language; I just can't get into them. I asked myself why I was bothering to see this Jane Austen adaptation with such a bias, but I really like Anya Taylor-Joy. I'm glad I did, though, because this movie is really engaging and sharp. Taylor-Joy's Emma Woodhouse is a great lead, and has palpable chemistry with Johnny Flynn's George Knightley. It also pairs some of my favorite costume designs this year with the cinematography to make those colorful outfits pop. If Emma sounds like your thing, maybe even if not, then I highly recommend it.
Emma is available to rent digitally.
Onward
Sometimes I go to a movie just because I want to cry over something, and a Pixar movie about a dead Dad and a sibling bond is exactly up my alley. In a fantasy world where technology and society advanced at the same rate as ours, a pair of elf brothers have 24 hours to fix an ancient magic spell to bring back their father for an entire day. Inspired heavily by Dungeons and Dragons, the film is full of lore and references to table top gaming that will almost certainly inspire plenty of younger players. It's another great original Pixar film (shocking, I know).
Onward is streaming on Disney+. 
First Cow
This was the last film I managed to see while theaters were still open. It follows a cook and a Chinese immigrant in the Oregon territory in the late 1800s. They dream of success and begin to find some after starting a business, thanks to stolen milk from the only cow in the territory. It's a beautiful and quiet movie about friendship over prejudice and how those relationships relate to legacy. Exactly the kind of movie I'd want to remember if it was the last one I saw in a theater for a long time.
First Cow will be available to rent digitally July 10th.
Circus of Books
I grew up in the internet age and never really had trouble finding porn (sorry Mom, I knew the parental control password for a long time). But in the time before the internet, Barry and Karen Mason took over a troubled adult book store in West Hollywood and turned it into the mecca of gay porn in the city. Even while keeping their work a secret, they created an important space for gay men to congregate without shame. The Mason's daughter, Rachel, directs the film about their business and how it changed their lives and the gay community of West Hollywood forever. There's even talking heads by Drag Star and former Circus of Books employee, Alaska Thunderfuck.
Circus of Books is streaming on Netflix.
The King of Staten Island
I've always really liked Pete Davidson. He's my favorite current SNL player and I've found that most people seemed to have a problem with his appearance and social life, which isn't very fair. So I think Judd Apatow made a good choice making him the lead of his latest directorial effort. Davidson is Scott, a stoner burnout with no future prospects whose life begins to shift when his mother (an excellent Marisa Tomei) starts dating a new man (an also excellent Bill Burr). With bits and pieces lifted from Davidson's actual upbringing, it's a story about learning to heal from a tragedy and finding your way after the fact. This movie's quality just made me so happy for Davidson, he deserved this win
The King of Staten Island is available to rent digitally.
Disclosure
When I came out as trans, my parents confused and defensive reactions shouldn't have been surprising to me. I was the first queer person in our entire family, so all they knew about trans people was what they saw on television and in films. Disclosure goes into depth about those portrayals over the past 100 years of media. Interviewing notable trans figures (Laverne Cox, Chaz Bono, Alexandra Billings) in television and film, talking about the long and arduous journey of positive portrayals of trans people in media. This movie confirms a lot of what I knew to be true, but it is my most highly recommended movie on this list, just as a learning tool for anyone to learn how trans people have been treated for decades.
Disclosure is streaming on Netflix.
Portrait of a Lady on Fire
When I see art films, I like being able to pick my seat and get in a position where it feels like it's just me and the movie. I was fortunate enough to see this film on 70mm film, followed by a Q&A with the director and two leads in one of the best theaters in the world. But I'll be honest, while I thought the movie was great, I didn't get the "wow." Being in a bad seat in a packed theater distracted me (press screenings can be obnoxious). Everyone on Film Twitter got it no problem and I felt a little insecure not being wowed by the French lesbian movie. But it was an absolutely gorgeous looking film that I knew I needed to see again. I think you can all tell me what I didn't see. I'll be revisiting it again very soon.
Portrait of a Lady on Fire is streaming on Hulu.
Usually around this point, I would tell you about my bottom five of the year. I've seen plenty of bad movies along with the good, but my relationship with film is evolving as I grow in my personal life. I've felt less inclined to rank movies on a list of "who's the best and who's the worst." I don't even like giving ratings anymore. I just enjoy what I enjoy, and what I don't enjoy, oh well.
But I do have one I want to call out in particular.
I wrote a review of Scoob! a couple months ago. As a once huge Scooby-Doo fan, I had some issues with the film. But because of that movie I wanted to start writing again. This movie made for children had me so ticked that I thought "People need to hear the opinions of a grown-ass woman while they worry about a pandemic." It also reminded me how much I love Scooby-Doo. After I finished writing that, I bought a $110 pair of Mystery Inc. styled high tops, which I somehow don't regret yet. So I want to genuinely thank Scoob!, exclamation point and all. It may not have been very good, but I appreciate any movie that gets me off my ass in a noticeable enough way. That's about it though, I'm not feeling like dumping on movies right now.
Ok, I didn't like the Will Ferrell Eurovision movie. I don't get why that was so popular. Ok now I'm done.