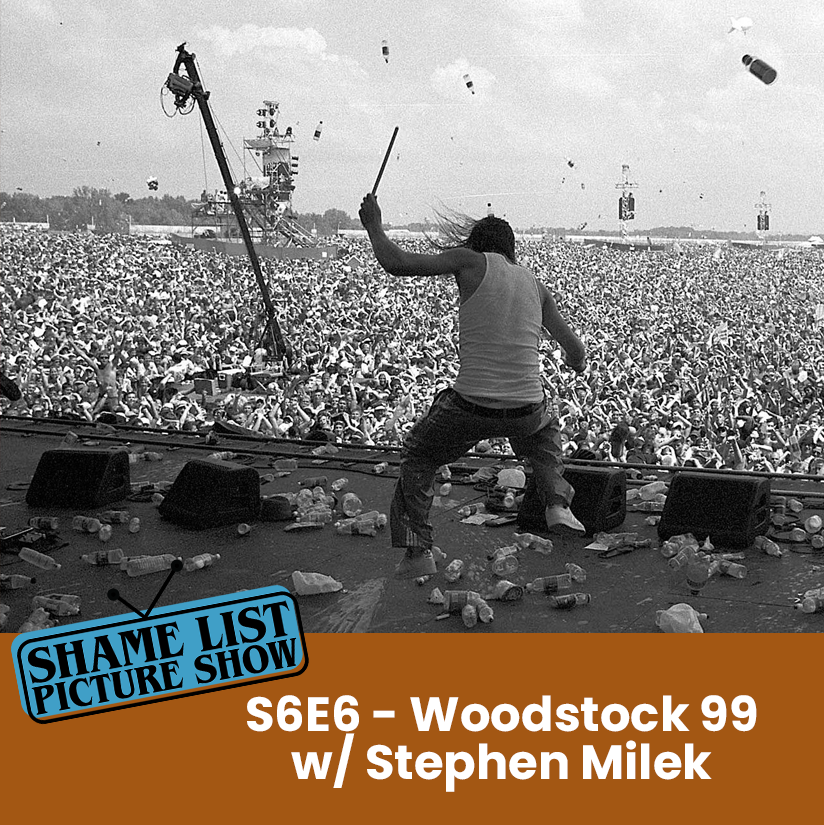 Podcast (shamelistpicture): Play in new window | Download
Subscribe: RSS
Season 6, Episode 6 (originally released on August 18th, 2022)
Michael is joined by Stephen Milek of the Twisted Dreams Film Festival to talk about the Music Box and HBO produced documentary WOODSTOCK 99: PEACE, LOVE, AND RAGE. Woodstock 99 walked so train wreck music festivals like Fyre Festival could run. Best known, not for its music, but because of the rioting, misogyny and overall youthful aggression that spawned from three days of unchecked capitalism and terrible conditions. Stephen Milek has thoughts about this documentary and the way it presented the youth of the 90s because not only was he one of the youth in question, but he actually went to Woodstock 99. This episode is less a deep dive into the film itself, but more so a first hand critique. Was the film accurate in its depiction? Was it fair? Was the music any good? All of these questions, and more, are answered.

For more information about the Twisted Dreams Film Festival be sure to check out www.twisteddreamsff.com
This episode is sponsored by Arrow Video.
As always, please rate, review, and subscribe. Be sure to check out our Patreon at www.patreon.com/shamelistpictureshow
Edited by: Michael Viers
Produced by: Nick Richards & Michael Viers
Theme Music by: The Directionals
Opening Narration by: Zach McClain
Credits Music by: Ten-Speed
Logo Design by: Amanda Viers