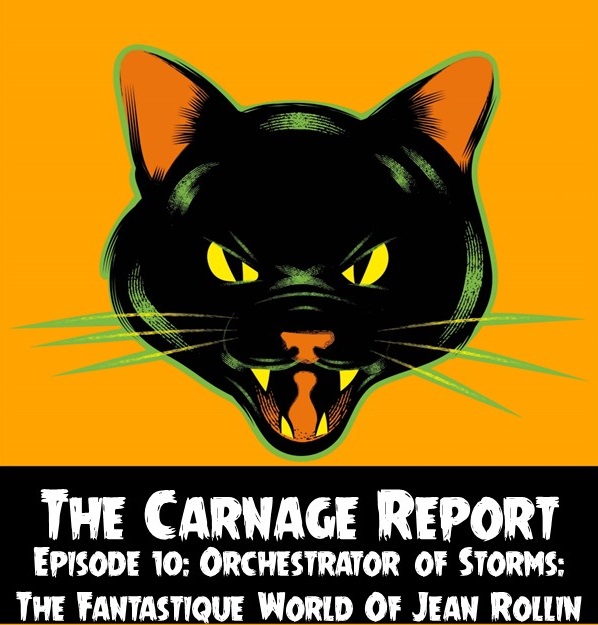 Podcast (carnagereport): Play in new window | Download
Subscribe: RSS
Hello and welcome to The Carnage Report, where we bring you the latest on all things horror-related, keeping you up to date with news you can use. Hosted by Julie Holland and Nick Spacek, this part of the Cinepunx family looks to fill a hole in your podcast feed by looking at new releases in the theaters, on-demand, and streaming, and featuring an in-depth discussion of a new release each episode.
On this episode of the podcast, Julie and Nick discuss writer-director Dima Ballin and Kat Ellinger's years-in-the-making documentary of one of Eurocult cinema's most singular voices, Orchestrator of Storms: The Fantastique World Of Jean Rollin, which had its premiere at Fantasia this year. In addition to what we think about the film, we recommend other films about unique voices you might enjoy, along with news about the upcoming Amazon adaptation of Cinepunx fave Grady Hendrix's My Best Friend's Exorcism, and trailers galore for the X spin-off, Pearl, the Spirit Halloween movie, and more. Plus, Nick's brother Steve (who you can find on Instagram @starlingwoodworks) did new music!
Also: we have stickers! Listen until the end for details on how to get your very own.
You can follow The Carnage Report on Instagram @ReportCarnage, as well as on Twitter @ReportCarnage. Shoot us an email to carnagereportpod at gmail dot com to share your thoughts on the show, as well.