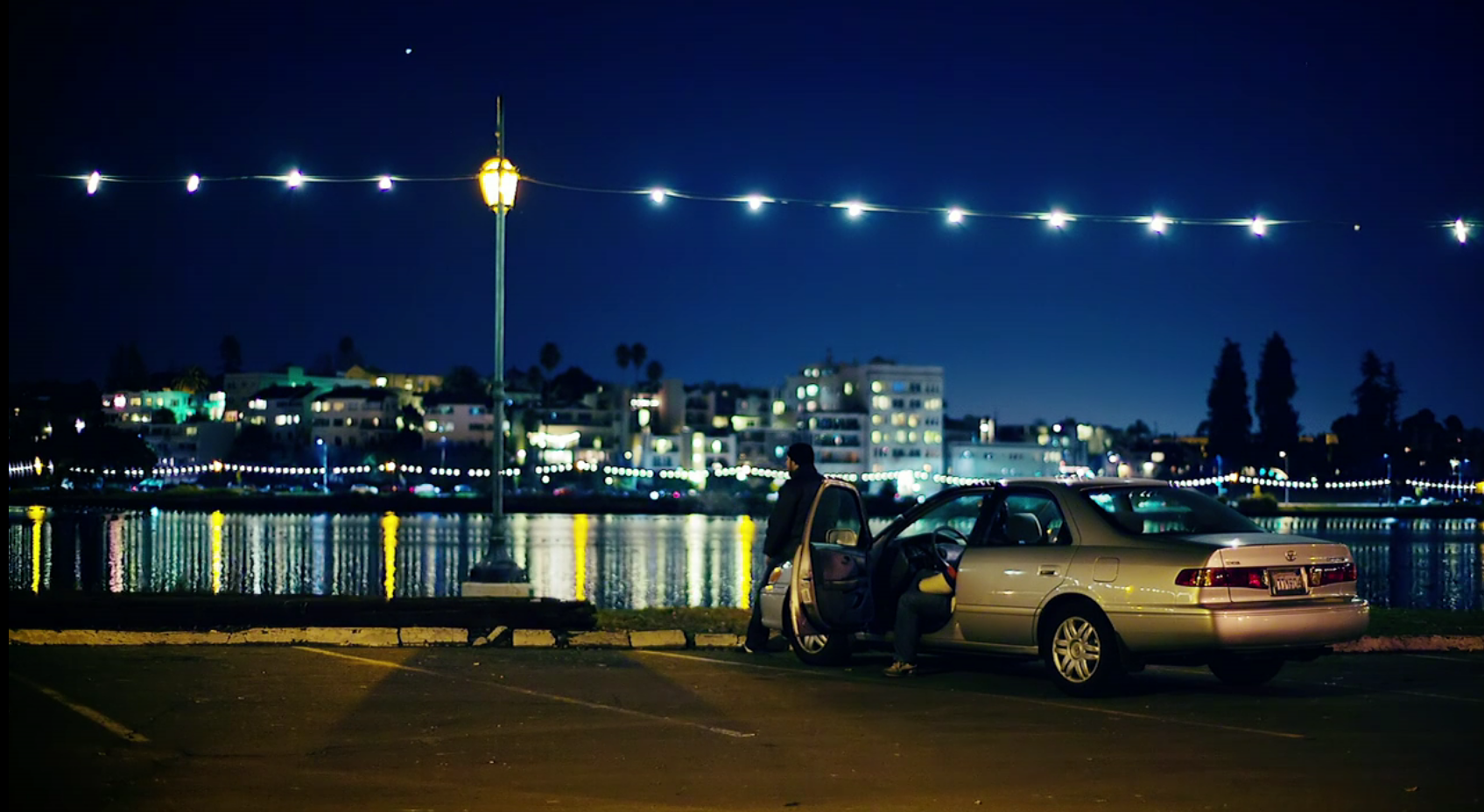 Dave, in debt to his roommate Joe, finds himself caught in the middle of an escalating series of crimes in the aptly titled neo-noir Medias Res. Dave is something of a would-be salesman, offering all sorts of wares from the trunk of his car. Unable to pay back his drug dealing roommate Joe, he is trapped as a kind of indentured servant accompanying Joe on various criminal endeavors. As Dave is drawn deeper into the underworld of Oakland, he becomes embroiled in a scheme that somehow involves Summer Hayes, the star of his favorite TV show, as well as the mysterious and potent drug "fluoride."
Medias Res is director/cinematographer/co-writer Edwin F. Gonzalez's debut feature, and he demonstrates an impressive level of confidence and style. Funded primarily through IndieGoGo, writers Gonzalez and Mike Delaney (who also plays Dave) make the most of their ~$5,000 budget with a character-focused drama that doesn't shy away from action or gunplay. Most striking to me are the cinematography and lighting of the night scenes. The use of blue hues, reflections, and the juxtaposition of harsh light and dark shadows give Medias Res a stylish look that is both slick and gritty – evoking crime thrillers like Thief (Michael Mann, 1981) and Drive (Nicolas Winding Refn, 2011).
In addition to its remarkable composition, Medias Res benefits from a talented cast. Delaney's performance as Dave is a variation on the sad sack character often found in noir films, and he manages to walk the fine line of evoking audience sympathy without coming across as obnoxious or self-pitying. Joseph Mason's intensity as Joe provides an effective foil for Dave, and their chemistry provides some of the film's best moments. Rounding out the cast, Sarah Coykendall brings just the right balance of poise and sincerity to the actress Summer Hayes (not to mention some very entertaining Acting in the soap opera-within-the-movie, Quintessential American.
Medias Res is a taut, entertaining neo-noir thriller with plenty of twists and turns, especially as it accelerates into the third act. There are a handful of moments that run right up against the film's budgetary limitations, but those are both few and not at all detrimental to the story. The script by Edwin F. Gonzalez and Mike Delaney makes good use of noirish tropes and types to keep the viewer off-balance without delving into confusion. Everyone involved in this film has plenty to be proud of, and I look forward to seeing more from them all. This is exactly the kind of indie film that I like to support.
Medias Res is currently available for rental, purchase, and Prime streaming on Amazon Video.