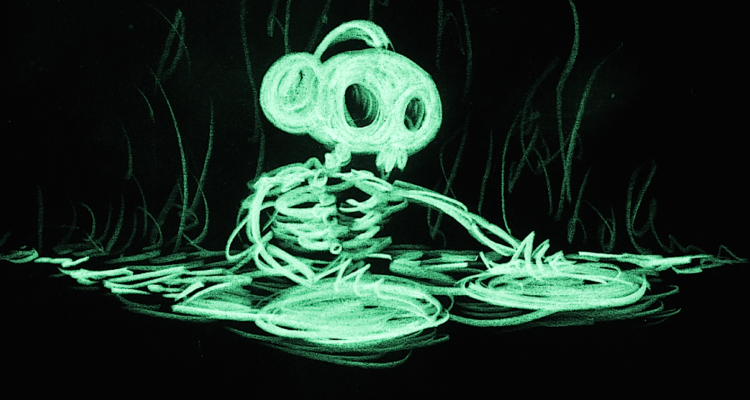 Power pop band Berwanger's new album, The Star Invaders, comes out next week on Halloween. The new album features members of Broncho, Limbeck, Flaming Lips, Sam Cohen, and Eva Gardner (Mars Volta, Pink, Tegan and Sara).  This is a first for Josh Berwanger as it is his third album, marking the first time he has ever released three albums with a band. The Anniversary had two — Designing A Nervous Breakdown and Your Majesty — as did The Only Children, with Change of Living and Keeper of Youth.
Since The Star Invaders comes out on Halloween, we had Josh put together a holiday-suitable playlist for us. It's an excellent selection of classics, rarities, and weirdness, sure to make your party way more fun than you could possibly imagine. Says Josh: "A playlist without Black Sabbath, Roky Erickson, The Cramps or the Misfits? I guess I'm going to hell for this. Here's a list I made a of a few favorites that you may or may not know for your Halloween playlist."
The weekend before Halloween, I like to put on this Vincent Price album, Witchcraft & Magic, An Adventure in Demonology. It's everything you would hope for: Vincent telling stories as well as "how to's." Check this first track to kick off the playlist, "How to Make a Pact with the Devil."
"Race with the Devil" – GUN
A straight up rocker and recorded in 1968!
"Dracula part 1" – THE JIMMY CASTOR BUNCH
Get the dance party going with this one. Flip the side and get a second does with Dracula, part 2.
"Solomon's Ring" – LUCIFER
Mort Garson conjures up the spirits with this ahead-of-its-time Moog record.
"Night of the Creeps" – MEAN JEANS
A great pop-punk song inspired by the Fred Dekker cult classic film.
"Teenage Frankenstein" – ALICE COOPER
This song helped me feel not so out of place growing up in the suburbs as a child. It's also the song playing in the background in the RV scene in Friday the 13th Part 6.
"Whistling Past the Graveyard" – SCREAMIN' JAY HAWKINS
Screamin' Jay giving you all the Halloween feels.
"It's Halloween" – THE SHAGGS
Drumbeat is pretty spooky.
"Partytime" – 45 GRAVE
One of my favs from the excellent Return of the Living Dead soundtrack. BRAAIINS!
"Theme from the Exorcist" – DIZZY REECE
A later album by Dizzy Reece, exploring the light and the dark.
"Monster Shindig" – DANNY HUTTON
Sick of the Monster Mash? This is a good replacement.
"Evil Has No Boundaries" – SLAYER
From the Show No Mercy album and the film, River's Edge.
"Dead By Christmas" – HANOI ROCKS
Moving on to the next holiday.
The Star Invaders is available from Pledgemusic in myriad formats, including deluxe vinyl, or on basic black wax from Good Land Records.