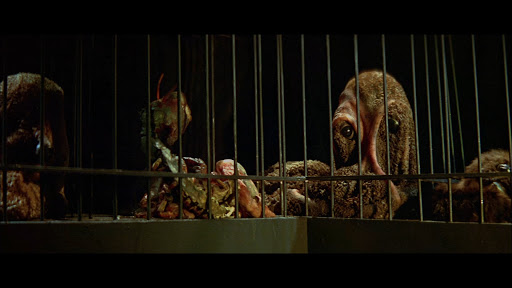 Podcast (horrorbusiness): Play in new window | Download
Subscribe: RSS
Greetings, and welcome back to Horror Business. We have one awesome episode in store for you guys. In this episode we're doing a Patreon request with two films from 1965: Die, Monster, Die and Planet Of The Vampires.
First and foremost, we want to give a shoutout to our sponsors over at Lehigh Valley Apparel Creations, the premiere screen-printing company of the Lehigh Valley. Chris Reject and his merry band of miscreants are ready to work with you to bring to life your vision of a t-shirt for your business, band, project, or whatever else it is you need represented by a shirt, sweater, pin, or coozy. Head on over to www.xlvacx.com to check them out. Also, thank you to our Patreon subscribers. Your support means the world to us and we are eternally grateful for that support. Thanks!
We start by talking about what we've done involving horror recently. We talk about the new HBO series Lovecraft Country, Liam talks about I'll Be Gone In The Dark and Demon Knight, and Justin talks about watching the films The Hunt, The Pale Door, and Uncle Peckerhead.
Up first is Die, Monster, Die. We begin by comparing it to the recent adaption of the source material with Nicholas Cage's The Color Out Of Space. We give a brief summary of the film.
We talk about how the film is essentially a classic haunted house/gothic story bookended with plot points from Lovecraft's source material.
We touch upon how the film kind of steers away from plot elements of COOS and instead weave in other classic elements common in Lovecraft's work. Lovecraft's opinion on science is briefly touched upon.
Up next is Planet Of The Vampires. We briefly talk about the films influence on Alien and give a brief summary of the film. Liam talks about how he normally doesn't enjoy films in this style. We briefly talk about the legacy of Mario Bava and how he could make a little go a long way.
We talk about how there moments in the film that are surprisingly frightening for a film of this era. We talk about the charm of the film and how it won us over despite looking somewhat cheesy. Justin talks about how the film reminds him of the novel Monster by Christopher Pike and how he enjoys non-traditional approaches to vampires.
Bava's choice of color and lighting in the film is discussed, and how it contrasts with some of the cheesier effects. We conclude by talking about some of the political implications of the film.
First and foremost, thank you for listening. Thank you to everyone and anyone who donated on Patreon, checked this episode out, or shared a tweet/shared a post on FB/gave us love by recommending us to someone. We love you forever for listening and donating. Any questions, comments, suggestions for movies and guests, or if you yourself want to join us for a movie viewing or even an episode, can be sent to [email protected]. We would love to hear from you! Thanks always to Justin Miller, Jacob Roberts, and Doug Tilley for their technical contributions and fliers, Mike Smaczylo for the shirts and fliers (you can check more of his work out at here), and also thanks to Josh Alvarez for the theme song, Chris, Brad, and LVAC for the support and buttons (check them out at www.xlvacx.com and on Twitter), and a HUGE thank you to anyone who retweeted us or shared something on Facebook that we posted. Follow us on Twitter and Instagram at @thehorrorbiz666, like us on Facebook at facebook.com/thehorrorbiz66, check out our Spotify account at Cinepunx, and remember to rate, review, and subscribe to us on ITunes. In fact, if you write us a review, email us with your mailing address and we'll send you some free pins and stickers!  Check out www.cinepunx.com for more info on some of our other podcasts, some ultra stylish Cinepunx related merchandise, and how you can donate to our Patreon! Until next time…thanks!