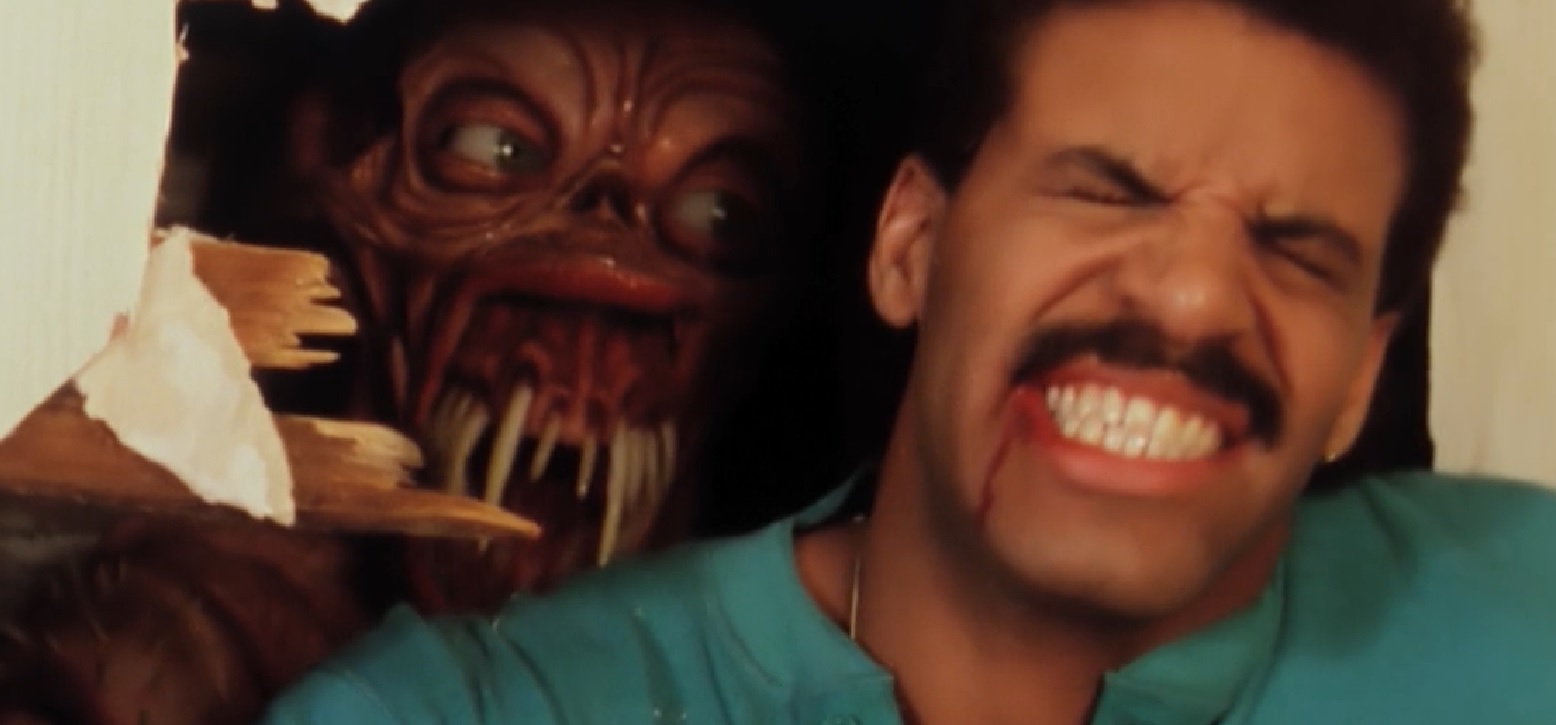 Podcast (horrorbusiness): Play in new window | Download
Subscribe: RSS
Greetings, and welcome back to Horror Business. We have one awesome episode in store for you guys. In this episode we're talking about 1980's Night Beast and 1990's The Suckling.
First and foremost, we want to give a shoutout to our sponsors over at Lehigh Valley Apparel Creations, the premiere screen-printing company of the Lehigh Valley. Chris Reject and his merry band of miscreants are ready to work with you to bring to life your vision of a t-shirt for your business, band, project, or whatever else it is you need represented by a shirt, sweater, pin, or koozie. Head on over to www.xlvacx.com to check them out. Also, thank you to our Patreon subscribers. Your support means the world to us and we are eternally grateful for that support. Thanks!
We start by briefly discussing what we've done lately involving horror. Liam talks about watching Blood Machines on Shudder. Justin talks about watching the Epix miniseries War Of The Worlds and the Amazon Prime documentary The Hat Man, as well as the films Grave Encounters, Grave Encounters 2, and What Keeps Us Alive.
Up first is Night Beast. We begin by giving a general outline of the film. We give our very general opinions on the film, and then disagree on the nature of the performances of the film. Justin argues that it is a joyless affair whereas Liam argues that it was fun. We touch upon the weird phenomenon of aliens who're smart enough to pilot a ship across the galaxy and little more than rabid animals when they land.
Liam talks about the gore in the movie feels tremendously out of place. We talk about how the movie is so bland and inoffensive that it becomes offensive.
We discuss the films filled attempt at adding an "exploitation" angle with it's weirdly out-of-place rapist subplot. The films legendarily awkward sex scene is touched upon.
Up next is The Suckling. We begin by addressing the abject tastelessness of the film and how it might be a turn off for some people. Justin talks about the films somewhat mixed message on abortion, whereas Liam thinks it's just a testament to the film's general obnoxiousness.
We talk about the film's human villain being almost too annoying due to the actor's overacting, as well as another character's tendency to say horrible uncomfortable shit about sex workers. We discuss the films subtle examination of how customers of sex workers often seek to demean those same sex workers to make themselves feel better.
Liam brings up the films choice to make the films only likable male character a black war veteran who has seemingly been unable to find any other work besides working in a brothel and how that may have been commentary on how vets are treated.
Justin talks about some of the more interesting set design choices, such as the cocoon that the creature surrounds the house with, as well as some of the other FX scenes he found particularly upsetting. We make an argument that the FX had no right to look as good as they do given the budget.
Thank you for listening! Thank you to everyone and anyone who donated on Patreon, checked this episode out, or shared a tweet/shared a post on FB/gave us love by recommending us to someone. We love you forever for listening and donating. Any questions, comments, suggestions for movies and guests, or if you yourself want to join us for a movie viewing or even an episode, can be sent to [email protected]. We would love to hear from you! Thanks always to Justin Miller, Jacob Roberts, and Doug Tilley for their technical contributions and fliers, Mike Smaczylo for the shirts and fliers (you can check more of his work out at here), and also thanks to Josh Alvarez for the theme song, Chris, Brad, Alexis, and LVAC for the support and buttons (check them out at www.xlvacx.com and on Twitter), and a HUGE thank you to anyone who retweeted us or shared something on Facebook that we posted. Follow us on Twitter and Instagram at @thehorrorbiz666, like us on Facebook at facebook.com/thehorrorbiz666, check out our Spotify account at Cinepunx, and remember to rate, review, and subscribe to us on iTunes. In fact, if you write us a review, email us with your mailing address and we'll send you some free pins and stickers!  Check out www.cinepunx.com for more info on some of our other podcasts, some ultra stylish Cinepunx related merchandise, and how you can donate to our Patreon! Until next time…thanks!