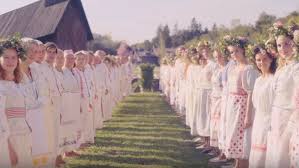 Podcast (horrorbusiness): Play in new window | Download
Subscribe: RSS
Greetings, and welcome back to Horror Business. We have one awesome episode in store for you guys. In this episode we're talking about our favorite horror films of 2019 and we're joined by the one and only Josh Alvarez of the Cinepunx podcast!
First and foremost we want to give a shoutout to our sponsors over at Lehigh Valley Apparel Creations, the premiere screen-printing company of the Lehigh Valley. Chris Reject and his merry band of miscreants are ready to work with you to bring to life your vision of a t-shirt for your business, band, project, or whatever else it is you need represented by a shirt, sweater, pin, or coozy. Head on over to www.xlvacx.com to check them out. Also, thank you to our Patreon subscribers. Your support means the world to us and we are eternally grateful for that support. Thanks!
We start by briefly discussing what we've done lately involving horror. Josh talks about watching Hell House LLC, Liam talks about seeing the Netflix Dracula series, and Justin talks about seeing Underwater.
Our top ten lists were as follows
Josh
10. Crawl
9. Brightburn
8. Dogs Don't Wear Pants
7. Climax
6. Luz
5. It: Chapter/The Dead Don't Die
4. Ready Or Not
3. Us
2. The Lighthouse
Midsommar
Liam
Depraved9. Ready Or Not8. Crawl7. Daniel Isn't Real6. Bliss5. Harpoon4. In Fabric3. Tigers Are Not Afraid2. Midsommar1. The Swerve
Justin
10. Bliss
9. The Girl On The Third Floor
8. 1BR
7. Harpoon
6. Climax
5. Daniel Isn't Real
4. Crawl
3. Doctor Sleep
2. Us
1. The Swerve
Some of the films in 2020 we're looking forward to include After Midnight, The Turning, Antlers, A Quiet Place Part II, Gretel And Hansel, The Color Out Of Space, I'm Thinking Of Ending Things, and Antlers.
Thank you to Josh for jumping on the mic with us and providing levity to our otherwise dour podcast. We love him more than words can describe. Check out his band Crossed Keys! Thank you to everyone and anyone who donated on Patreon, checked this episode out, or shared a tweet/shared a post on FB/gave us love by recommending us to someone. We love you forever for listening. Any questions, comments, suggestions for movies and guests, or if you yourself want to join us for a movie viewing or even an episode, can be sent to [email protected]. We would love to hear from you! Thanks always to Justin Miller, Jacob Roberts, and Doug Tilley for their technical contributions and fliers, Mike Smaczylo for the shirts and fliers (you can check more of his work out at here), and also thanks to Josh Alvarez for the theme song, Chris, Brad, Alexis, and LVAC for the support and buttons (check them out at www.xlvacx.com), and a HUGE thank you to anyone who retweeted us or shared something on Facebook that we posted. Follow us on Twitter and Instagram at @thehorrorbiz666, like us on Facebook at facebook.com/thehorrorbiz66, check out our Spotify account at Cinepunx, and remember to rate, review, and subscribe to us on ITunes. In fact, if you write us a review, email us with your mailing address and we'll send you some free pins and stickers! Check out www.cinepunx.com for more info on some of our other podcasts, some ultra stylish Cinepunx related merchandise, and how you can donate to our Patreon! Until next time…thanks!