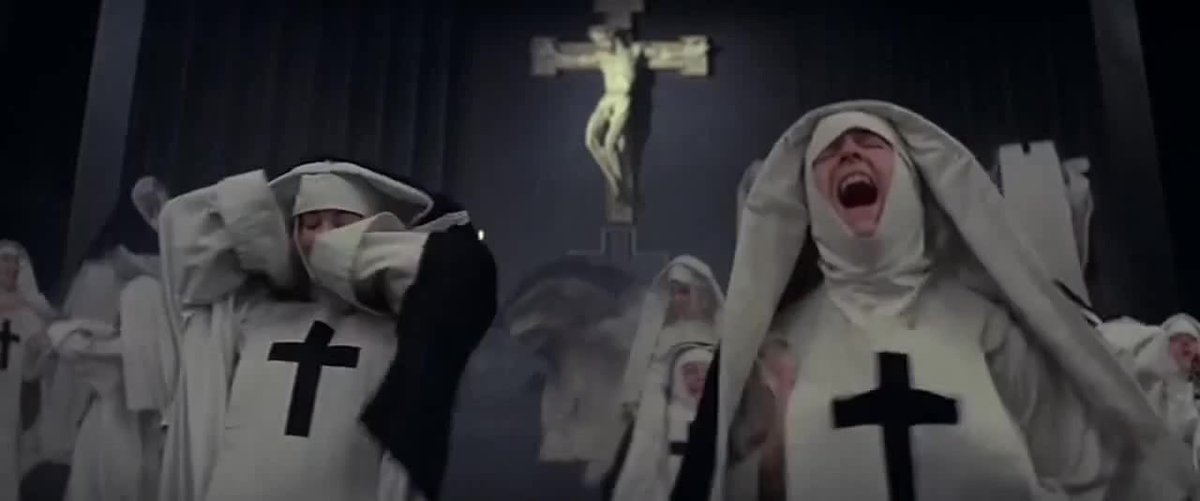 Podcast (horrorbusiness): Play in new window | Download
Subscribe: RSS
Greetings, and welcome back to Horror Business. We have one awesome episode in store for you guys; we're talking about 1971's The Devils and 1981's The Other Hell.
First and foremost, we want to give a shout-out to our sponsors over at Lehigh Valley Apparel Creations, the premiere screen printing company of the Lehigh Valley. Chris Reject and his merry band of miscreants are ready to work with you to bring to life your vision of a t-shirt for your business, band, project, or whatever else it is you need represented by a shirt, sweater, pin, or koozie. Head on over to www.xlvacx.com to check them out. Also, thank you to our Patreon subscribers. Your support means the world to us and we are eternally grateful for that support. Thanks!
We start by briefly discussing what we've done lately involving horror. We discuss the fifth annual Zombiefest at the Mahoning Valley Drive-In, the upcoming Cinepocalypse Film Festival, the debut of the trailer It: Chapter 2, and Brightburn.
We begin by talking about The Devils.  First, a brief background on the work of Ken Russell and the phenomenon of the Devils of Loudon, the historical event that the movie is loosely based upon.
The set design of the film by the incredible Derek Jarman, and how it has a very futuristic and dreamy feel to it, in a deliberate choice by Russell to make it feel "out of time."
The history of the editing of the film is touched upon, in that much of the original footage from the "directors cut" has been lost. Some of the scenes from the directors cut are briefly touched upon. The films portrayal of Urbain Grandier, in that makes him a much more tragic figure than he was in reality.

The way women were treated by the church in the 17th century religious world is examined, and the way they submitted to the power of men is also discussed. The films examination and declarations on human sexuality and how religion and society relates to that is examined. The historical phenomenon of mass hysteria and the religious implications of it are talked about.
Grandier's authenticity making him the closest thing to a hero in the film is discussed, and the gray unstable morality of the entire cast of the film is discussed. The film's portrayal of women and homosexuality is discussed, as is Ken Russell's trademark lack of subtlety. For more on how Liam feels about The Devils, as well as the opinions of fellow Cinepunk Josh Alvarez, please head on over to Cinepunx to check out the episode they did on this movie a while back!
Next up is The Other Hell. We begin by giving a background of director Bruno Mattei, in which we discuss Mattei's value as a filmmaker and whether or not he makes entertaining films.
The history of nuns in horror films is briefly touched upon, in that it encapsulates both the idea of innocence being corrupted and repressed sexuality. Justin talks about how he wasn't really a fan of the movie, and it feels plodding and aimless and ultimately unsuccessful in its goal. Mattei's "eye for upsetting things" in the visual medium is touched upon.
The miscellaneous plot issues are talked about at length, and Liam ultimately concludes that the film is worth seeing, and if you're a fan of Italian horror, you might be a fan of this and Justin reluctantly gives the movie a half a star for being earnest. We end by talking how a filmmaker like Fulci knows how to make a movie rich in visual weirdness but light on plot while filmmakers like Mattei aren't quite as successful.
As always thanks to everyone and anyone who donated on Patreon, checked this episode out, or shared a tweet/shared a post on FB/gave us love by recommending us to someone. We love you forever for listening. Any questions, comments, suggestions for movies and guests, or if you yourself want to join us for a movie viewing or even an episode, can be sent to [email protected]. We would love to hear from you! Thanks always to Justin Miller and Doug Tilley for their technical contributions and fliers, Mike Smaczylo for the shirts and fliers (you can check more of his work out at here), and also thanks to Josh Alvarez for the theme song, Chris, Brad, Alexis, and LVAC for the support and buttons (check them out at www.xlvacx.com), and a HUGE thank you to anyone who retweeted us or shared something on Facebook that we posted. Follow us on Twitter and Instagram at @thehorrorbiz666, like us on Facebook at facebook.com/thehorrorbiz66, and remember to rate, review, and subscribe to us on ITunes. In fact, if you write us a review, email us with your mailing address and we'll send you some free pins and stickers! Check out www.cinepunx.com for more info on some of our other podcasts, some ultra stylish Cinepunx related merchandise, and how you can donate to our Patreon! Until next time…thanks!