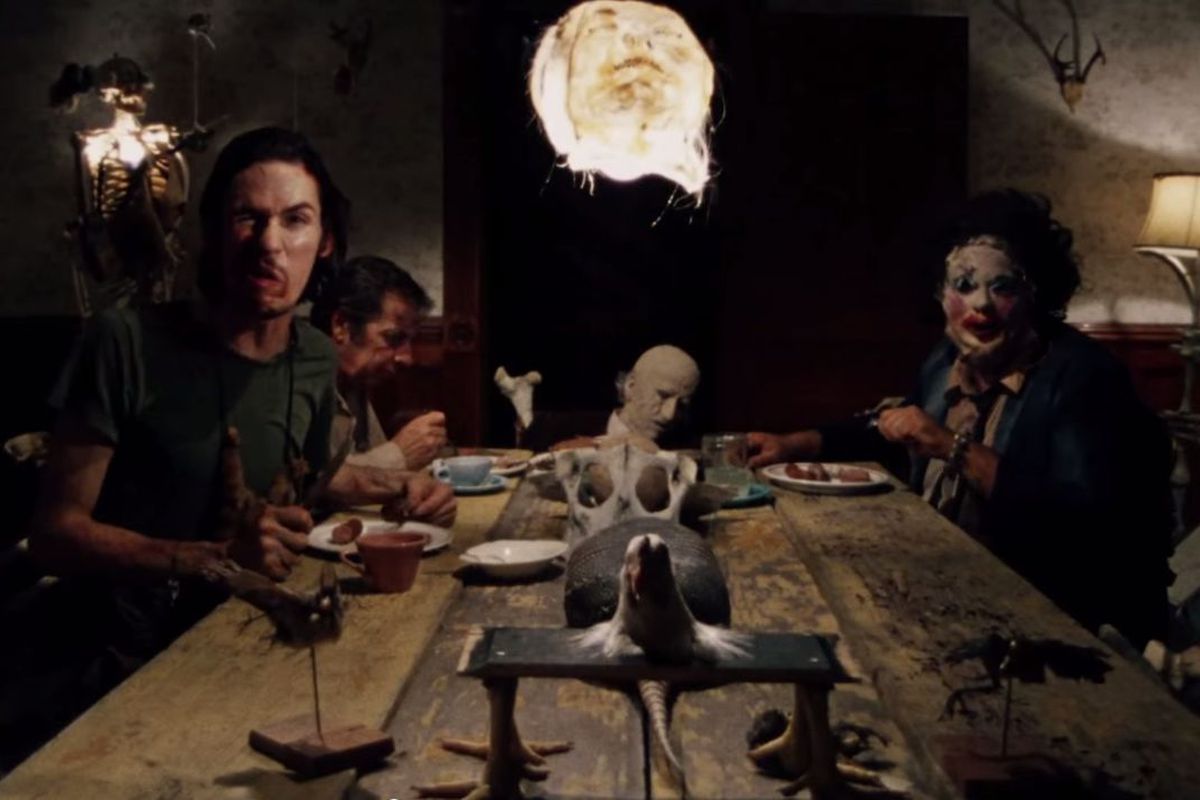 Podcast (horrorbusiness): Play in new window | Download
Subscribe: RSS
Greetings, and welcome back to Horror Business. We have one awesome episode in store for you guys.  We're talking about 1974's The Texas Chainsaw Massacre and 1986's The Fly. We apologize for some slight audio issues.
First and foremost, we want to give a shoutout to our sponsors over at Lehigh Valley Apparel Creations, the premiere screen-printing company of the Lehigh Valley. Chris Reject and his merry band of miscreants are ready to work with you to bring to life your vision of a t-shirt for your business, band, project, or whatever else it is you need represented by a shirt, sweater, pin, or coozy. Head on over to www.xlvacx.com to check them out. Thank you also to Essex Coffee Roasters, our newest sponsor. Head to www.essexcoffeeroasters.com to check out their fine assortment of coffee, and enter CINEPUNX in the promo code for ten percent off your order! And as always thank you to our Patreon subscribers. Your support means the world to us and we are eternally thankful. If you would like to become a Patron, head to patreon.com/cinepunx. Thanks in advance!
We start by talking about what we've done involving horror recently. Liam talks about the film The Dark And The Wicked. Justin talks about rewatching The Lord Of The Rings saga and how as an adult certain elements of the films are now scary. We then talk about the films Synchronic and St. Maud.
Up first is The Texas Chainsaw Massacre. We talk about how the film, despite being a linchpin of modern pop culture perception of horror films, is actually far better and far more upsetting than even caricatures of the film present it as. We talk about how despite being undeniably violent, there is almost no gore in the film.
We talk about the set design and the camerawork of the film and how it lends the film a rather "psychotic" feel. We talk about the voyeuristic aspect of the camerawork and how it lends a sense of transgressiveness to the film, as if we are seeing something we ought not to be seeing.
Justin talks about how the film looks like the Patterson-Gimlin film, or the Zapruder film, in which we're seeing something unreal and maliciously magical, and how the film is so intense and realistic that it grabs you deep within a primitive place that triggers a horrid sense of empathy.
We talk about how the film raises some important questions about the nature of humanity and in turn the way we dehumanize other people. Liam talks about the concept of how horror allows us to look at some uncomfortable concepts indirectly.
We briefly touch upon the film as an allegory on animal rights. We discuss the way the film sets up a rhythm that is conducive to lulling the viewer into a feeling that they have a grasp on what's happening. We discuss some of our personal favorite moments of the film and Liam offers up a defense of Franklin.
Up next is The Fly. Justin opens up with an anecdote of how he first saw The Fly II and was mortally terrified of the ending scene, and how that scene has stuck with him for decades now.
Liam talks about his first exposure to the film and how it caught him off guard due to his exposure to the original film. We talk about the level of gooeyness in the film, and how it's somewhat impressive that this was a widely released film theatrically. Justin talks about a vague Cronenbergian concept that the film is heavy with, and how it's something of a signature for his film.
Liam brings up how the film is something of a critique of the '80s obsession with physically bettering oneself, be it through yoga, probiotics, or copious drug use. The non-neutrality of sex in Cronenberg's works, and sex as a source of transgression is discussed. We briefly touch upon the work of philosopher Derek Parfit, who proposed a thought experiment on the nature of the mind body connection and how that concept relates to the film in which the telepods actually disintegrate things and re-assemble them as it sees fit. Thus, is the Seth Brundle who stepped out of the pod the same Seth Brundle who stepped into the pod?
We touch upon Cronenberg's creative process of how he can make mundane concepts upsetting. We discuss the music of the film, and how the process of Brundle's devolution into Brundlefly was influenced by Cronenberg's fear of his own body and dealing with his father's death by cancer. Cronenberg's succinct summary of the film as "two lovers, one of whom is sick and the other must kill them out of mercy" and how Cronenberg is a brilliant enough filmmaker to make something truly spectacular out of such a mundane concept. Cronenberg's work as a mirror on human nature is discussed.
The tragic and "unfun" nature of the film is touched upon, and how rarely the sadness of the film is discussed. We talk about the performances of the film, and how the ending of the film is utterly devastating. Justin talks about realizing the doomed nature of the Brundlefly design in that even if Brundlefly hadn't gone through the telepod a second time he wouldn't have lived long due to its chaotic genetic structure. Justin concludes that Brundlefly ultimately isn't threatening, but rather pathetic.
First and foremost, thank you to everyone and anyone who donated on Patreon, checked this episode out, or shared a tweet/shared a post on FB/gave us love by recommending us to someone. We love you forever for listening and donating. Any questions, comments, suggestions for movies and guests, or if you yourself want to join us for a movie viewing or even an episode, can be sent to [email protected]. We would love to hear from you! Thanks always to Justin Miller, Jacob Roberts, and Doug Tilley for their technical contributions and fliers, Mike Smaczylo for the shirts and fliers (you can check more of his work out at here), and also thanks to Josh Alvarez for the theme song, Chris, Brad, and LVAC for the support and buttons (check them out at www.xlvacx.com and on Twitter), Essex Coffee Roasters (www.essexcoffeeroasters.com) and a HUGE thank you to anyone who retweeted us or shared something on Facebook that we posted. Follow us on Twitter and Instagram at @thehorrorbiz666, like us on Facebook at facebook.com/thehorrorbiz66, check out our Spotify account at Cinepunx, and remember to rate, review, and subscribe to us on ITunes. In fact, if you write us a review, email us with your mailing address and we'll send you some free pins and stickers!  Check out www.cinepunx.com for more info on some of our other podcasts, some ultra stylish Cinepunx related merchandise, and how you can donate to our Patreon! Until next time…thanks!