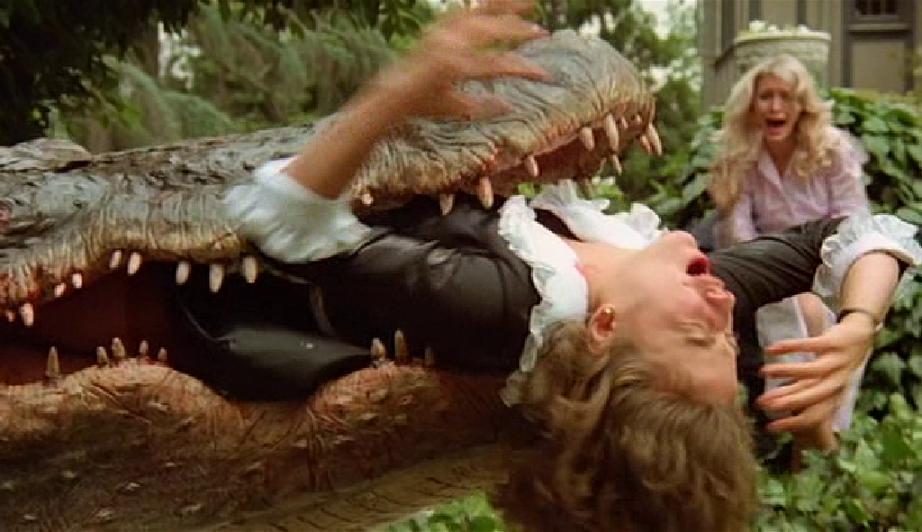 Podcast (horrorbusiness): Play in new window | Download
Subscribe: RSS
Greetings, and welcome back to Horror Business! We have got one WILD episode in store you guys. As always thank you for listening and we hope you enjoy the episode!
First and foremost we want to give a shoutout to our sponsors over at Lehigh Valley Apparel Creations, the premiere screenprinting company of the Lehigh Valley. Chris Reject and his merry band of miscreants are ready to work with you to bring to life your vision of a tshirt for your business, band, project, or whatever else it is you need represented by a shirt, sweater, pin, or coozy. Head on over to www.xlvacx.com to check them out. Thanks!
This episode we are opening up our multi-episode series on the concept of animal horror, also known as eco horror, and we are discussing 1980's Alligator and 1984's Razorback.
We begin by talking about what we've seen recently. On Saturday, July 8th we were fortunate enough to catch the second night of the Mahoning Drive In's first (hopefully annual) VHS FEST, which was two nights of films that were shot on VHS and also were projected from VHS. The event was a joint effort between the Mahoning crowd and Lunchmeat VHS, and ended up being a lot of fun. Liam talks about his recent viewing of the all female helmed anthology film XX, and Justin discusses his viewing of Chuck Russell's 1988 remake of The Blob which he caught at Frank Banko Alehouse Cinema.
First up is 1980's Alligator, written by John Sayles and directed by Lewis Teague. We give a basic plot outline of the movie, and briefly discuss how despite the movie taking place in Chicago the filmmakers didn't bother covering up the fact that it was film in L.A.
We discuss how the film was surprisingly well received by critics and how that puts it above most other animal horror movies released during this time period. We talk about the effectiveness of the scenes involving the titular alligator and how they're actually quite fearful, and how the effects are surprisingly effective (no pun intended).
We examine the concept of animal horror and how the release of Jaws inspired many films involving monstrous animals to be released in the next decade, and how many of these films follow the basic outline of Jaws. We briefly discuss the nature of horror fandom, the concept of Alligator as a metaphor of class warfare, Robert Forster in general, the way women are depicted in this film, and the shortcoming of many animal horror movies in that it's difficult to ascribe malice and villainy to animal antagonists.
Up next is 1984's Razorback, written by Everett DeRoche and directed by Russell Mulcahy. We discuss Mulcahy's background in directing and how that background effects the look and feel of this film, and we briefly discuss the ludicrous nature of the opening scene in which a boar the size of a tank wrecks a house to eat a child.
We talk about the phenomenon of "Ozploitation" films. The depiction of Australia and how Americans perceive Australians is discussed.
We discuss how the film goes a little of the rails at halfway point and barely brings it all back together with the conclusion, and how while it's not necessary to show the titular monster all the time, it's a disappointment when it's barely seen.
As always thanks to everyone and anyone who checked this episode out, or shared a tweet/shared a post on FB/gave us love by recommending us to someone. We love you forever for listening. Any questions, comments, suggestions for movies and guests, or if you yourself want to join us for a movie viewing or even an episode, can be sent to [email protected]. We would love to hear from you!. Thanks always to Justin Miller and Doug Tilley for their technical contributions and fliers, Mike Smaczylo for the awesome fliers, and also thanks to Josh "700 Bands" Alvarez for the theme song, Chris and LVAC for the support and buttons (check them out at www.xlvacx.com), and a HUGE thank you to anyone who retweeted us or shared something on Facebook that we posted. Follow us on Twitter at @thehorrorbiz666, like us on Facebook at facebook.com/thehorrorbiz66, and remember to rate, review, and subscribe to us on ITunes. In fact, if you write us a review, email us with your mailing address and we'll send you some free pins and stickers! Check out www.cinepunx.com for more info on some of our other podcasts and how you can donate to our Patreon! Until next time…thanks!