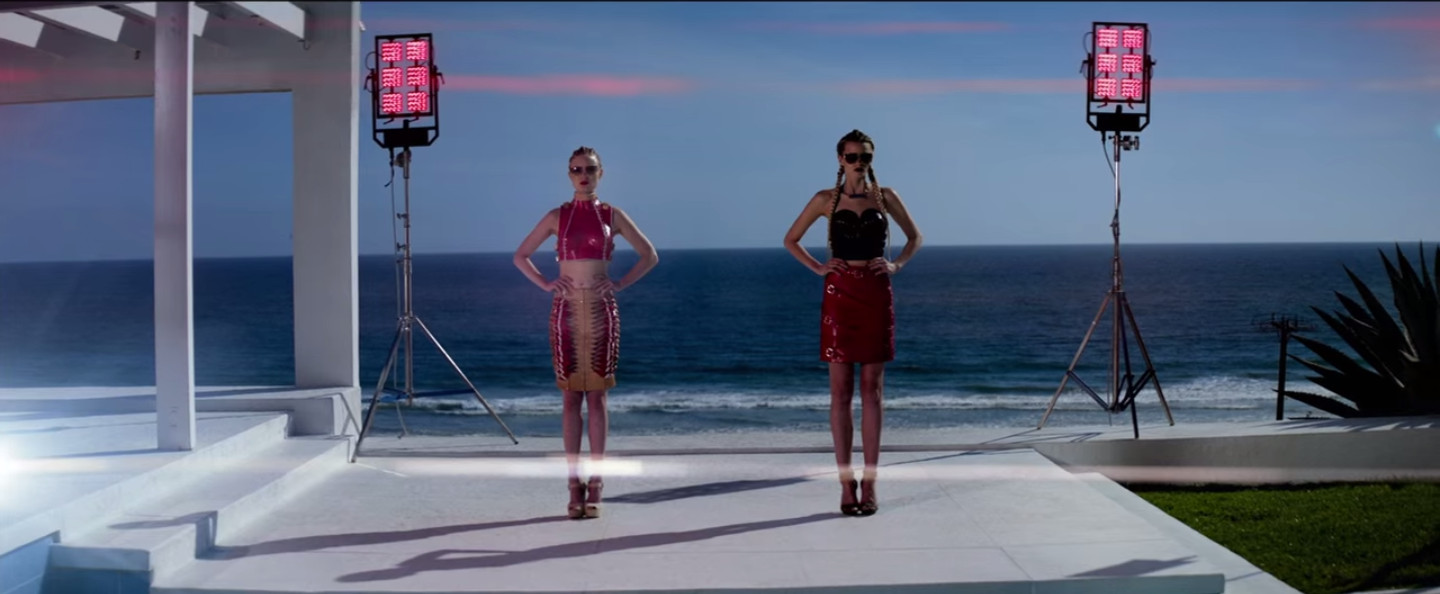 Podcast (horrorbusiness): Play in new window | Download
Subscribe: RSS
Greetings beautiful ones and welcome back to Horror Business, the podcast that knows that what' s inside is what really counts. Thanks as always for listening, and we have a great episode for you!
First and foremost we want to give a shoutout to our sponsors over at Lehigh Valley Apparel Creations, the premiere screenprinting company of the Lehigh Valley. Chris Reject and his merry band of miscreants are ready to work with you to bring to life your vision of a tshirt for your business, band, project, or whatever else it is you need represented by a shirt, sweater, pin, or coozy. Head on over to www.xlvacx.com to check them out. Thanks!
This episode we are talking about two films that take place within the entertainment industry of Los Angeles: 2014's Starry Eyes and 2016 The Neon Demon.
We begin by talking about what we've seen recently. We were fortunate enough to catch a screening of A Nightmare On Elm St 3: Dream Warriors in Philadelphia as part of the Wizard World/Bloody Disgusting horror festival. What made the screening extra special was that there was live commentary by director Chuck Russell and the one and only Heather Langenkampf. To make it even MORE extra special was that the event was MC'd by Ryan Lamber and Andre Gower of the classic '80s horror movie The Monster Squad. We briefly discuss Justin seeing The Mummy and The Bye Bye Man, and then we spend a goodish amount of time talking about a film we both loved called It Comes At Night.
First up is 2014's Starry Eyes. We begin by giving a brief summation of the plot and discuss the film's influences from some other classic horror films, including the works of David Lynch, as well as Rosemary's Baby and Possession.
The film as a metaphor for what it's like to struggle in the film industry of Los Angeles is discussed at length.
The performances of the actors, the special effects, and some of the imagery of the film is also examined, as is the concept of willing sacrifice in traditional witchcraft and how that relates to the film.
Up next is 2016's The Neon Demon. We briefly talk about Nicholas Refn Winding's prior work, as well as his inspiration for this film.
The 'on the nose' tendency of the film in portraying various metaphors is discussed. The performances of the actors, the motivations of the characters, and the films rather stunning visuals are discussed at length.
We briefly touch upon Winding's earnest attempt to create a feminist film that falls just short of actually succeeding as a work of feminist cinema but still critiques masculinity and patriarchy successfully.
As always thanks to everyone and anyone who checked this episode out, or shared a tweet/shared a post on FB/gave us love by recommending us to someone. We love you forever for listening. Any questions, comments, suggestions for movies and guests, or if you yourself want to join us for a movie viewing or even an episode, can be sent to [email protected]. We would love to hear from you! Thanks always to Justin Miller and Doug Tilley for their technical contributions and fliers, Mike Smaczylo for the awesome fliers, and also thanks to Josh "Money In The Bank" Alvarez for the theme song, Chris and LVAC for the support and buttons (check them out at www.xlvacx.com), and a HUGE thank you to anyone who retweeted us or shared something on Facebook that we posted. Follow us on Twitter at @thehorrorbiz666, like us on Facebook at facebook.com/thehorrorbiz66, and remember to rate, review, and subscribe to us on ITunes. In fact, if you write us a review, email us with your mailing address and we'll send you some free pins and stickers! Check out www.cinepunx.com for more info on some of our other podcasts and how you can donate to our Patreon! Until next time…thanks!