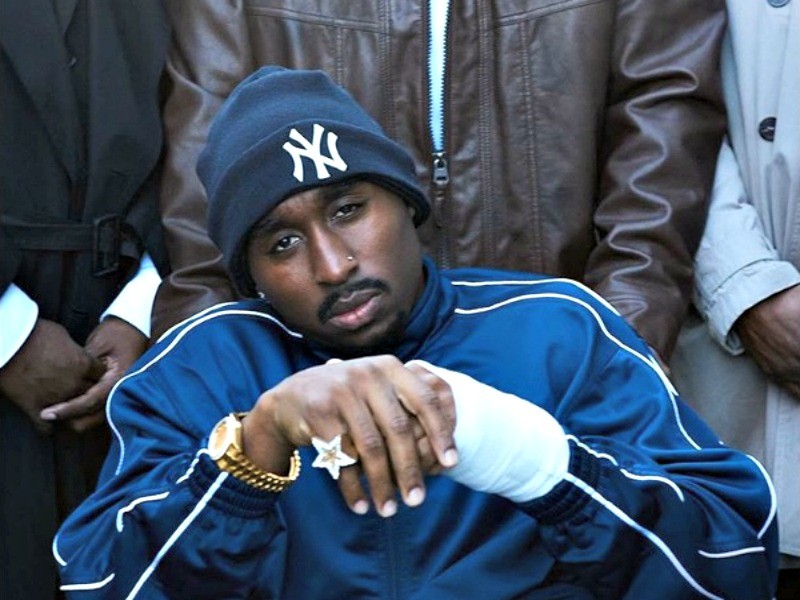 Major disclaimer here: This review might not be relevant. In fact, it could be totally unnecessary. That might be for the best. As one of a few white faces in the advanced screening of All Eyez On Me, the new biopic of Tupac Shakur, I do not shy away from the fact that my perspective on the film is not needed and might not be wanted.
That being said, I did really want to see and evaluate the film, based purely on its merit. That is due to yet another disclaimer: I'm not that into Tupac. If his music is on, I don't mind, but when asked to list my favorite rappers, Makaveli won't crack the Top 10. But as far as my take on the film goes, I am kind of glad for this, as it allowed me to go into this film without too many expectations.
All Eyez On Me tells the story of Tupac Shakur's life – beginning before his birth with his mother's involvement with the Black Panther movement, right up until his final moments. In the midst of all this, we are introduced to many of the rap industry colleagues Pac would work with, and some of the important women in his life. We get a glimpse at his run-ins with the law, and a first hand look at the East versus West rap beef of the nineties. Director Benny Boom opts to tell the first half of his story through a prison interview with Tupac, then shifts to a less introspective point of view after his release.
At first glance, I enjoyed this approach. Giving a deceased figure the option to explain his own story to the audience seemed like the right choice. However, what was created in that first half of the film ended up being disjointed, and felt slightly too forced. Rather than feeling like chapters of a book, flowing together in a consistent narrative, these events felt more like barely connected vignettes. The viewer never spends enough time in each moment to thoroughly connect to the characters or their context, leaving the feeling of a few incomplete notes outlining a complex life.
Another aspect that may not have helped was an overabundance of performance montages. As soon as Tupac enters the rap industry, and right up until his final performance, the viewer endures several reenactments of performances, studio sessions, and hotel and club parties – with a few awkward sex scenes thrown in. It may be hard to fault the filmmaker for this; between Benny Boom's career-making rap music videos and Demetrius Shipp Jr.'s spot-on depiction of the rapper's spirit and stage presence, these musical performance moments may have been difficult to resist. Despite there being a few too many long and drawn-out performances, the impact of the 1996 House of Blues concert remains intact, and is one of the standout moments of the film. But most of the others leave the viewer wading through music videos trying to find a storyline to follow.
Once Pac is out of custody and the disjointed storytelling starts to fade into a narrative, the film becomes much more compelling. As the film approaches the fateful ending, All Eyez On Me really begins to hit its stride. For the first time, the viewer is able to stay in one place long enough to develop a relationship with the characters, and the performances come to life. The tension between Tupac and Death Row Records' Suge Knight, portrayed by Dominic L. Santana, becomes so intense that people in the theater were whispering warnings to each other.
Therein lies the issue with the film that really holds it back: a few of the main actors turn in truly solid performances, but are ultimately inhibited by clumsy storytelling and the film's attempts to do way too much. While the viewer wants to see Tupac's relationships with those around him and how those interactions shape a man who would become a legend, for most of the film those interactions are reduced to cookie-cutter, cringe-inducing moments (like his mother's words "Your daddy is a revolutionary!" and a young Pac responding with "I'm gonna be a revolutionary!")
Let that point, however, not diminish Danai Gurira's contribution to this film as Tupac's mother, Afeni Shakur. In every moment that Gurira is on screen, she steals the show, giving an emotional weight that the film would otherwise be sorely lacking at all turns. Her performance shifts from black leather-clad revolutionary, to struggling crack-addict, to caring and proud mother of one of rap's biggest figures. It should not go unnoticed, as it was her effort that gave this film most of its impact. This should come as no surprise considering how important of a figure Afeni Shakur was in Tupac's life.
Also contributing to the impact of All Eyez On Me is the not-at-all-subtle depictions of white characters. From the first moments, the film establishes that civil rights will be a main theme. From Afeni Shakur's monologue on courtroom steps, to the dramatically white Interscope Records executives trying to silence Tupac's more controversial side, to the scene of Tupac shooting two off-duty cops who were beating a black man, the film does not shy away from calling out White America over their sins against the black population. These are bright spots that, again, give some emotional weight to an otherwise poorly-told story.
Overall, Tupac's story is one that needs to be told, but in its complexity and Shakur's complexity as an individual, the movie struggles under its own weight. The well-intentioned depictions become overly sentimental and cliché without the context they need to have true impact. I would recommend this film to any Tupac fan. While there have been questions raised about its accuracy, the film does offer bits of information about Tupac's life that might escape the casual fan, and even surprise those who consider themselves experts. And for those, like myself, who have never been huge fans, it offers a jumping-on point that helps shed more light on the music, and might give a second chance to get into it. All Eyez On Me has its flaws, but then, so did the tremendous figure that it is based on. In the end, the film still manages to capture an important glimpse of Tupac's life and legacy.