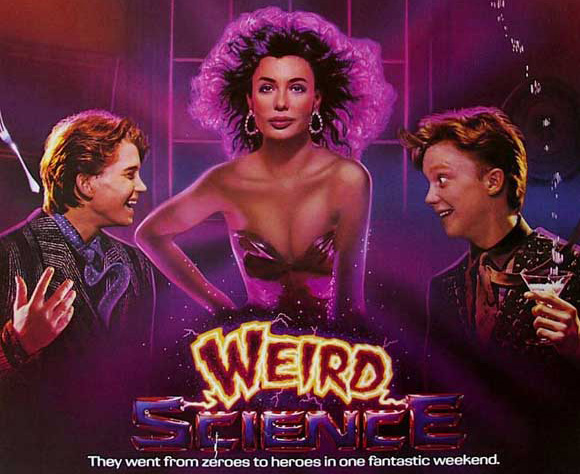 "Weird Science" by Oingo Boingo from Weird Science
It only seems natural that Danny Elfman would end up doing film scores, given the number of times his Los Angeles psychotic cabaret act, Oingo Boingo, had their music appear in films during the '80s. Their appearance in Back to School doing "Dead Man's Party" is one of that movie's more iconic scenes, and they're all over the soundtrack to 1984's Bachelor Party, also appearing in the film itself.
However, it's the title track for the 1985 sci-fi comedy, Weird Science, with which I identify the band cinematically. The film's a John Hughes joint that manages to simultaneously revisit the themes for which the director's best known — such as finding the strength within yourself — while also being a film wherein a computer-created woman can summon mutant bikers to a party.
Unsurprisingly, the music of a band formerly known as the Mystic Knights of the Oingo Boingo fits right in. There's a weird ska-meets-new-wave-meets-art-rock thing going on, and those horn lines absolutely fucking kill every time. The song's with the whole sci-fi aesthetic right from the beginning, too, with that sample of Colin Clive's "She's alive!" from The Bride of Frankenstein, and then it's off to the races with weirdness.
Although, I suppose "weirdness" is kind of relative, but the video's basically set up along the lines of a Universal Frankenstein film, rather than referencing the film explicitly. The lyrics make allusions to Weird Science as movie, with "Pictures from a magazine" and so on, but the video is just basically Oingo Boingo getting bizarre and arty while the production company inserted clips from the movie when at all possible.
Until Kelly Lebrock shows up in the last 10 seconds, this could've just been some really great post-modern weirdness from Elfman and the band. It's a nice combination of James Whale's Frankenstein Gothic atmosphere with the German expressionism of Edgar Ulmer's The Black Cat, and frankly works better than the film clips to which the song is synched.
After Weird Science, Oingo Boingo would go on to have songs featured in more films — notably, the aforementioned Back to School, as well as Texas Chainsaw Massacre II and Ghostbusters 2. Singer Danny Elfman would go on to score movies, even though he managed to do both the band and film starting with his first movie, 1985's Pee-Wee's Big Adventure.
Oingo Boingo broke up with a 1995 Halloween concert, and since then, Elfman's really not performed live. He did, however, sing a couple of songs from A Nightmare Before Christmas as part of a performance in 2013 that celebrated his music for the films of Tim Burton. He also teamed up with guitarist Steve Bartek to perform "Dead Man's Party" on Halloween 2015, but that's been about it. His latest score was for the film adaptation of Goosebumps, which is out now on LP from Waxwork Records. Elfman also has an upcoming score for Tim Burton's adaptation of Ransom Riggs' Miss Peregrine's Home for Peculiar Children, out on Christmas of this year.