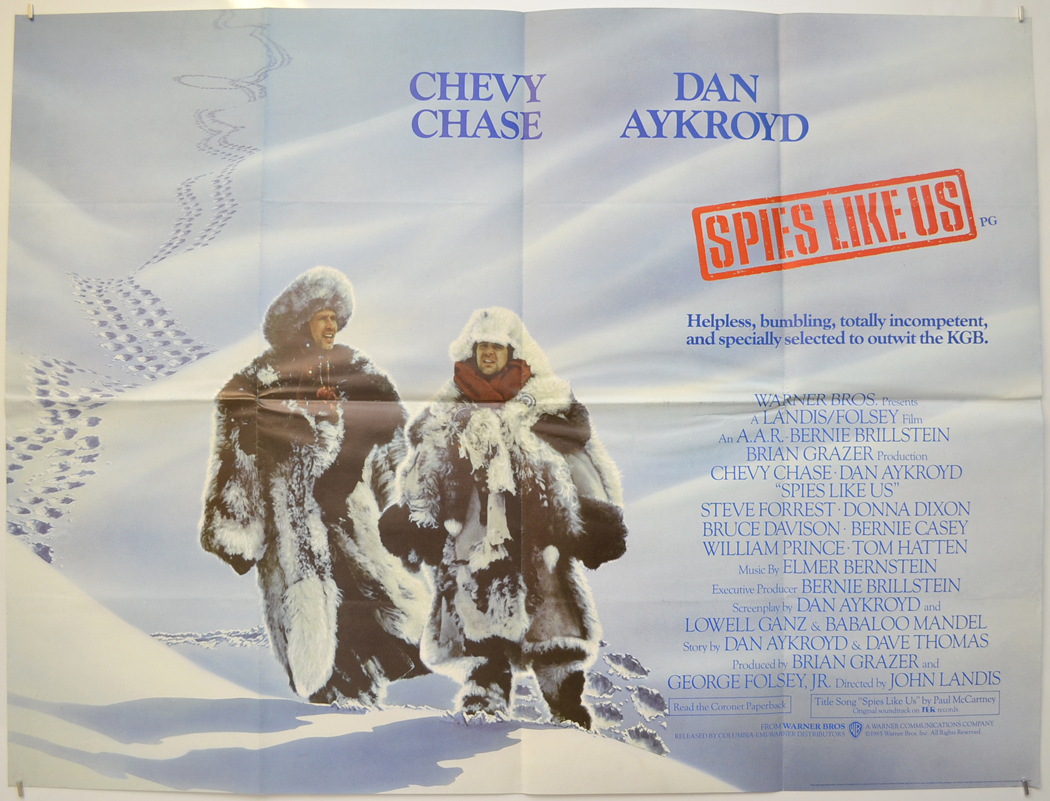 Paul McCartney's "Spies Like Us" from Spies Like Us
Released in December of 1985, the John Landis-directed Cold War comedy Spies Like Us is one of those movies that those of us of a certain age have likely seen dozens of times, thanks to a regular rotation on HBO. It's basically a modern update of the Bing Crosby and Bob Hope road movies from the '40s and '50s, wherein two guys end up having to pretend they're someone they're not as they get lost in some far-off foreign land.
I fucking love this movie. While most folks remember it for the perfectly-delivered, nigh-brilliant "doctor" scene in the midst of the desert, the first third or so is probably my favorite, wherein stars Chevy Chase (as Emmett Fitz-Hume) and Dan Aykroyd (as Austin Millbarge) get to be their most Chase and Aykroyd-ish. The test-taking scene is absurd and perfect, and Bernie Casey as Colonel Rhumbus brings in maybe my favorite training montage parody in the whole of cinema.
This is to say nothing of cameos from Frank Oz, Terry Gilliam, Ray Harryhausen, Joel Coen, Sam Raimi, Bob Hope, B.B. King, and Larry Cohen, none of which I recognized (aside from Hope) as a kid, making this the sort of movie which is strikingly rewarding to visit as an adult. I'm also fairly certain that combining Risk and Trivial Pursuit as a means to eradicate nuclear armaments couldn't be any worse than the way things go today.
I know that Chevy Chase is fairly notable for being a huge asshole and Dan Aykroyd has really fallen into the nostalgia trap the last decade or so, but these two were comedy gods in their prime. For Chase, Spies Like Us came at the end of a year which also included Fletch and National Lampoon's European Vacation, with Three Amigos coming out a year later. Aykroyd was in the midst of a run which had seen Trading Places in '83 and Ghostbusters in '84. His output after this is iffy – Dragnet and The Great Outdoors have their charms, but My Stepmother Is An Alien is awful, and he's certainly no Bill Murray in Caddyshack II – making Spies Like Us his Name of the Rose.
The film has a notable musical moment in it – featuring a bunch of Soviet soldiers blaring the Bar-Kays' "Soulfinger" in the middle of the Siberian wilderness – but the majority of the film consists of Elmer Bernstein's superbly epic score, which evokes the globe-trotting adventures of Fitz-Hume and Millbarge, and definitely hails back to the era of the road movies Spies Like Us homages.
Strangely, though I've seen this movie so
mething like 20+ times, I never realized that there's a titular song which plays over the closing credits, and it's by Paul McCartney. He's always been famous, and this song actually came after a string of hits for the former Beatle. He'd had two tracks with Michael Jackson – "The Girl Is Mine" in '82 and "Say Say Say" in '83, along with taking part in the '84 Band Aid single, "Do They Know It's Christmas?"
"Spies Like Us" actually made it to number seven on the Billboard Hot 100 chart in early February of 1986, and it was McCartney's last top ten single until "FourFiveSeconds" with Rihanna and Kanye West hit the number two spot nearly thirty years later in February of 2015.
So, the video, right? I'd never seen it until earlier this year, because aside from the Michael Jackson collabs, I don't really know any Paul McCartney stuff after the Wings' movie, Rockshow. It was also just too early for me to be watching MTV, and unless we're talking "Monster Squad Rap," I pretty much shut most movies off once the credits started rolling until I was in high school and started toward movie nerd status.
Speaking of nerd status, I was pretty godsmacked by this Rolling Stone Flashback piece where I found out Landis directed the video for "Spies Like Us," and that Roger Ebert got pretty lecherous in his review, which makes reading the piece worthwhile on its own.
The intro to the video has some nice nods to the movie, with the Ace Tomato Company truck pulling up to Abbey Road Studios and Chase, Aykroyd, and McCartney all in various disguises. It gets to be pretty standard fare after its intro, with McCartney in the studio, playing the track, as clips from the film are interspersed. The musician is playing all the parts — that is, until the mustachioed version of him pulls off a mask to reveal he's actually Dan Aykroyd, then pulls off that mask to reveal he's Chevy Chase. Playing keyboards! While Aykroyd rocks out in the recording booth! Lots of rubber masks in "Spies Like Us," really.
I'm a big fan of videos wherein the people from the movie are actually in it in ways other than just clips, so this wins that round: not only are Chase and Aykroyd in it, but actresses Vanessa Angel and Donna Dixon show up as the background vocalists. To make it even better, they do that thing where they edit in clips to make it look like the video's part of the film. Aykroyd holding up the phone in the booth so that the generals can hear it is a nice touch.
The song's fine. It's not particularly spy-like, and it's certainly no "Live and Let Die," but goddamn, is it catchy. It's also certainly less cloying than "Say Say Say" or "The Girl is Mine," both of which have videos that are … less than great. This is a much lower budget than either of those, but it's not nearly as irritating. Plus, in terms of the song, coming after a slew of holiday music, I'm sure it felt like a breath of fresh air.
Fun fact: James Brown's single from Rocky IV, "Living In America," was also part of the Billboard top ten the same week "Spies Like Us" peaked. I miss soundtrack songs making the charts. Also, watching this, then Chase's appearance in the video for the Paul Simon Graceland track, "You Can Call Me Al," later on in 1986, you can certainly see why Simon thought Chase would be a good, goofy substitute for himself.