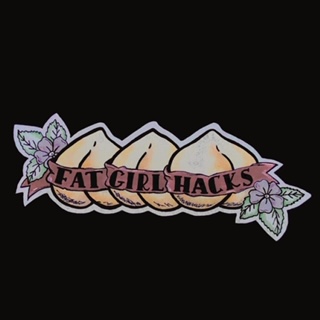 Podcast (fatgirlhacks): Play in new window | Download
Subscribe: Apple Podcasts | RSS
We're still in quarantine and we're still discussing body parts. This week in the FGH Body Series, we're all about thighs…milky, creamy, and covered in coarse black hair – what do we do with them? How do we keep them from hurting us? How do we fall madly in love with them?
We discover that chub rub is an equal opportunity offender when Chuck, a skinny dude, gets his first bout of it. 
Episode 17 will leave you knowing more about The Hackers lack of thigh gap than their own spouses – you're welcome. You'll also know to cover your vinyl chairs with a towel if they come over to sit a spell.  
Fat Girl Hacks is a bi-weekly, body-positive podcast. FGH discusses living life as a fat chick – the strengths, the struggles, and the good times that come along with living the fat life.  The Hackers take an opinionated, unapologetic, and funny look at fat current events and pop culture. Jaime, Meghan, and Nina, will share honest stories about their own trials, tribulations, and triumphs while navigating life in a larger body.
Hosted by: Jaime Frost, Meghan Peters, and Nina Vento
Produced/Music by: Kevin Frost