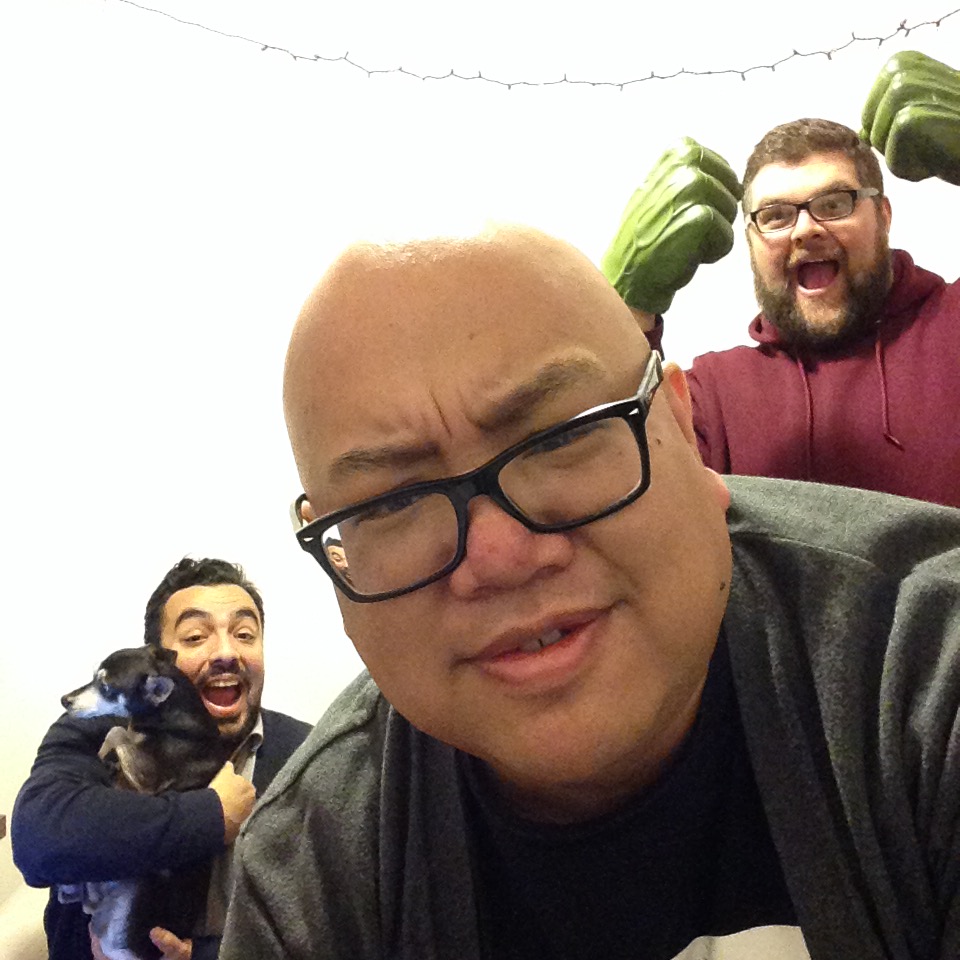 Podcast: Play in new window | Download
Subscribe: Apple Podcasts | RSS
IT IS TIME TO GET THINGS STARTED YOU CINEPUNX FREAKS!
Hey everyone and welcome to the 2014 YEAR IN REVIEW episode. We sat down with friend of the show Ivo Tomas to discuss some of our favorite music and movies from the year that was. We focused on our favorites because Liam has some uptight and stupid ideas around awards. So no awards from us. Instead we talk about those movies that made us feel things in a super intense way, and that is also really cool. Ivo is not quite the record nerd we are so he sat out for the record discussion. He was great though, and we were lucky to have him there to be part of the discussion. For those who have strong, sometimes irrationally so, opinions about what films should or should not be considered for end of year lists: we don't care. We could not even agree amongst our selves about what criteria to use so, we just did our lists and if it is not what you would do, feel free to discuss it on your podcast or, better yet, comment on this one. We fully accept that our opinions do not represent facts, which means we welcome your push back on our picks and decisions. Leave us comments any number of places. Below you will see our lists for reference, though keep in mind they are listed randomly and not in order of importance.
IVO:
Favorite Films-
St. Vincent
The Imitation Game
Ida
Calvary
The Guest
Boxtrolls
Guardians of the Galaxy
Grand Budapest
LEGO Movie
Edge of Tomorrow
Babadook
Blue Ruin
Foxcatcher
Snowpiercer
Whiplash
Joshua:
Favorite Films-
Her
12 Years a Slave
The Lego Movie
The Grand Budapest Hotel
Locke
The Sacrament
Blue Ruin
The Double
Under the Skin
Guardians of the Galaxy
Boxtrolls
Pride
Housebound
St. Vincent
The Guest
Birdman
Starry Eyes
The Babadook
Ida
Jodorowsky's Dune
Favorite Albums-
Mariachi El Bronx – III
Aphex Twin – Syro
Restorations – Lp3
Hari Kondabolu – Waiting for 2024
Hound – Out of Time
At the Gates – At War with Reality
Freddie Gibbs and Madlib – Piñata
A Winged Victory for the Sullen – Atomos
Allo Darlin – We Come from the Same Place
Loscil – Sea Island
Black Anvil – Hail Death
Old Firm Casuals – This Means War
Grouper – Ruins
Keaton Henson – Romantic Works
Nothing – Guilty of Everything
Big Freedia – Just Be Free
Boris – Noise
Cassavetes – Oh So Long
Thunder and Glory – As the Ocean Churns
Bob Mould – Beauty and Ruin
Liam:
Favorite Films:
Gloria
The Grand Budapest Hotel
The Look of Silence
Jodorowsky's Dune
Under the Skin
Blue Ruin
Snowpiercer
Guardians of the Galaxy
The Guest
The Lego Movie
Whiplash
The Tale of Princess Kaguya
Nightcrawler
The Way He Looks
Force Majeure
Her
Locke
Night Moves
Ida
Why Don't You Play in Hell?
Favorite Albums:
Praise – Lights Went Out
Indian – From All Purity
Trap Them – Blissfucker
D'Angelo – Black Messiah
Total Control – Typical System
Yautja – Songs of Descent
Tv On the Radio – Seeds
Run the Jewels – 2
Cult Leader – Nothing For Us Here
Ringworm – Hammer of the Witch
Boston Strangler – Fire
Code Orange – I Am King
Future Islands – Singles
Parquet Courts – Content Nausea
Thou – Heathen
Step Forward – S/T
The Roots – And Then You Shoot Your Cousin
Long Knife – Wilderness
Sun Kil Moon – Benji
The Impalers – S/T
Cretin – Stranger
So there are our lists. Honestly, I hope these are useful not in evaluating how cool or not cool we are, but really for finding some things that you were perhaps unfamiliar with. It may also give you yet another reason to yell at us which is of course always sick.
SOUND NOTES-
So, in typical technology confused style Liam attemtpted to "fix" some of the sound issues by playing with the settings in the program we use to record (Kristal). This lead to some interesting sound problems. Nothing so bad that the episode is un-listenable, but at one point it sounds like we have people calling in. We recorded it all together in the same room though. Who knows. Basically, our current set up is not working out for us, though it is not terrible considering how little money or expertise we have. That being said, we are going to be taking steps to change all that very soon, stay tuned!!