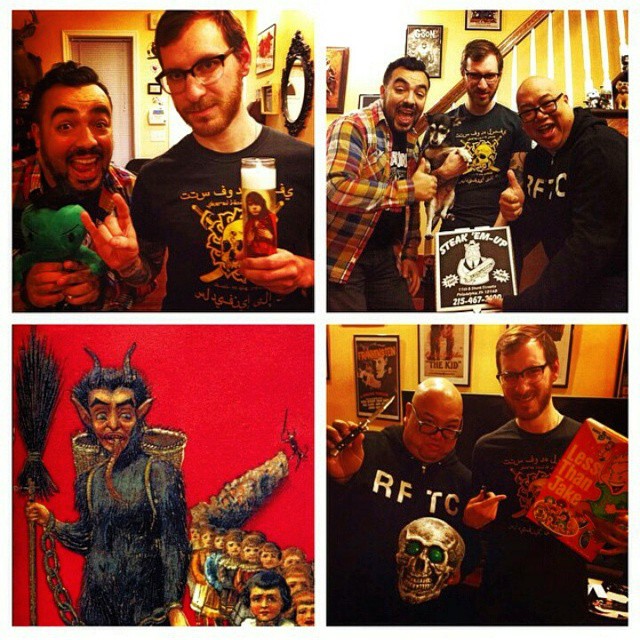 Podcast: Play in new window | Download
Subscribe: Apple Podcasts | RSS
WELCOME CINE-PUNKERS!!!!
Here we are with another new episode of Cinepunx, and this one is Holiday Themed!! We got to talk this week with our good friend Evan Vellela!You may know him from Instagram or Tumblr but you would likely know his art from…well us and Philly hardcore Shows! Evan has been doing flyers for shows for years, from Philadelphia to NYC to Austin, and he designed all the flyers and posters for our very own Podcast!! Sick dude.
WE had a good time hanging with Evan and discussing a variety of topics. Our focus this week was on Seasonal Horror films. We ended up on this topics simply because Liam wanted to talk about holiday films and this was all we could agree on. In the process though we also talk about how Evan got into Punk, a variety of shows and movies, and Evan tells some sick stories. Much of this is very NSFW as usual, so use discretion please.
This episode we did not have any Federal Donuts, though they remain our faithful sponsors! Instead this week we enjoyed some pizza from Steak Em Up! Liam is trying hard to prostitute the show out so we get free pizza too, but his efforts are likely to come to naught. Integrity is for rich people. Regardless, Pizza was great so go check um out.
We again encounter sound problems of a serious variety. This time it seems like Liam's mic was not working well so that ends up being a giant problem and headache. By the end of the episode it sounds like Liam is in a cave and Josh has the ability to echo his own voice. Evan sounds chill the whole time though, so you know, Fuck that guy.
Anyway, we hope you enjoy the episode. Check us out on the Instagram, Twitter, and Facebook. Leave us comments and we will discuss them on the show. Our next episode will be a year end wrap up, with our favorite music and movies of 2014. Wanna suggest music or movies we should consider? Comment or send us a message or whatever. Thanks for being awesome internet, check in with you again soonish.