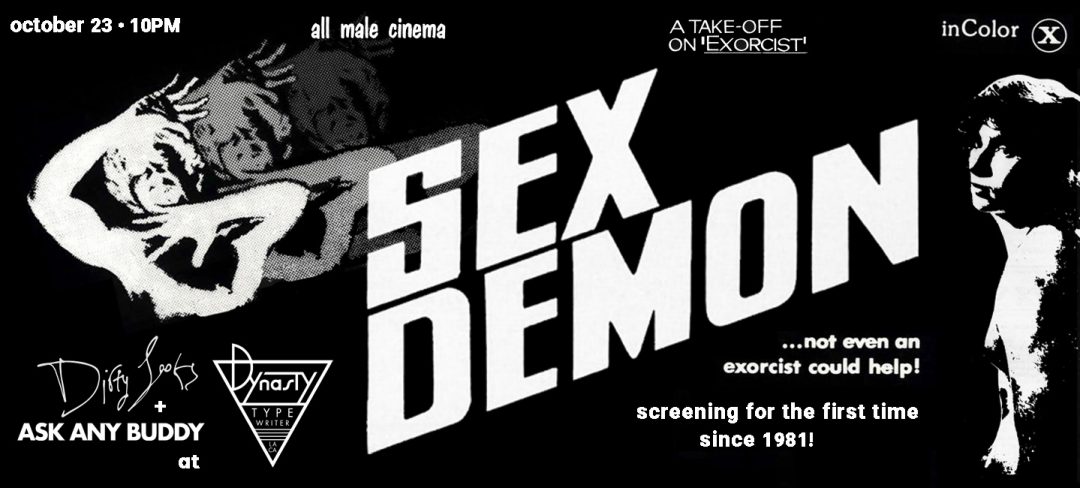 In the ongoing push for LGBTQ inclusion and representation in film and television, it's easy to convince ourselves we've come a long way. From a certain angle, it's not far from the truth. Certainly, in terms of mainstream visibility, the range and diversity of queer representation and who gets to tell queer stories has widened considerably over the years. And yet, there are still significant gaps in public knowledge of queer history on screen, and more than a few major barriers remain in determining which forms of expression are deemed worthy of canonization. In this continual cultural tug-of-war between the desire for mainstream affirmation and the preservation of all authentic queer expression (respectability politics be damned), one subset of film impacted more than most is gay adult cinema.
Throughout the '60s and '70s and into the '80s, pornography was one of the only outlets for queer people to see themselves and their desires reflected back at them on screen. Commonly shot in authentic queer spaces and often starring the people who frequented them, gay adult films of this era celebrated queer sexuality without inhibition or shame. And though they featured explicit sex, these films were also legitimate artistic works, often quite formally experimental and complex, as well as politically engaged. Moreover, they functioned as important documents of authentic gay life and sexual liberation in the post-Stonewall years that helped shape gay culture as much as capture it. Yet, for all that this is true, mainstream narratives surrounding gay cinema remain stubbornly ahistorical in their disregard and ghettoization of gay adult films and the pioneers who made them.
Trans queer film historian Elizabeth Purchell understands this more than most. For the past several years, Purchell has dedicated countless hours to researching and uncovering long-buried queer cinema history, from print media (her celebrated Instagram project documenting the history of gay adult cinema in print, Ask Any Buddy, spun off into a collage film and a riveting and informative podcast) to film, publicly documenting her efforts and the uphill battle she faces against establishment gatekeeping and hypocritical censorship. Against the odds, her research and travels have yielded a series of unexpected and significant discoveries, though perhaps none as remarkable or exciting as the recent recovery of a complete 16mm print of J.C. Cricket's Sex Demon, a crucial missing piece of queer horror history long thought lost — until now.
Last publicly screened in 1981 and never released on home video, Sex Demon spawned from the mind of J.C. Cricket, a young dancer at NYC's legendary Gaiety Theatre who built an incredibly prolific career in filmmaking and television. Over the years, the film developed somewhat of an exotic and mysterious reputation, both for its novelty as an all-male take on The Exorcist and its allegedly wild and sleazy twists. As it turns out, it's a thrillingly real-deal example of a film living up to the hype — and then some. While Sex Demon certainly delivers on jaw-dropping, nasty delights (two words: Chekhov's screwdriver), its frenetic editing, disorienting, borderline atonal synth score, and striking verisimilitude in its portrayal of a relationship in crisis all make it an essential piece of queer horror cinema history that, like so much great horror, has something worthwhile to say about the human condition. Though its conceit of demonic possession and the timing of its release might logically connect it to The Exorcist, Sex Demon is so much more than a spoof.
Fortunately, curious genre fans won't have to wait much longer to see for themselves. Purchell teamed up with queer film exhibition collective Dirty Looks and Brooklyn's Spectacle Theater for a series of screenings in October, marking the first public screenings of Sex Demon in 40 years. Ahead of the first of these screenings at LA's Dynasty Typewriter on October 23, Purchell answered some questions about Sex Demon and its journey back to theaters.
To start things off, could you walk me through how you recovered the print of SEX DEMON? My understanding is that it was part of an acquisition of the Adonis Theatre library.
This past June I went up to New York to show my 16mm print of the Hand in Hand Films anthology Good Hot Stuff at Light Industry. Literally just days before I left for the trip, I randomly connected with another film collector who'd purchased a large collection of 16mm prints from another collector, who'd gotten them from a closed lab in Manhattan. This was all mostly mainstream features, shorts, and TV shows, but there was something else in there that he wasn't expecting: roughly 50 gay features. 
We did some back and forth and made a deal, so that Saturday morning, I went with Ed Halter from Light Industry and Joe Rubin from Vinegar Syndrome to pick everything up. Joe immediately recognized the handwriting on all the prints from a collection of films that he'd gotten from Chelly Wilson's (owner of the Adonis, Jewel, and other theaters) archive years ago, so that's how we were able to make that connection. While some of these titles played the Adonis and Jewel, others are definitely from the Big Top and 55th Street Playhouse and their respective production companies.
The actual titles in the collection were a mix. The earliest is a very late softcore film from 1970, called Waterhole, and the latest a popular Leo Ford movie from 1986, called Blonds Do It Best. There's definitely some terrible movies in there, but also a handful of lost films, along with key titles by major filmmakers like Arch Brown, Tom DeSimone, Joe Gage, Steve Scott, and William Higgins. Sex Demon was the major discovery, but there were others, like a pair of French features with English dubs that I'd never seen before, an early Arch Brown film from 1972 that's never been available in its original form since the mid '70s, and the only known print of the only 16mm feature by a filmmaker I'd been interviewing for another project who just passed away, Frank Ross. 
It's important to note just how rare any prints of these films are. The gay theater circuit was tiny compared to the heterosexual one, so only a small number of prints were ever struck for most of these films, and many were sold directly to theaters to be run over and over again. They rarely ever turn up, so to find a lot like this is a miracle. 
What were your initial impressions of SEX DEMON when you finally saw it?
We ran the print as soon as we got back to Light Industry. After having helped find a number of lost or unavailable films in the past couple of years, I've learned never to have high expectations. It's easy to set yourself up for something you've wanted to see for a long time, only for it to either be just fine or not good at all. This was kind of the opposite of that, though. I was gripped from the very start. I don't really want to give much away, but it's a very intense film, and the realization that we were the first people to see it in 40 years and had no clue what was coming next — or if the print was going to be complete! — only added to that. One of the reasons why I'm so excited for these first screenings is that the audience will have a similar experience. 
From what little information I've been able to dig up on J. C. Cricket, he appears to have been a dancer at NYC's Gaiety Theatre and later got into filmmaking. Apart from SEX DEMON, he made another feature called COMING OUT NEW YORK STYLE a year later, and also worked in television. What details have you been able to uncover about Cricket or the making of SEX DEMON?
J. C. Cricket is a filmmaker who is very dear to me, because he was one of the first people I was able to ID when my research began to get more serious a few years ago. He's someone who used a number of different pseudonyms throughout his career — Linus Terri, Peter North, Ian McGraw — so finding out more about him has been a puzzle that never seems to end, in the best way possible.
At the time of Sex Demon's production, he was a 20 year-old male stripper who also managed and booked talent for the Gaiety, which people nowadays probably only know about through Madonna's Sex book. Most of the cast and crew also seem to have been pulled straight from the stage, which is something he'd continue doing for much of the rest of his directing career. Coming Out… New York Style! is also a very ambitious film, but it's a series of vignettes instead of a complete narrative — the two highlights being a sex scene inside the projection booth at the Gaiety (the two men are covered in film by the end of the scene) and one shot on the observation deck of the World Trade Center. 
When The Emerald City, the world's first gay cable TV show, ended in 1979, he picked up where they left off and started a program called Gay Horizons. It would eventually be renamed Christopher Street After Dark due to advertiser pressure (can't have a show with the word "gay" in it!). After that came Connexions, which was a call-in gay dating show, another news and culture show called Diversions, and then finally, a weekly morning show called Gay Morning America, which ran for three seasons. He passed away from AIDS-related complications in 1992, a year after his longtime partner.
How did the partnership with Dirty Looks come about? 
Bradford Nordeen (who runs Dirty Looks) and I have been friends for years now. We first met when I sent him a message asking about what titles he'd been showing at Sesión Continua, Dirty Looks' yearly 24-hour porn theater installation. We'd been looking for a way to do an event together for my film Ask Any Buddy, but COVID-19 put the kibosh on that. I know he'd been wanting to do something with Sex Demon for years but was never able to get access to a print that the Kinsey Institute may have (which we don't know the condition of, if it is the right film), so the discovery was really fortuitous. 
You've referred to SEX DEMON as "maybe the best gay horror film of the '70s." In your view, what is it that makes the film such a standout entry in queer horror history?
To me, many of the best queer films from that era are the ones that have something to say about politics or relationships; the struggle between monogamy and promiscuity was an especially common theme. And Sex Demon is no different. It's not just a horror movie about demonic possession, it's also an examination of an age gap relationship in which the younger man feels trapped. Much like The Exorcist's  Blaxploitation cousin, Abby, the possession is a metaphor for sexual liberation, only in this case, it's the risks and dangers that all that entails. It's perhaps a little Puritanistic in that regard, but I think it should be noted that New York's gay community was dealing with a number of unsolved hookup murders at the exact same time the film was being made — not to mention future cases like the Doodler and the Freeway Killer. Apart from lesbian vampires, queer horror films from the 1970s are all about metaphor, so to see an actual film about a gay couple shot in actual gay spaces and made for a gay audience — and for it to be as fun, entertaining, and visceral as it is — is remarkable.
What other projects are you currently working on that you're able to tease? 
I can't say what exactly it is, but a major Blu-ray project I spent a couple of months working on should be announced pretty soon. [Editor's note: this turned out to be the excellent LA Plays Itself: The Fred Halsted Collection, available via Altered Innocence and OCN Distribution] Apart from that, I'm continuing research on my Christopher Rage biography, working to get Ask Any Buddy (the film) out there again, and putting out new episodes of our podcast every other week.
A real dream of mine is to be able to start up a video label to get more of these films restored and back in front of a wider audience at home and theatrically, but there's got to be enough interest to make it feasible and sustainable. I really hope people will make it out to these screenings, help get the word out about Sex Demon and my other work, and support any current or future Blu-ray releases. It's the only way to make it happen!
PURCHELL'S PICKS
After asking Liz to recommend a few queer horror films she thought deserved more attention, she came back with a great list of adult films that would pair well with Sex Demon.
Photo: Soiled Cinema
The Destroying Angel (dir. Peter de Rome, 1976)
What happens when you mix Edgar Allan Poe with Catholic guilt, dick insecurity, and psychedelic mushrooms? You get this typically brainy film by Peter de Rome. It doesn't completely work on a narrative level, but the unsettling atmosphere and Bob Alvarez's eye-popping, rapid-fire editing make it unforgettable. 
Available to rent digitally on PinkLabel.TV and Hot Movies. 
Photo: MUBI
Falconhead (dir. Michael Zen, 1976)
Bradford [Nordeen, of Dirty Looks] is the person who once described this as being "the gay porn version of Hellraiser," and I've been saying it ever since. One of the most atmospheric gay adult features ever made, and one of the creepiest. Our podcast episode about it is a favorite of mine.
Available to rent digitally on Hot Movies.
Photo: MUBI
Sons of Satan (dir. Lancer Brooks, 1974) 
This is one of Tom DeSimone's later genre experiments. A gay take on a gothic vampire film, but with some Mansonesque vibes thrown in for good measure. Sometimes effective, sometimes campy. It actually played on theatrical bills with Sex Demon!
Photo: Elizabeth Purchell (@schlockvalue) on Twitter.
​​Deadly Blows (dir. J.A.I., 1971) 
I actually haven't seen this yet, but it's another lost film that we've recently discovered. A very early hardcore proto-slasher that ads described as being "the gay version of Psycho" (isn't that a bit of an oxymoron?). Stay tuned!
Sex Demon plays Dynasty Typewriter in Los Angeles, CA on Saturday, Oct. 23 (details) and Spectacle Theater in Brooklyn, NY on Friday, Oct. 29 and Saturday, Oct. 30 (details). Presented in a new 2K preservation from a newly discovered 16mm print.