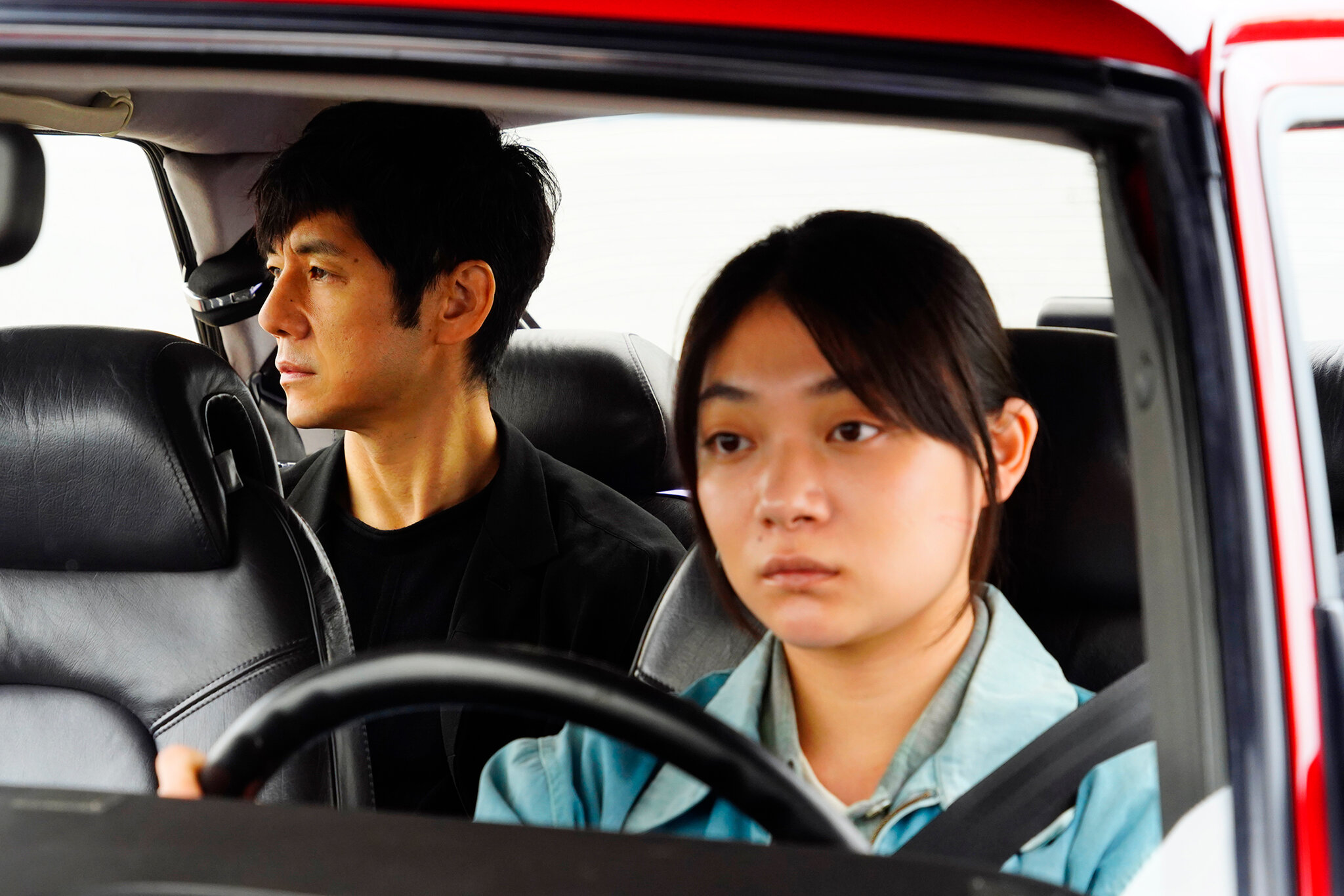 With another year in the books, it's time once again for the Cinepunx Top 10!
Liam O'Donnell, Editor-in-Chief
I am not alone in saying that 2021 seems to have been the longest year ever. When reviewing the past year in cinema, there were films released in the spring that I could have sworn I saw a lifetime ago. This list therefore suffers from a bit of recency bias, but so be it. As of late, I am biased away from remembering the last year of my life. This list is also limited by my ability this past year to see many films. There are some glaring omissions; not just from my list, but from consideration, because I simply did not have the time or ability to see them. So this list is especially subjective, because it represents merely my favorites of the very few films I saw this year. Your patience is appreciated in advance.
1. Drive My Car – For some, simply saying this is an adaptation of a Murakami short story would be enough to sell them, but I still went in a bit skeptical because of the hype from friends. This film did not disappoint, and I was fascinated by what could have been a straight forward narrative that instead feels like an emotional puzzle box I will struggle with in the future with glee.
2. Memoria – If I were a more moral critic, I would leave this off, as so few will be able to see this for some time and because I saw it on a screener, which you are specifically not supposed to do. However, it simply is my Number Two and by tomorrow, it might be my Number One, as I think about it more, so here it is! Go see it when you can.
3. Summer of Soul – I have watched this film three times. I paid to watch it after seeing it for free at a press screener. No other film this year taught me as much, made me cry like this, but also gave me so much unmitigated joy! A shot of pure life.
4. Titane – Another mystery. Immediately after watching this, I would not have put it in my Top 10, or even Top 20. I was fascinated by it, but also a bit repelled, and worried about some of the themes it played with. Since, I have thought about it again and again, and I cannot wait to share it with others.
5. The Power of the Dog – Jane Campion is a cinema legend, but I personally do not love all of her films. However, a western dealing with male identity and sexuality did sound intriguing. What I got was so much more than I could have asked for and was one of the most upsetting gifts I received this year, a true blessing of a film.
6. Pig – I think I am no longer fascinated by Nicolas Cage as a mixture of good and bad, an amalgam of the best and worst the film artform has to offer. He is, in fact, only great and it is only the films that succeed or fail. This one succeeds extraordinarily.
7. Benedetta – In the end, when we look back on the entirety of his career, we will talk about how Veerhoven was obsessed with the divine and the profane, and how these themes haunted almost all of his films in various ways. Perhaps by then, though, we will no longer see them as dichotomies and instead as pieces of the same thing.
8. Shiva Baby – I am seriously embarrassed that this is the only comedy that cracked my Top 10, but this past year, not a ton of things felt funny. There was Ted Lasso, I guess, and John Wilson and Joe Pera, of course, but filmwise, Shiva Baby was the closest I got to comedic bliss while still getting to feel that familiar anxiety.
9. The Novice – Speaking of anxiety, there are moments in this film that put any horror film or extreme shock cinema to shame with the level of emotional intensity they contain. In a sports movie? This is crazy well-written and acted, and totally worth your time.
10. Bad Luck Banging or Loony Porn – The plot, which involves a teacher having to defend herself from angry parents once a sex tape gets leaked to the internet, could serve as a bad Apatow film. Instead, it is a romp and political farce that contains both biting social commentary and weaponized dildoes.
Honorable mentions: The Worst Person in the World, West Side Story, Red Rocket, Petite Maman, C'mon C'mon, The French Dispatch, Beyond the Infinite Two Minutes, All The Streets Are Silent, Barb and Star go to Vista Del Mar,  The Matrix: Resurrections, Lamb, Riders of Justice
Justin Lore, Co-Host – Horror Business
1. C'mon C'mon – Joaquin Phoenix has a storied history of playing uncles, be it the sadistic, creepy uncle in Gladiator, or the archetypical second father/big brother-type uncle in Signs. In Mike Mills' quasi-road trip, black and white C'mon, C'mon, Phoenix instead plays something quieter and less either or-y: a man whose love for his sister and nephew is undeniable, but also a man who is uncertain of how to handle what life has thrown at the three of them, and thus doesn't always come off as the Cool Uncle. The result is an achingly powerful film that tugs at the heartstrings in the absolute perfect way.
2. Pig – Arguably the most poorly marketed film I've ever seen, Pig was advertised as John Wick but with Nic Cage and a pig. Instead, we got a simmering tale of grief and loss, and an examination of just how far we will go to keep the things we love in our lives. Instead of guns and bike fu, we're instead treated to Nic Cage preparing a meal for a man that is so good, it ruins said man emotionally.
3. Licorice Pizza – It's P.T. Anderson making a '70s So Cal period piece, and while I don't think I have to say more, I will. Licorice Pizza is two hours and change of pure, sugary nostalgia for Anderson, but was brilliant enough that it came off as universally relatable. First sticky sweet puppy love, the struggling to find one's place in the world, the changing of times through geopolitical mishaps…Anderson executes all of it flawlessly.
4. Spider-Man: No Way Home – After months and months of rumors and speculation, Spider-Man: No Way Home rounded out Tom Holland's trilogy as the web-slinging, friendly neighborhood whatchamacallit. Jon Watts' third film in the MCU dove into the webhead's cinematic past, pulling enemies and friends from all corners of the multiverse in an unexpectedly emotional swan song (yeah right) to Tom Holland's Peter Parker.
5. No Future – Loss, guilt, and the unorthodox ways we deal with grief are three prominent themes in Mark Smoot's tale of addiction and the devastation it can wreak upon our loved ones. Catherine Keener and Charlie Heaton are phenomenal as the proverbial two lost souls swimming in a fish bowl following the overdose and death of Keener's character's son.
6. Judas and The Black Messiah – the FBI murdered Fred Hampton and more people should be furious about it.
7. Poser – Noah Dixon and Ori Segev are surgically precise in their use of a universal idea as a source of anxiety: the yearning for acceptance at any cost. Poser is simultaneously unnerving and beautiful, unsettling yet sweet.
8. Dune – The third adaption of Frank Herbert's sci-fi masterpiece is arguably technically its best, with Denis Villeneuve focusing on the concept of family and allegiance in his vision of the rise of Paul Atreides, but still not shying away from some of the stranger imagery that made David Lynch's adaption so powerful.
9. The Power of The Dog – Benedict Cumberbatch might be known to wider audiences as the surly Dr. Strange, but this bleak western shows he's capable of playing more nuanced characters.
10. The Green Knight – David Lowery's adaption of the classic Arthurian folk tale might not have been typical A24 fare, but the dash of psychedelic imagery and stark cinematography made this film an absolute blast to watch in the theatre.
Nick Spacek, Contributor
Psycho Goreman – The first "what if we made an '80s film, but now?" exercise to accurately capture the tone of the era perfectly, with kids who are a little messed up and mean, recognizing the absurdity of the situation while not being all winky-noddy about it. It's gloriously fun, sticky, and dumb when it needs to be, without getting stupid.
The Mitchells vs. the Machines – Cried, laughed, cried, laughed so hard I cried, smiled, and loved this like I loved Into the Spiderverse, which is to say with my entire being.
Barb & Star Go to Vista del Mar – I love that a film can be charming and weird and also just a little filthy, and still be something I could watch with my mom. Maybe. I dunno. Maybe something my wife could watch with my mom and then report back. Either way, I need the soundtrack post-haste and could also stand a watch-through of all the Blu-ray special features, because this was a fucking delight.
Vicious Fun – Starts out rough, but picks up promptly. A total 180 in tone from The Oak Room and a real joy to watch.
The Estate – Nasty, nasty, funny film, with perhaps the first appearance of Eric Roberts in decades where he actually shows up to play the part, rather than collect a paycheck. It's utterly hilarious, casually violent, and features the best "doing drugs" montage I've ever seen, soundtracked by Viagra Boys' "Sports," of all things.
The Stylist – Loved the way the film opened with the short, then expanded on it. The split-screen usage, brilliant color palette, and Najarra Townsend's utterly, achingly sad portrayal make this a film you can't look away from, even if you feel like you should.
Freaky – Does for body swap movies what Happy Death Day did for time loops. A lot (A LOT) of what Blumhouse does is pretty cringe, but when they nail it, they're killing it with clever new takes on the horror genre. This movie is fun as hell and maybe the best thing Vince Vaughn has done since his cameo in Mr. And Mrs. Smith.
The Sparks Brothers – PERFECT.
Spider-Man: No Way Home – That was a lot. Like, a lot a lot. Definitely teared up a few times, cheered big once or twice, and generally had a good time, but it does feel a little like a placeholder on the way to bigger story. Like, the next Doctor Strange and Spider-Verse movies are going to have way more fun with this, and No Way Home was a training wheels intro for everyone who didn't watch What If?; and for those who did watch this show, it could've gone a lot further afield. Fun, but more of an "in the moment" fun than the lasting entertainment the last two MCU Spider-Man offerings have given.
The Fear Street Trilogy – Let's face it: this is basically a miniseries. Gory, referential, jam-packed with music, killing off a hip actress before the credits roll; this is Scream, but so much more. 1994 is definitely the first film of a franchise, but sets the tone so well in the third act that one can allow for a lot of character development in the first 60 minutes. A queer black woman as the protagonist, too? Count me in.
Jacob Given, Contributor/Co-Host – Weird, Obscure, and Possibly Unsafe
1. Pig – Easily Nic Cage's best performance. Heartfelt, but not manipulative. Perfect direction.
2. Malignant – Perhaps the movie I was most excited about this year for one reason: a major studio put out what is essentially Basket Case + giallo. It's absolutely an unhinged spectacle, and I'm hoping for more of this kind of film in 2022.
3. Benedetta – This film surprised me! It was funny, well-paced and well-acted. It handles religion well. The convent is always a great dramatic setting.
4. Midnight Mass – Maybe Flanagan's best work. The leads are all brilliant, there are genuinely touching moments, and the overall concept works really well.
5. Dune – The gorgeous sci-fi epic we needed.
6. Saint Maud – Religious women had a big year this year. Saint Maud plays on the fine line between prayer and delusion, with a harrowing final act.
7. Licorice Pizza – One of only two new films I saw on the big screen this year and it didn't disappoint. It's beautiful to look at, even while it deals with some uncomfortable themes. Alana Haim is incredible.
8. Werewolves Within – The other film I saw on the big screen. Milana Vayntrub and Sam Richardson are absolutely charming. It's a horror film with one chief aim: to have a good time.
9. Jakob's Wife – I adored this. It's everything you look for in a vampire movie plus more. Barbara Crampton is brilliant. I especially enjoyed the film's exploration of marriage, identity, friendship, and loyalty.
10. The Medium – Perhaps the wildcard of my Top 10, this is shot as a documentary about shamanism in Thailand that goes off the rails. I am a sucker for attention to detail, and the rituals and rites in this one are detailed. The documentary form works.
Honorable mentions: Titane, The Vigil, Mass, The Eyes of Tammy Faye, Kandisha, Come True, Censor, The Empty Man, Prisoners of the Ghostland.
Claire Bamert, Contributor
The French Dispatch – Wes Anderson proves he can still surprise now and again. It's like his style is only getting stronger.
The Mitchells vs. the Machines – Phil Lord and Chris Miller continue validating their status as the backbone of Sony's animation department. A bighearted family movie that made me cry to that T.I. song.
West Side Story – Steven Spielberg reminded the world what a movie that's actually alive looks like. An absolute shame that it didn't find the audience it so clearly deserves.
Licorice Pizza – Paul Thomas Anderson puts his whole heart on the table and showcases a double debut of AAA performances in one movie. The entire John Peters sequence is maybe my favorite of the whole year.
Zola – Janicza Bravo delivers another stellar entry into the A24 Florida cinematic universe. The energy bouncing between Taylour Page and Riley Keough is impossible to turn away.
Pig – Nicolas Cage gives a devastating performance in this John Wick bait-and-switch about grief and the things in life we hang on to. Cage never lets everyone forget he's the business.
Shiva Baby – Emma Seligman delivers the feature debut of the moment. A refreshingly modern story about family and the embarrassment that comes with it all at a brisk hour and seventeen minutes. What a champ.
Red Rocket – Sean Baker continues his showcase of hidden communities in America with a story featuring his most contemptuous lead yet. A mirror of the world to come post-2016 election in provocative fashion.
The Lost Daughter – Maggie Gyllenhaal's debut about a mother regretting her choices and unwinding on holiday can't be ignored. Filled with stunning performances, a future classic in Women's Film.
The Suicide Squad – James Gunn is let out of his cage and makes a hysterical, blood soaked superhero movie outside of his Disney cell. And surprise, it fucking slaps
Honorable mentions: A Spy Movie, Bo Burnham: Inside, The Card Counter, C'mon, C'mon, The Harder They Fall, The Last Duel, The Matrix Resurrections, Nightmare Alley, Space Sweepers, Zack Snyder's Justice League.
Kyle Mahaney, Contributor
1. Petite Maman – Céline Sciamma delivers a very different film from what we've come to expect from her work, toeing away from the boundaries of realism and into a fantastical world of questions. This is moving, wonderfully concise, and all around beautiful.
2. C'mon C'mon – Much like the previous film, C'Mon, C'mon is an exploration of childhood that feels like a warm embrace, despite some of the heavy events surrounding it. Great performances and all around delightfully human.
3. Licorice Pizza – Paul Thomas Anderson breaks all the rules here as he meanders through the San Fernando Valley of the early 1970s. This is just a tour de force of craft in how seamless and well-paced it all is, with a captivating performance by Alana Haim.
4. Drive My Car – If a film could fit so much of the mood of this stage of the pandemic, this is it. Hamaguchi delivers a masterclass in conveying grief and condolement.
5. Mass – An incredible first-time feature that has all the intimacy of the best black box theatrical experiences, with exceptional performances from its all-star cast.
6. Red Rocket – Sean Baker continues to explore the lives of Americans on the margins, putting a nuanced spotlight on the heartbeat of Trumpism in a more direct way than even 2017's The Florida Project, while also continuing to explore the relationship between poverty and sex work in this country.
7. Beans – Tracey Deer's first narrative feature offers an incredibly compelling indigenous coming-of-age story, covering the Oka Crisis of 1990. This is just really sweet and it's nice to see this kind of storytelling from a BIPOC perspective.
8. Pig – Nicolas Cage takes us on a wild ride through his best performance in years. Yet another directorial debut, this film starts as a thriller but goes deeper into a drama, exploring the nature of human society with depth I did not expect.
9. Spencer – Pablo Larraín's exploration of historical drama deviates a bit in a film that openly claims to have no sourcing, rather being a narrative creation inspired by the events of the end of Princess Diana's marriage. Haunting cinematography, Kristen Stewart's best performance ever, and a thrilling script all come together to create a masterpiece.
10. Benedetta – Paul Verhoeven knows his craft and knows how to blend history, religion, feminist drama, humor, and a ton of very erotic sapphic sexuality together in one of the wildest rides of the year. A film which I watched several times just to further examine some of the details, and still have so many questions about.
Honorable Mentions: Zola, Last Night in Soho, Swan Song, The Novice, Holler, The Justice of Bunny King, Sweetheart, The Green Knight, Memoria.
Documentaries:
1. Rebel Hearts – Pedro Kos's look at the progressive Sisters of the Immaculate Heart and Sister Corita Kent's trailblazing art and activism is a fairly by the books documentary that manages greatness by just how compelling its story and interviews are.
2. Not Going Quietly – Ady Barkan pivots from a life of Democratic organizing to ALS activism as he comes to terms with how the disease is slowly removing his ability to use his voice. Incredibly moving and passionate storytelling.
3. Flee – A heart-wrenching look at the life of an Afghani refugee that struggles with themes of identity, queerness, imperialism, American hostility, and loss, all through gorgeous animation that is the best I've seen in a documentary since Tower.
4. North By Current– A verité exploration of the ugliness of violent loss within a family, homophobia, and addiction that I just couldn't take my eyes off of.
5. My Name Is Pauli Murray – The team behind RBG returns for an incredible look at the life of Pauli Murray, one of the most influential American's most people haven't heard of. From their life as a lawyer influencing the likes of Thurgood Marshall and Ruth Bader Ginsburg, to their pursuit of the priesthood within the Episcopal church and writings on queer feminist theology, to their early dialogue as a gender non-conforming person, this is an incredibly informative film that left me wanting to study more.
Bryan Christopher, Contributor
Under the Open Sky – Director Miwa Nishikawa absolutely wrecked me with this quiet, melancholy story about a former Yakuza enforcer trying to put his life back together after being released from prison.  Nishikawa takes such a deliberate, measured approach to allow small moments of kindness and intimacy to shine through in a world that is so casually cruel. Add to that a masterclass from star Kôji Yakusho, and I'll just say you should have some tissues handy for this one.
The Matrix Resurrections – This legacy sequel from Lana Wachowski may not have reinvented the action genre in the way the original did, but I got just what I wanted out of it. It gave Neo and Trinity updated arcs while introducing compelling new characters and some fun action set pieces. It was utterly satisfying and a great coda to the series.
Bad Girls – A lot of the time, low-budget homages to Russ Meyer's films are excuses for dudes to slap together nudity, bad special effects, and tasteless humor into something vaguely resembling a movie. While Christopher Bickel's film includes all of the above, he also digs a little deeper for some meatier plot elements and gives the spotlight for three great performances from Morgan Shaley Renew, Shelby Lois Guinn, and Sanethia Dresch.
Inside – Sure, Bo Burnham's latest comedy special has some hilarious moments, but that's not why it's on my list. Produced during the COVID-19 pandemic, Burnham's special descends into the anxiety and depression we all felt to some degree in the last two years (Christ, two years??). It still boggles my mind that a dude who got famous on YouTube at sixteen has evolved into someone with Burnham's self-awareness and capacity to expose the raw nerves of his own psyche.
Ride the Eagle – Jake Johnson's knack for portraying aimless but well-meaning goofs has served him well in ensembles like New Girl and Into the Spider-Verse, but I wasn't sure how well it would translate in a movie where he's got to carry the story. But in director Trent O'Donnell's film about a man who has to complete a list of tasks assigned posthumously by his estranged mother in order to take ownership of the cabin she left for him in her will, Johnson comes through big time by adding layers to his performance without ever trying to go too big.
The Harder They Fall – I generally don't gravitate to westerns, but Jeymes Samuel put together such a stacked cast that I couldn't pass it up. And it didn't disappoint, as Jonathan Majors, Idris Elba, and crew balance an old-fashioned revenge yarn with equal parts fun and melodrama. It's a blast of an ensemble shoot-em-up, and I hope we get the sequel they hint at in the closing frames.
Luca – Whether seen as a sweet story of friendship or a sweet story of queer awakening (it's the latter), Pixar once again manages to pluck on our heartstrings as two young sea monsters take human form and navigate a small Italian town. As always, Pixar isn't subtle about the ways they tug on our heartstrings, but damn are they effective.
Rusty Baumeier, Contributor
1. Dune/Spider-Man: No Way Home – 2021 gave many of us an impossible choice, and while some are more driven by one particular fandom than the other, or even different stylistic and aesthetic preferences than the other, I could not be divided in my adoration. Equally a fan of the artistic restraint of Tarkovsky and the juvenile excess of Bay, neither one of these films attracted me more than the other and both granted me a satisfying sense of euphoria as a lifetime devotee of both franchises. Coming on the end of 2021, Denis Villaneuve reminded us how well he can handle atmospheric worlds with cult-like followings and the MCU followed up, in my opinion, the most likeable webslinger's story arc in a way that made you laugh, cry, and want for more. Don't @ me.
2. Malignant – The most divisive horror film of the year also happens to be the most out of control, lawless, fun horror film of the year. I don't let busters talk shit on big budget Basket Case in my house.
3. No Time to Die – While I've never been a huge 007 dude, this one was truly a spectacle to behold. Following up the dismal and uneven Spectre, this turned out to be a hell of a showcase of what Daniel Craig had to give to the franchise. If you were to only watch one James Bond film, I can confidently say this one is it.
4. Shang-Chi and the Legend of the Ten Rings – I don't subscribe to the notion that every MCU film is an immaculate godsend of sight and sound, but this movie whipped the llama's ass, and not even as a Marvel film, but as a fun and funny martial arts film with its fair share of spectacle.
5. Halloween Kills – There are a lot of reasons why this movie isn't particularly "good," but horror isn't always about being "good" or not. This movie was a vehicle of fanservice that succeeded in appropriately retconning the franchise, and may hold up as a perfect bridge between the opener and closer of a well-played trilogy, paying reverence and blood to one of the most iconic villains in horror film history.
6. The Suicide Squad – Disney cancelled James Gunn, and now we got something to help us forget about the other movie with the same name and still get Guardians of the Galaxy 3. Checkmate, Libs.
7. Luca – This might be the first film in a long time where I became irrationally and viscerally angry to see any amount of ratings and reviews under 5/5 or 10/10. Go watch it and just have fun for once.
8. Gunpowder Milkshake – I jumped in on a thoughtless whim and walked away with a very fun, if not slightly undercooked, aesthetically-driven action flick. Think John Wick, but with the tongue pushing out the other side of the cheek.
9. Mortal Kombat – Despite whatever high and mighty internet cinephile might say, this movie was tremendously rewatchable popcorn fun. The spirit (and the viscera) of the iconic fighting game franchise has been translated with absolute gusto to the screen in a way that makes it effortlessly satisfying to shut off your brain and turn up your excitement.
10. The Nightingale (2018) – Following up The Babadook after creating such a memetic impact must have been no small feat for second time director Jennifer Kent, but I think it's safe to say she certainly followed it up and nailed it to a fucking post for the viewer to see. Obviously, this is not a new release this year, but it was my first time seeing it and the first film in a long time I immediately felt compelled to urge anyone else to see. Without giving too much (or anything) away, this film is an absolute gut punch that will plumb the depths of abject misery and leave you full of bitter sorrow. Never forget the profound tragedy of European settler colonialism, whether in your own backyard or on the other side of the world.
Charles Perks, Co-Host- TWITCH OF THE DEATH NERVE PODCAST
Note: I only watched four new releases this year, so this is a list of films that were new to me.
10. Elevator Girls in Bondage (USA. 1972.  Dir. Michael Kalmen) Genre: Satire – This delightful short film feels like a time capsule to the early '70s queer scene in San Francisco. I stumbled across it because I wanted something bawdy to play during a movie marathon for my 31st birthday, and this endearing little number delivered the goods (and took me by surprise). Whether you watch it alone or with a crowd, it'll surely bring a smile to your face.
9. Lucky Encounter (Hong Kong. 1992. Dir. Johnnie To) Genre: Ghost Comedy- Johnnie To has always vexed me.  He's an auteur filmmaker who brings a sense of child-like whimsy to his often hard-hitting crime dramas. This mishmash sometimes feels like Wes Anderson by way of Tarantino, which is a combination I've always found a bit hard to swallow.  But Lucky Encounter is the Rosetta Stone– after discovering it, I revisited several of To's other (more acclaimed) films, and they all finally clicked! I've since watched this wonderful film two more times!
8.Cash on Demand (United Kingdom. 1961. Dir. Quentin Lawrence) Genre: Thriller-You know when you watch a film that's so good, you wish you had seen it ten years ago?  That's what Cash on Demand was for me.  And who doesn't love a good bank heist flick?  To say anything is to spoil everything.
7.The Last Blood (Hong Kong.  1990. Dir. Wong Jing) Genre: Action/ "Heroic bloodshed"-Also known as Hard Boiled 2, this explosive shoot-em-up is the most intense action flick I've seen this year.
6.Black Lizard (Japan.1968. Dir. Kinji Fukasaku) Genre: Crime Fantasy-One of the all-time greatest directors firing on all cylinders. It's fun, twisty, and wonderful to look at.
5.Godzilla Raids Again (Japan. 1965. Dir. Motoyoshi Ota) Genre: Science Fiction-As good, if not better, than the original Gojira. I can see why most Godzilla fans shy away from this film. Despite featuring two costumed men fighting each other for kaiju supremacy, it's not a goofy B-movie. The stakes are high, and the destruction feels real.
4.Kill Baby, Kill (Italy. 1966. Dir. Mario Bava) Genre: Gothic Horror-And I thought I had seen all of Bava's great works!  Little did I know that the trashily titled Kill Baby, Kill was going to be so utterly perfect. Gorgeous and terrifying at the same time.
3.Throne of Blood (Japan. 1957. Dir. Akira Kurosawa) Genre: Historical Drama-Kurosawa's riff on Macbeth left me stunned. There's a scene in the middle of the film with a witch lady that I can't get out of my head. No one told me this was a horror movie.
2.Wake in Fright (Australia. 1971. Dir. Ted Kotcheff) Genre: Another round, 'mate?-This one  has a reputation.  I first heard about it when I was a teenager, and it's been forever one of those "I'll get around to eventually"  sorta movies. I finally worked up enough courage to push play, and wow! It's the sort of film that makes you feel like a different person after watching it.
1.World on a Wire (Germany. 1967. Dir. Rainer Werner Fassbinder) Genre: Cyberpunk-I wish I could borrow Tommy Lee Jones' memory eraser thing from Men in Black just so I can watch this masterpiece for the first time again.