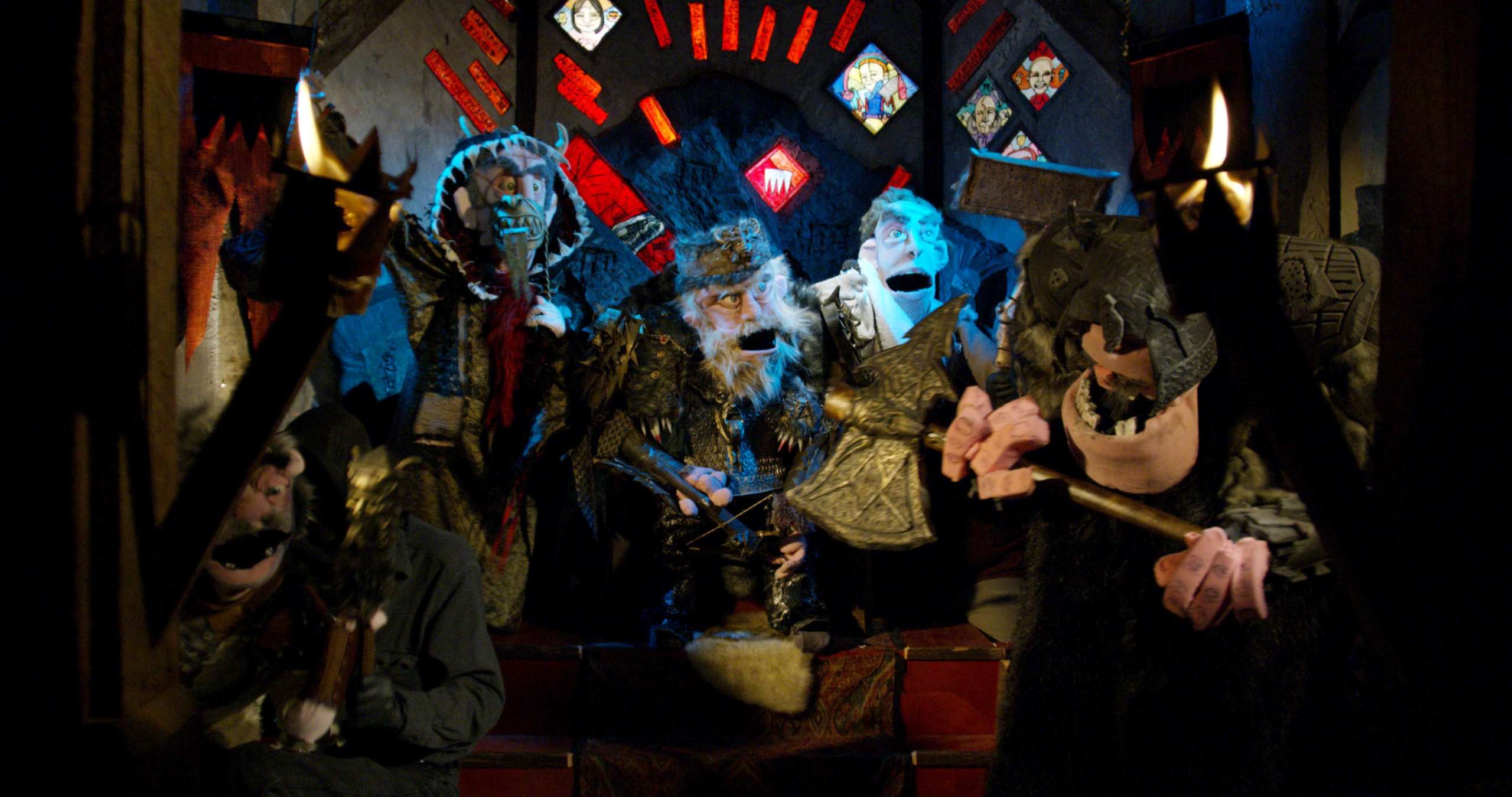 Director Jesse Blanchard's Frank & Zed falls in line with a rare handful of movies, in that it is a genre picture, but made entirely with hand puppets and practical effects, resulting in a messy, weird, utterly fascinating viewing experience.
"Are you ready for an orgy of blood? Frank & Zed, one of the year's goriest and bloodiest moments, promises just that, in this bloodthirsty, bone-crunching and strangely heartwarming movie about an odd-couple monster-duo Frank and Zed, a Frankenstein-type monster and his brain-eating companion, as they attempt to survive a medieval curse that has befallen a small village."
Watching Frank & Zed, it's very hard not to make comparisons to Peter Jackson's 1989 black comedy with puppets, Meet the Feebles. Much like that cult classic, Blanchard has crafted a film which works because the felt-covered characters aren't human or created with cell or CGI animation. The fact that it took the creator six years to bring this vision to life is equally impressive, with the end result being this movie which plays with standard monster movie tropes in new and interesting ways.
While the story of Frankenstein's monster and the various offshoots always present the character as a sympathetic one, here Frank is given a companion in the zombie Zed who, if given the chance, would readily go at his barely-protected brain (here housed under a see-through carapace), so we see the monster making sure that Zed is fed, albeit with squirrel brains, rather than the people on which he'd rather be munching.
There's a companionate relationship here, where Frank makes sure Zed is kept full, so that Zed might help Frank get his nightly recharge. It's rather sweet, and one wonders how these two falling-apart creatures would have managed to survive, were it not for each other. The touching care Frank has for Zed comes out of both the usual child-like wonder we're used to seeing from such a creation, and a late-in-the-film revelation lends another layer to their dynamic.
This all before an evil vizier attempts to take over the kingdom, thus bringing loose chaos and the orgy of blood alluded to in the opening narration. Frank & Zed is very much a fractured fairy tale of sorts, with all the blood and twisted interactions ones would expect from having read original, unexpurgated Brothers Grimm stories. Much as those saw limbs chopped off and blood flow, so does Blanchard's film positively splatter from start to finish.
The viewing experience is really enhanced by its Fantasia presentation. Blanchard made an introduction specifically for the festival, with a puppet exhorting you not to watch, which is then followed by Puppetcore's first-ever short, featuring a barbershop quartet beset by something just outside the spotlight in which they stand. It really lets you get a sense of just what this production company and director are capable, before immersing you in the world of Frank & Zed.
Granted, there's a lot going on in this film. There are the A and B plots of Frank & Zed and the evil vizier, but many of the characters who meet their doom are given backstory and fleshed out with family and friends bent on avenging their deaths. It gives us purpose and reason behind them all, but by the time we're really in the bloody mess of the final 20 minutes, it begins to be a lot to keep track of. It makes for a more satisfying battle, to be sure.