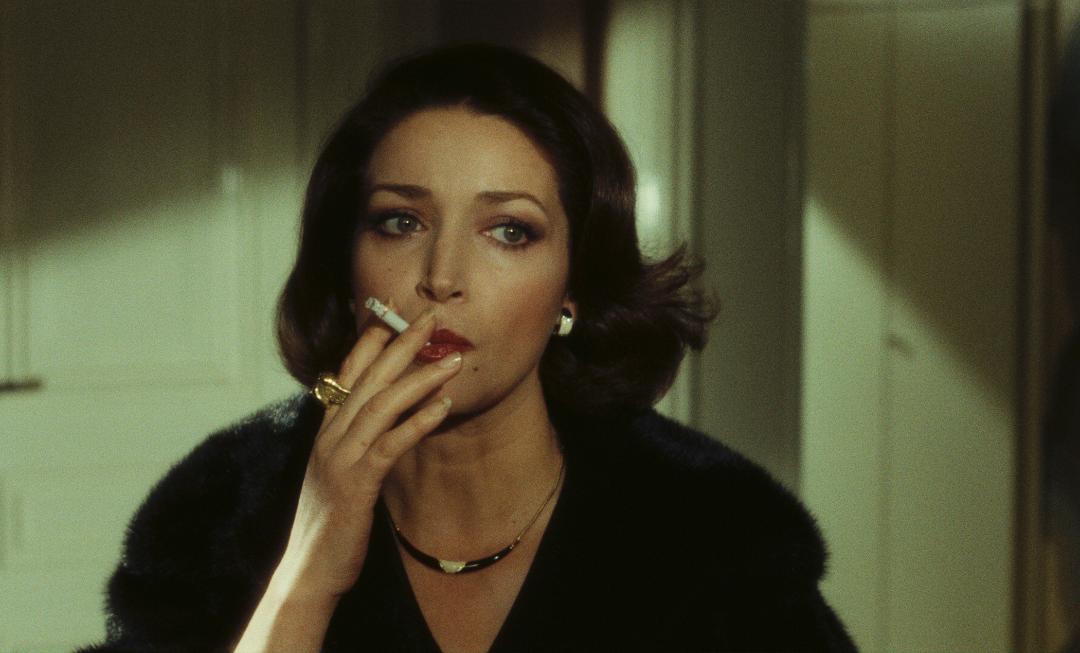 The latest release from boutique reissue company Cult Epics is a brand 4K HD transfer of filmmaker Just Jaeckin's 1977 erotic film, Madame Claude. While not as well-known as Jaeckin's earlier smashes, this combination of globe-trotting, high-end call girls and international intrigue will be more than familiar to anyone who's ever seen an Emmanuelle film.
"Following the worldwide smashes Emmanuelle (1974) and The Story of O (1975), influential French filmmaker Just Jaeckin returned in 1977 with the sensual real-life drama Madame Claude. Starring French New Wave icon Françoise Fabian in the title role along with a sinister Klaus Kinski and lovely Dayle Haddon, Madame Claude is an incredibly timeless look at one of the most controversial figures in recent French history. Originally released as The French Woman in the United States, Madame Claude is a mesmerizing mixture of elegant eroticism and potent political thriller powered by Jaeckin's inventive direction and an unforgettable score by legendary French composer Serge Gainsbourg."
Based on the real-life story of Fernande Grudet, who ran an exclusive and high-end prostitution ring which catered to the wealthy up through the mid-'70s, Madame Claude attempts to slap a veneer of political thriller to what is, at its heart, a movie whose main purpose is to showcase a lot of attractive women without their clothes on.
It takes the plot element of someone trying to expose the powerful through subterfuge so very much in vogue during the '70s – see also The Conversation, The Anderson Tapes, et al – ties in some ripped-from-the-headlines timeliness a la All the President's Men, and puts them alongside the usual scenes of beautiful women having sex in exotic locales which Emmanuelle did so well. It mostly works, although the story at the heart of the picture – which is of Madame Claude (Françoise Fabian) attempting to hold onto to her power and privilege – is far more interesting and compelling than the Lockheed scandal which attempts to tie the picture together.
Interestingly enough, the film takes an element from one of the spin-off, unrelated-to-Jaeckin Emmanuelle films, 1975's Black Emmanuelle, directed by Albert Thomas. In that film, Mae Jordan (Laura Gemser), is an investigative photojournalist who writes under the pseudonym Emanuelle. For Madame Claude, Jaeckin takes that idea and turns him into a character separate from the sexually-adventurous call girls, named David Evans (Murray Head), whose photographs of the women with wealthy and politically-powerful men he hopes to use to shut down Madame Claude's prostitution ring, thus getting him his big break.
Of course, the young man is so naive that he doesn't realize the danger in which he's placing himself and the women he convinces to let him hide and photograph the encounters they have. French intelligence and the CIA are involved, and it gets very convoluted with tapped lines and double-crosses galore, and it's really not until the very, very end that Madame Claude realizes just what's happened to her.
The idea that these characters are so focused on immediate results – Claude controlling every aspect of her girls' lives, Evans getting a big break – that they don't see the danger which is coming ever-closer is far more interesting than trying to puzzle out just what this scandal is all about. The André G. Brunelin and Jacques Quoirez-penned script for Madame Claude seems to recognize that, as well, using it more as a MacGuffin around which all this far-more interesting interpersonal drama occurs. Klaus Kinski is also billed quite high, but his appearance in the film isn't nearly as long as it's made out to be. He's as creepy as you'd hope, though.
The new 4K scan from the original 35mm negative looks amazing. This film is lush and gorgeous, and while it's very warm and soft in terms of colors and focus, that's far more due to the erotic '70s style in which it was shot than the negative image itself. The scenes in far-off locales are bright, while Paris in the winter also manages to feel inviting, rather than coldly desolate. The final segment, involving a massive party, is frantic series of imagery which never blurs or confuses (other than when that's its intention), and is a visual highlight. It's really a joy to look upon.
The bonus feature, a 2020 interview with director Jaeckin, is a little rough to watch. At the time of filming, he was 80 years old, and while the stories and opinions are intriguing, watching him struggle to get them communicated is a sad experience. I'd almost suggest putting it on mute and watching with subtitles to save yourself the experience of watching an elderly man try to recall something which happened nearly 50 years prior.
Along with the original French trailer for Jaeckin's film, there is also a series of trailers for other Cult Epics releases and a promotional still gallery.