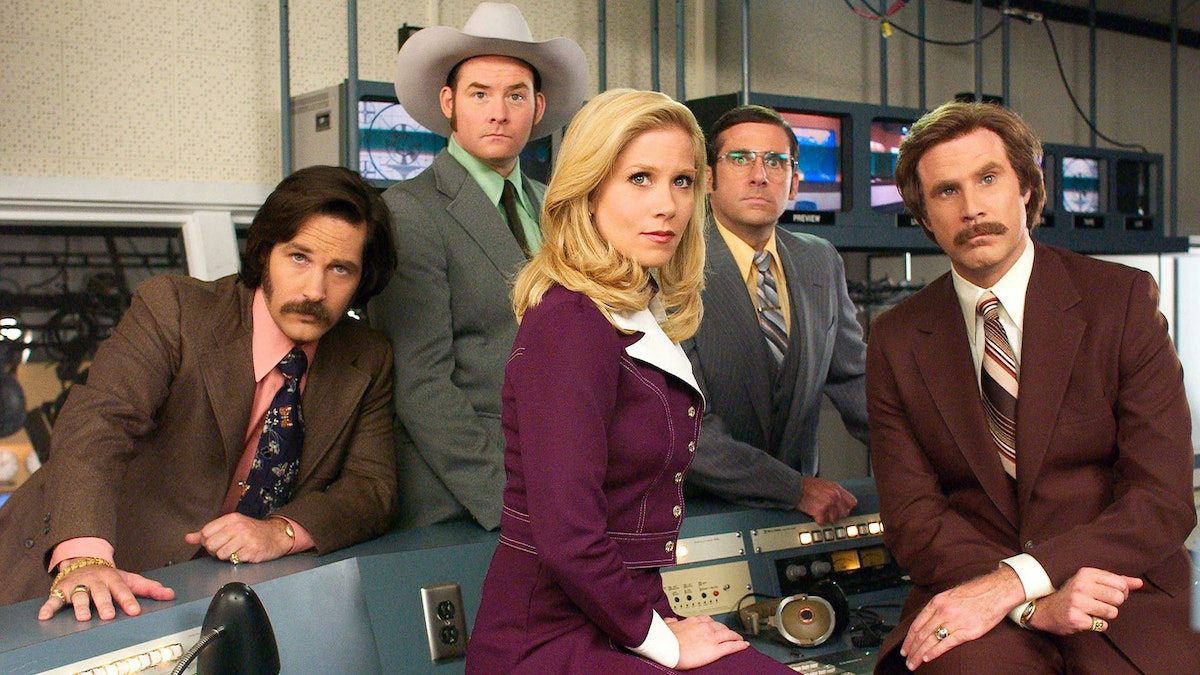 Podcast: Play in new window | Download
Subscribe: Apple Podcasts | RSS
OUR PODCASTING STUDIO SMELLS OF RICH MAHOGANEY AND WE HAVE MANY LEATHER BOUND RECORDS!
J/K We don't have a studio, but also WELCOME TO A BRAND NEW EPISODE OF CINEPUNX! On this truly incredible episode we welcome Josh's friend and now MY FRIEND TOO, Benny Horowitz who you may know from the band The Gaslight Anthem, Town Liars, either of his two awesome podcasts, and a plethora of other bands—but I was most familiar with his years of booking the legendary Manville Elk's Lodge. He came to us with the idea of discussing the iconic Will Ferrell classic Anchorman: The Legend of Ron Burgundy and how could we not jump with joy?
So, if you are at all like me, you might be surprised that Benny is a guest on this episode. Here is the thing friends, Josh Alvarez is just an amazing person and he just says to me hey, Benny wants to come on the show. Well, I had no idea who he meant, cause I don't know anyone named Benny, but lo and behold he meant the drummer of The Gaslight Anthem who it turns out booked a ton of the shows that were so important to me at the Manville Elk's Lodge? Like in one text thread Josh just exploded my brain. So then we get on the recording with Benny, who Josh said was awesome, and it turns out the dude is like one of the best guests I think we have ever had? Incredible! When Josh delivers, he really fucking delivers. Huge thanks to Benny for coming on the show and sharing his love for and insights into Anchorman. It was a real gift to have him on as a guest and he was very gracious with his time and with our shenanigans.
We open with our usual gimmicks and conversation, and the usual WACK AND ON TRACK. I don't think we discuss anything too important to link to other than of course his new band, TOWN LIAR, who is awesome and you should click through and check out ASAP. Benny also has two podcasts of his own you should subscribe to right away; GOING OFF TRACK and THE TUNE-UP 
Thanks again to Benny for being awesome and to all of you for checking out the show! Don't forget to tell a friend and find us across the internet.
You already know this but just a reminder that we appreciate you so so much!
Thanks for listening, spend some time checking out our Patreon, and of course check out the family of shows available at Cinepunx.com.
LEHIGH VALLEY APPAREL CREATIONS
ESSEX COFFE ROASTERS -(enter code CINEPUNX for 10% off)
ROUGH/CUT FAN CLUB MAKING THE GREATEST SHIRTS TO EVER EXIST FUCK