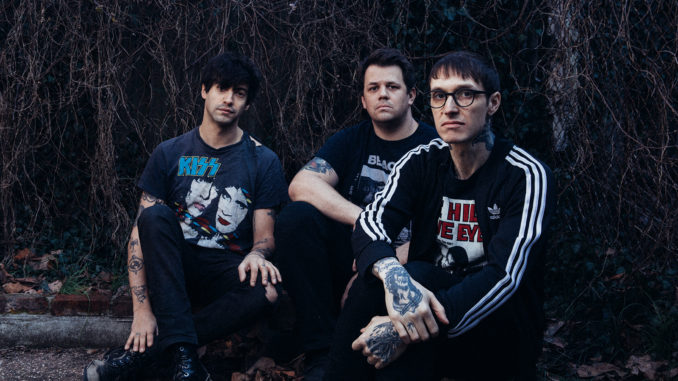 Podcast: Play in new window | Download
Subscribe: Apple Podcasts | RSS
HEY TEAM WE ARE BACK!!!
So, I think we talked about this on the show before, but 4 years ago now we started a conversation with friend of the show and well known Delco native Michael Berdan about movies and music and all manner of things. Our plan was to record with him prior to a show he was playing at PhilaMOCA with Dark Blue. However, there were issues (intentional sabotage by Sharky) and we postponed our conversation till we had time again. Well, we got busy as you know, but more importantly Berdan's awesome project, UNIFORM blew up and well, getting back together went from "in a month or so" to right now, the apocalypse.
Sure, it took us four years to finally follow through on our promise, but look, HERE WE ARE! The timing is great because we have more time to connect, it is the spooky season so we all have spooky on the mind, and UNIFORM has a new record out that both Josh and I are obsessed with. 
For this episode we were inspired by a few things, one was the fact that we all know each other a little better not from shows, but from the now gone EXHUMED FILMS 24 HOUR HORRORTHON, by Berdan talking about his October schedule he had programmed, and by the Patreon exclusive episode of HORROR BUSINESS Lore and I did where we programmed our own 24 hour Horrorthon
THAT'S RIGHT, STRAP IN, BECAUSE WE HAVE EACH PROGRAMMED OUR OWN IMAGINARY HORRORTHON FOR YOU TO ENJOY!
Besides enjoying hanging out virtually with our friend Berdan and discussing horror, my personal goal for this activity was to surpass the list I did for Patreon. Was I succesful? YOU DECIDE!!!
It was an utter pleasure to discuss music and life and Delco and of course HORROR with Berdan, he was easily one of our favorite guests and we cannot wait to have him back on the show.
We want to know what YOU thought of our picks, so get in touch with us over social media or email and hit us with your feedback.

We want to thank our sponsors of course
LEHIGH VALLEY APPAREL CREATIONS 
and
Right now if you use CINEPUNX promo code you get 10% off!
Thank to everyone who has spread the word, supported us on patreon, bought a shirt, and otherwise just been awesome