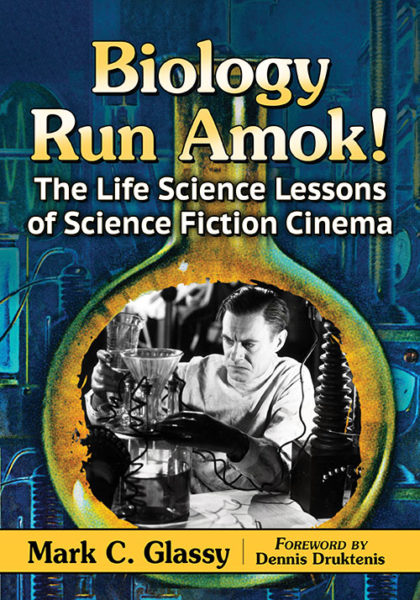 In the introduction to his new book, Biology Run Amok!: The Life Science Lessons of Science Fiction Cinema, Mark C. Glassy makes the point that it's "very important to realize that the art of storytelling may be at odds with scientific accuracy." As he goes on to point out, "plot often trumps science, but science can also improve the storyline."
The 22 essays within the pages of Biology Run Amok! were originally published in Scary Monsters magazine between 2010-16, and four of them were nominated for "Best Article" in the Rondo Awards. Glassy, a cancer immunologist at the University of California, San Diego Moores Cancer Center and an Adjunct Professor at the John Wayne Cancer Institute, is a self-described "Monster Kid Scientist" who grew up in the '50s and '60s on monster movies and sci-fi flicks.
The articles are all attempts to point out the scientific accuracies and inaccuracies in many of the classic and not-so-classic films of that era, although some of what Glassy writes about does pop into more modern films. However, given his fandom and favorites, the author is more often than not writing about films made at a time when science was rapidly leaping forward.
A lot of the appeal of Biology Run Amok! is the way in which Glassy presents a science lesson, and then demonstrates how well that particular aspect of science is represented within a film or series of films. His first article, "The Microscope," seems like a dry start to the book, but focusing one specific instrument really allows Glassy to not only point out whether a microscope is being used correctly, but how a depiction of one item can allow the viewer to look at the laboratory as a whole, and what that might say about the scientist on-screen.
Each lesson builds on the one previous, with Glassy becoming more comfortable in his style and delivery, and come in two varieties. The first sees the author examine a topic over the course of several movies, be it "The Hairy Who Are Scary" and werewolf pictures or "Hormones, The Scariest of Them All!" The second — and usually the most intriguing — sort has Glassy breaking down one specific film, such as looking at "The Laboratory of Septimus Pretorius" in Bride of Frankenstein, or "Amazing Colossal Science," which might be the book's highlight.
In that essay, Glassy takes apart every aspect of the science within 1957's The Amazing Colossal Man, which the author says he could "develop a semester-long class based on the science in this film, with a syllabus encompassing everything from radiation biology, dermatology, endocrinology," et al. It's a hefty chapter, clocking in at nearly 20 pages, but the way in which Glassy switches between explaining concepts like ionizing radiation and describing a 60-foot man wreaking havoc across the Nevada desert is impressive in how versatile the author can be in covering these topics.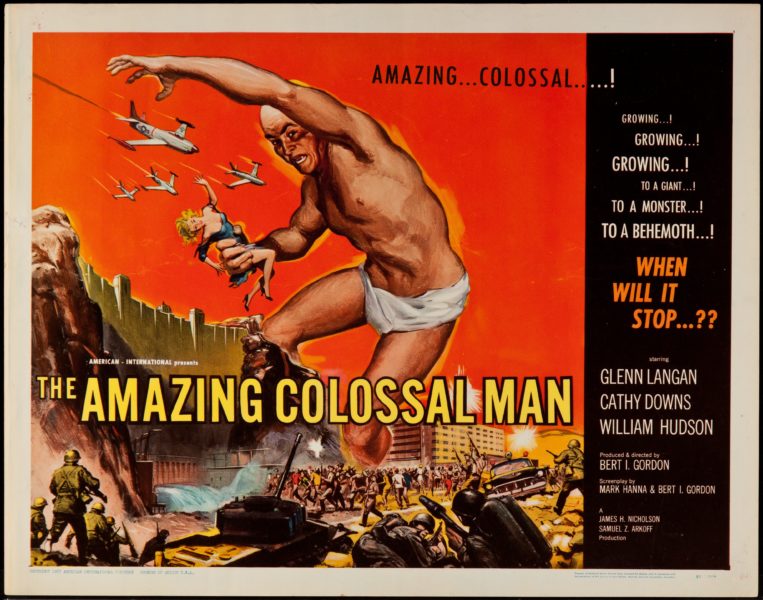 Whether a science nerd or science fiction nerd, Biology Run Amok! is most definitely worth picking up. It's informative and entertaining, and the focus Glassy gives to science, rather than writing yet another basic critique of these much-analyzed films, really allows the reader to revisit them with a fresh perspective.
Biology Run Amok! is just as good an introduction to biological concepts as science fiction films, and Mark C. Glassy definitely wrote the essays within this collection with an eye to making sure that everything is well-explained, but by no means leaving the layperson confused. It's more fun than you might think.
Biology Run Amok! is available now from McFarland Publishing.