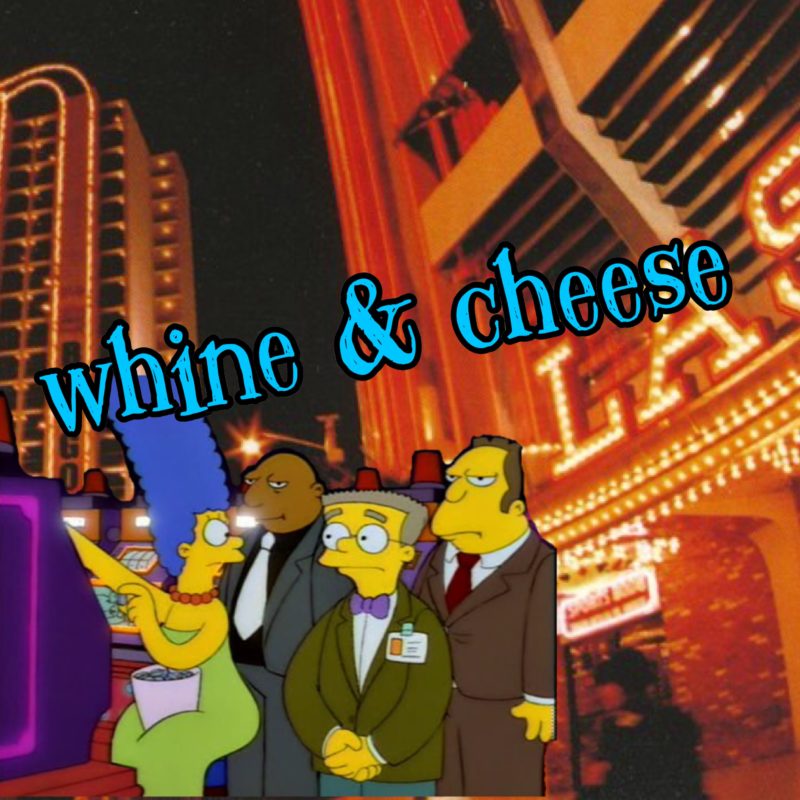 Podcast (whinecheese): Play in new window | Download
Subscribe: RSS
Whine & Cheese – Episode 14.5: When the chips are down this week, all bets are off as Joey and Mike discuss The Movielife's Has A Gambling Problem and a jackpot episode of The Simpsons, Season 5 Episode 10 – $pringfield. The topic at hand gets lost in the shuffle a few times as the guys get off topic right away, bringing up Geocities for some reason. You'll even hear the perspective of the biggest & least supportive Movielife fan ever, Geoff, some guy on Amazon that gave the EP a 1/5 star rating. Your hosts recount some of their favorite Simpsons characters while simultaneously admitting to not knowing much about a certain popular Kubrick film. Hedge your bets and listen to this week's mini-episode before you roll the bones. Okay, enough with the gambling phrases.
Whine & Cheese: A Podcast About Whiny Records and Cheesy Movies began in Spring 2018. It is a love letter to all things whiny and cheesy from Rites of Spring to Hawthorne Heights, Varsity Blues to Fifty First Dates, and everything in between. Listen as the pairing of Joey Breeding and Mike Paulshock mix and match two of life's great audio & visual pleasures.
Twitter and Instagram. While you're at it, email us with your pairing suggestions, questions, Weird Al parodies, and comments!
As always, ratings & reviews go a long way and are appreciated.
Thanks LVAC for the support!
Art by Jon Weed (check him out, he rules!)