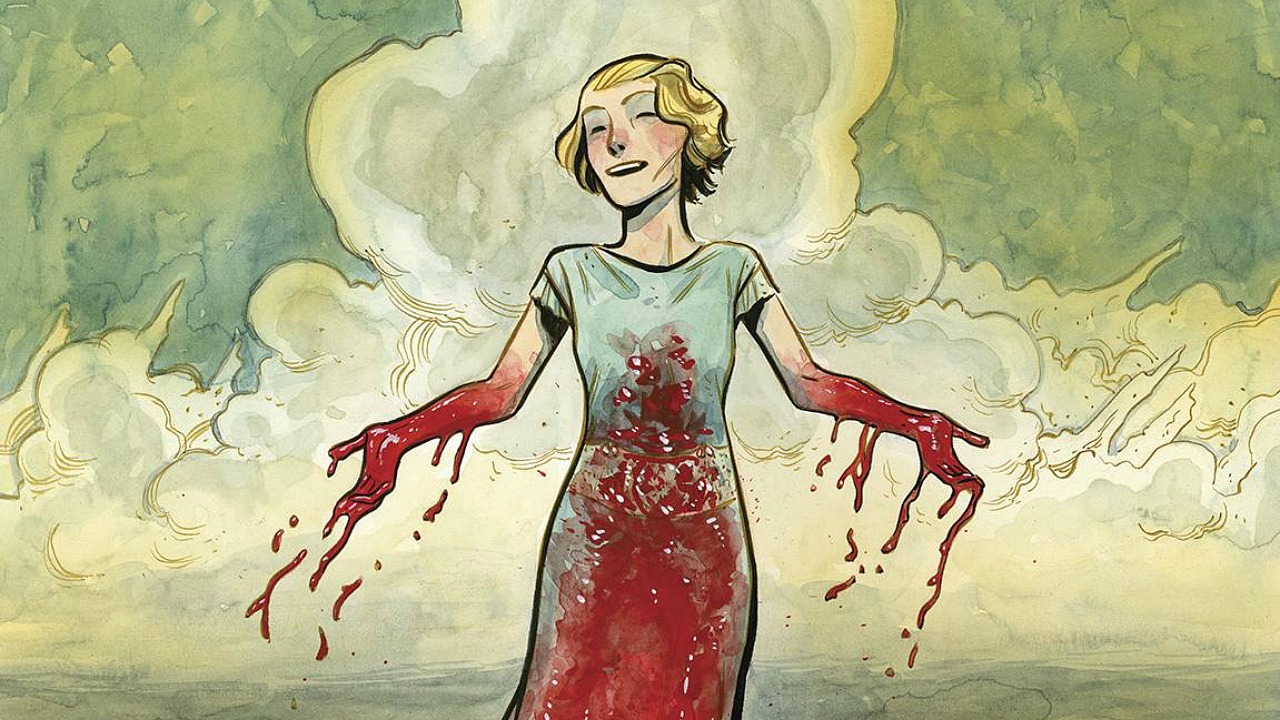 (EDITORS NOTE: Hey friends, Liam here! Welcome to our first installment of WE GOT ISSUES, our new comics round up courtesy of John Foster of SOUTH PHILLY COMICS! Johnny is too pleasant to say it up front, but if you like this column, you should definitely go to his shop and buy comics. He is great, and I am hoping he will write a new one of these each month. Hit him up and let him know what you think)
Harrow County by Cullen Bunn (writer) and Tyler Crook (artist) is a monthly ongoing comic series from Dark Horse Comics. Emmy is a young woman who has lived her whole life on a small farm with her Pa in the southern wilds of Harrow County, whose surrounding woods are home to all sorts of strange creatures — things that shouldn't exist — lurking in the shadows on the fringes of comfort. On the eve of her 18th birthday, Emmy discovers a horrifying secret about herself: she has a connection to those dark creatures of the night, and she is the last person in town to find out! This southern gothic fairytale is brilliantly paced, with imaginative twists and turns that keep you on the edge of your seat. Tyler Crook's artwork is jaw-droppingly gorgeous — the collaboration between he and Bunn creates an intimate, creepy, and touching story that sticks with you. Every single monthly issue contains a 1-page bonus story written by Tyler Crook and illustrated by rotating guest artists that do not get printed in the collections (2 volumes are out, with a 3rd on the way!). Harrow County, now at issue #15, continues to impress.
Replica by Paul Jenkins (writer) and Andy Clarke (artist) from new comic publisher Aftershock Comics. Replica is a quirky sci-fi buddy cop story following Terran detective Trevor Churchill and his team of varied life-forms as they try to keep the peace in the "Transfer" – the "Transfer" is described as a 50 mile wide shell floating within two thousand points of folded space at the epicenter of the known universe, a serious cultural melting pot of millions of species co-mingling on a daily basis! Now, considering the fact that Detective Churchill's team has a loose-at-best knowledge of Terran Law, Trevor has his work cut out for him! If only there were more of him… Perhaps an answer to Trevor's problems lies in discount cloning — what could possibly go wrong? Paul Jenkins drops you right in the action and lets you figure things out as the story develops. Each issue reveals more information about the world, it's people, and their relationships in an organic way. Andy Clarke's gift for drawing is showcased in this series, breathing life and personality into every character by drawing spot-on facial expressions and creating a highly detailed and colorful dynamic world around them. Volume 1 is currently available!

Black Hammer, a new Dark Horse series by Jeff Lemire (writer), Dean Ormston (artist), and Dave Stewart (colorist), is a combination of old school comic nostalgia and the extraordinary-meets-mundane, all wrapped in a mystery. When crisis called, Spiral City's greatest heroes responded and valiantly sacrificed their lives for not only the city, but the world itself. With no remains found, mystery abounds. Were their bodies vaporized or did something else happen? Lemire, Ormston & Stewart are flawlessly matched for this book — whether it's big scenes of super heroics or quick intimate moments between characters the tone and delivery never miss a beat. Just 2 issues of Black Hammer are out with #3 set for release late September, so there is plenty of time to catch up and join this classic comic celebration and delve deeper into the mystery!
Dept. H by Matt & Sharlene Kindt (the same team that brought us Mind MGMT) from Dark Horse Comics is a who-done-it murder mystery set in a research facility at the bottom of the ocean. The smartest man in the world is dead and it is up to Mia to find out exactly what happened — was it just an accident or murder? Mia must travel to darkest depths of the ocean to examine the crime scene and stay on base to get to the bottom of things. But everyone is a suspect and at least one or some of them might be a murderer! Matt & Sharlene Kindt's water color art style is not only masterfully done but also a perfect fit for the underwater setting, playing with both the vastness of the murky deep and the claustrophobia of the facility's close quarters and the constant pressure bearing down on them. Each issue contains material exclusive to the monthly issues. After Mind MGMT, I would (and do) read anything from this husband and wife team! Dept. H is currently up to issue #5 with a volume 1 coming out in November.