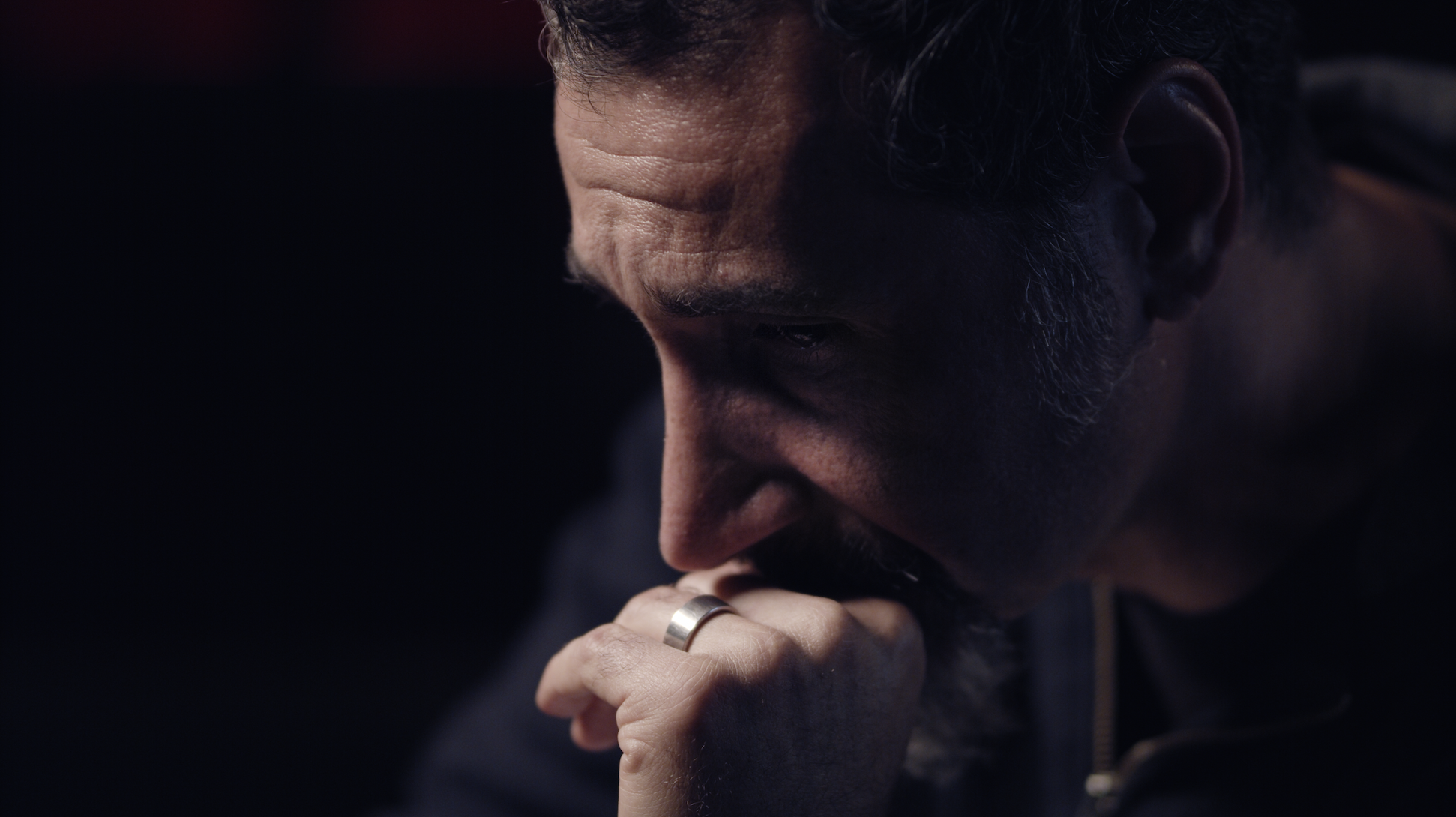 As a dopey white kid from south central Pennsylvania, System of a Down was a formidable band in my teenage years in a lot of ways. First, they were one of the first bands to start nudging me toward some semblance of viewing the world beyond six inches in front of my face. Second, I just really dug their fucking music, and still do to be honest. Saddled with the "nu metal" moniker due more to when they came out than their style, they brought a manic energy to their music that still resonates with me almost twenty years later.
Much of that energy comes from frontman Serj Tankian, who in addition to crafting a lot of the music was also the driving force behind a lot of the social justice messaging. In the new documentary Truth to Power, director Garin Hovannisian puts Tankian's story front and center, weaving Tankian's biography and stories about his cultural heritage into a narrative about how his political work intertwines, diverges, and conflicts with his musical career.
Given that Tankian co-produced a film where he's the subject, I wouldn't begrudge cries of "vanity project," but I suppose the same could be said of anyone who writes an autobiography. It's still an incredibly interesting look at Tankian's life and career, even if there are a few blind spots.
Anyone familiar with System knows that their Armenian heritage is a big part of their identity, as all four members of the band are of Armenian descent. The film works as a primer of sorts on Armenian culture, particularly the genocide perpetrated by the Ottoman Empire (present-day Turkey) during World War I. Many countries, including the U.S., have been reluctant to formally acknowledge the Armenian genocide given Turkey's current ally status, and Tankian's fight for this acknowledgement serves as the core of his humanitarian work.
The documentary gets a little murky as the narrative dives into the conflict both inside and outside the band caused by Tankian's dogged focus on social justice work. On one hand, it's interesting to get insight from bassist Shavo Odadjian and drummer John Dolmayan on the impact Tankian's social justice work had on the band's trajectory. Shortly after the 9/11 attacks, Tankian posted an open letter on the band's website explaining America's role in radicalizing the same people who attacked us that day. Tankian's message is accurate, but I also understand the band being a bit put off by the fact that he posted this message to System's site without so much as giving them a heads up.
But I also think there are some omissions here that could have made the conversation more compelling. First of all, guitarist Daron Malakian is completely absent from the film. It would have been nice to get his perspective as I get the sense that Malakian and Tankian's relationship is the most contentious within the group. 
Even more glaring, however, is that at no point does the film delve into the fact that drummer John Dolmayan is a pretty hardcore Trump supporter (is there any other kind?). Not to say that Tankian has ignored this fact outside of the film, as he's repeatedly expressed his frustration and disagreement with Dolmayan, but to leave it out of the film seems to be leaving out a pretty significant element of the conversation.
The final act of the film provides some insight into Tankian's work after the band's extended hiatus in 2006, including his solo work, his continued efforts to get official recognition in the U.S. for the Armenian genocide, and his work in fighting corruption from within the Armenian government. 
This last narrative is particularly interesting for several reasons. First, it again intertwines Tankian's story with System of a Down, as a 2015 live show in Armenia is presented as something of a centerpiece of the band's reunion. As the film explores Tankian's connection to the 2018 Armenian revolution, I couldn't help but see connections to the recent U.S. elections, for better and worse. 
It's an interesting story, and one that I wasn't overly familiar with before seeing the movie. After incumbent Republican Prime Minister Serzh Sargsyan won another term in what seems to have been a rigged election, the film depicts the many protests led by parliament member Nikol Pashinyan that actually served as the catalyst for Sargsyan's resignation. 
But while the movie positions this resolution as a pretty definitive happy ending, a quick peek at current events in Armenia would beg to differ as now-Prime Minister Pashinyan's handling of the recent Nagorno-Karabakh conflict have lead to more protests and a number of resignations within the Armenian Parliament. 
Now, these developments are fairly recent so it's entirely likely that the film was made before them, and I'm in no way knowledgeable enough about the Nagorno-Karabakh conflict to speak with any authority on it. But as someone who is watching the U.S. return to complacency just because Donald Trump is out of office, I can't help but feel those same anxieties bubble up while watching the end of Truth to Power.
That said, all documentaries tend to simplify to some degree or another, and my issues with some of the glossed-over sections of the film don't negate that fact that it's still a worthwhile look at the life and career of a pretty interesting dude. It doesn't hurt, of course, that naturally System's music permeates the narrative, and Tankian himself contributed some additional music to the score. Ultimately I think Truth to Power will mainly attract people like me who already loved the band. But I also think it has something to offer those seeking an introduction to the band and to the Armenian culture that drives their music.
Truth to Power opens in virtual cinemas and select theaters on Friday, February 19th.