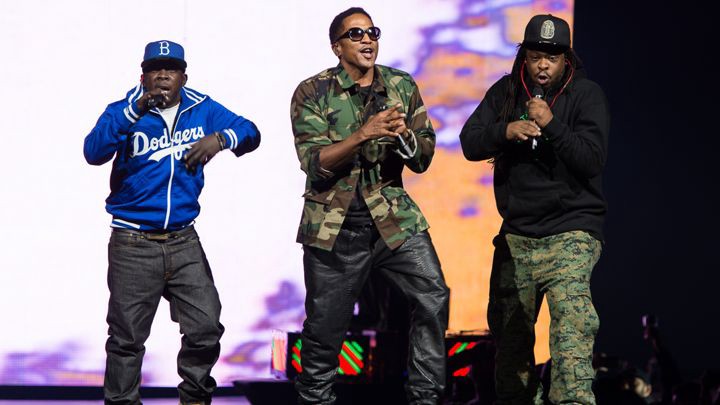 ALBUM OF THE YEAR
 A Tribe Called Quest
We Got It From Here…Thank You 4 Your Service
 While I have held that Tribe is my favorite hip-hop group consistently for the past 20 years, it would be more accurate to say that for Tribe represents what hip-hop is in a platonic sense. Sonically innovative, socially and politically aware, lyrically fierce, a clear sense of geography (Linden Blvd.), and a healthy dose of both humorous and obviously untrue sexual boasts (R.I.P. Phife) all add together to make this group the most important collective in hip-hop history. That said, when I first heard that a new Tribe album was coming out, an instantaneous excitement was met by worries that this record (coming out over 18 years after their last group effort, The Love Movement) would be a disappointing last attempt at cultural relevance at a time where a majority of their surviving members are closer to 50 than 40.
 But holy shit was I fucking wrong. 18 years after their last record (and 26 years after their debut) A Tribe Called Quest have put out the best rap record of 2016. This is especially notable in a year where much of what dominated radio play and internet chatter was rap music made by a group of children barely able to legally purchase a bottle of wine. What stands out most about We Got It From Here is the way in which it never sounds like a simple repetition of what Tribe has already done, but rather, it sounds like a completely unique take on contemporary hip-hop. If anything, it sounds like an ever more perfect version of classic Tribe, with an insanely impressive lyrical performance from Jarobi (who hadn't actively rapped with Tribe since his late teens) and the inclusion of fellow travelers Consequence and Busta Rhymes. And while the absence of Q-Tip's late production partner J Dilla leaves one wondering what could have been, Q-Tip proves that he belongs on the Mt. Rushmore of hip-hop's great producers. For me, there was no better musical moment in hip-hop in 2016 than when the strings first hit on the chorus of 'The Killing Season', in which Q-Tip out Kanyes Kanye by using his voice as another layer of instrumentation. If this truly is their last record (which, following the death of Phife it should be), Tribe will likely go down as having the strongest catalog in the history of hip-hop.
RUNNER UP 
Schoolboy Q
Blank Face
 If everything would have just gone according to plan (i.e., if the most important group in rap history hadn't released a surprise album) this would have hands down been my pick for album of the year. While Kendrick has received an overwhelming amount of the TDE praise in recent years, Schoolboy Q creates his own masterpiece by staying firmly in the lane that got him here: aggressively detailed lyrics about the realities of life in contemporary Los Angeles, unabashedly West Coast production, and only the most necessary features (Kanye, Jadakiss, Vince Staples, E-40 all share bar duty). While not my top album of the year, Blank Face features both my favorite track of 2016 ('Groovy Tony/Eddie Kane') and favorite rap moment of 2016 (the first lines of Jadakiss' verse of the aforementioned track). In a year where a lot of bullshit got a whole lot of credit, this record served as my litmus test of who had good taste in rap. If this record wasn't in your regular rotation all summer, then I highly doubt your ability to discern near-perfect rap music from the sounds made by shoving a pile of baby diapers into an already full trash compactor.
THE REST (IN NO PARTICULAR ORDER)
 Westside Gunn
FLYGOD
 Classic New York rap is alive and well. But rather than occupying the five boroughs of its inception, it is currently on indefinite sabbatical on the frozen streets of Buffalo, the home of Westside Gunn (and his brother Conway), who might just be the hardest rapping (and working) lyricist operating in the empire state. The effortless flow, in the pocket delivery, and insanely detailed imagery of Gunn's lyrics make this one of the most visual and dramatic projects of the year (sorry Lin Manuel Miranda), and the choice production (beats by Daringer, The Alchemist, Roc Marciano, and Statik Selektah) make this a marriage of the best in dusty contemporary sample-based production and the best of gritty New York bars. Throw in lyrical contributions from Your Old Droog, Action Bronson, Danny Brown, and Skyzoo, and you have yourself the most lyrically magnificent record of 2016.
Noname
Telefone
 While we all knew her voice from some of the best verses on projects from some of the best young artists out of Chicago (most notably Chance The Rapper & Mick Jenkins), Telefone made it clear that Noname should be on any 'best rappers in Chicago' list from now until she decides to put the mic down. It's obvious from the opening track that Noname has a background in Chicago's rich poetry scene, as her delivery exhibits a fluidity with syllables that meshes with her subtle melodic sensibility to give her a completely unique rap style. Production wise, this project sounds like Chicago rap in 2016: jazzy, psychedelic at times, equal parts traditional hip-hop and contemporary live band orchestration, and always leaving the perfect space for her quiet delivery to weave in and out. While 2016 was a historic year for Chicago rap, 25 year old Noname has already earned a spot as one of the windy city's finest lyricist with this ten-track effort. Oh, and she got to cap off her year with a performance on SNL.
YG
Still Brazy
 In 2016 Los Angeles has come to represent a lot of things in contemporary hip-hop music: the jazz influenced genius of Kendrick Lamar, the Dilla-on-acid production style of Flying Lotus, the art meets comedy rap of Open Mike Eagle, and of course rap prodigies like Vince Staples and Earl Sweatshirt. But YG's sophomore record, Still Brazy, reminds us of what LA rap earned its name on: funky-as-shit gangster rap. With classic G-Funk sounds throughout, YG provides an updated LA sound for the post-skinny jeans era. And with tracks like 'FDT' (a song whose chorus is an enthusiastic and cathartic 'Fuck Donald Trump') and 'Who Shot Me?' (a song in which YG carefully considers who may have actually shot him last year) YG provides a realness devoid of much of what manages to get lumped into the vague category of 'gangster rap' in 2016. If Kendrick is LA's ambassador to the global hip-hop community, YG is still the mayor of LA rap.  
Kendrick Lamar
Untitled Unmastered
 King Kunta wasn't going to let one of the best years for rap releases in recent memory go by without making his mark. While TPAB was the more-or-less unanimous pick for 2015's album of the year, Untitled Unmastered is a harsh reminder that Kendrick's studio leftovers are miles ahead of your favorite rapper's last five singles. Featuring a couple of tracks made famous via late-night TV performances, Untitled Unmastered offers a more jazzy and stripped down sound than the highly produced funk of TPAB, at times sounding reminiscent of early 2000's The Roots. While a series of lackluster guest verses might have cast some doubt on whether or not Kendrick is still the best rapper alive (Maroon 5…really?), Untitled Unmastered offers enough evidence to support the claim that until further notice, Kendrick Lamar is the most important artist in hip-hop today. Oh, and this record also reminds us that CeeLo can still do dope things.
Kaytranada
99.9%
 No one has done a better job at building a bridge between contemporary dance music and hip-hop more than Montreal's own Kaytranada, and on his first full-length, 99.9%, he solidifies his place as one of the few artist who would could rock a european club full of of swedes eating molly out of each others assholes and then catch a flight to LA and kill a beat-set at Low End Theory attended by a bunch of stoned hypebeast in supreme hats. Featuring the only Vic Mensa verse of 2016 that wasn't obnoxious as fuck ('Drive Me Crazy') and maybe the best track by 2016 MVP Anderson .Paak ('Glowed Up'), 99.9% is the perfect album for hip-hop heads that want to do more than head nod when they are looking to party. (Also, he's the most important Canadian currently doing hip-hop related activities. No love to wheelchair Jimmy).
Vic Spencer
St. Gregory
 Chicago had one of its biggest years ever in hip-hop. Chance the Rapper became one of the most famous artists on the planet; Mick Jenkins, Saba, Noname, and Joey Purp all put out stellar records; Jamila Woods came out of nowhere and put out one of the best albums of the year; and Common and Lupe Fiasco reminded us that they can still rap. But with all of this, one cranky old man refused to let us forget that he is the best bar-for-bar rapper in the midwest, Vic Spencer. Channeling the spirit of his hero and friend Sean Price, Spencer ignores hooks and any other non-rap fuckery and gives us a project full of aggressive rapping over minimalist loops with limited assistance (Freddie Old Soul and Guilty Simpson both drop standout contributions). While the kids might be the musical innovators in Chicago, Vic Spencer is holding the torch for hardcore rap music, and reminding us that if you need more than a dusty loop to create classic hip-hop, you might be terrible at rapping…
Nx Worries
Yes Lawd!
You might think I am cheating here, as *technically* this is more of an R&B/Soul record than it is a straight hip-hop record. That said, Anderson .Paak weaves rhymes in and out of his verses better than most of your favorite rappers, and Knxwledge's production solidifies his position as one of the heirs to the throne of soulful and choppy production left behind by J Dilla. In term of production, this may in fact be the best rap release of 2016, as Knxwledge's Detroit-Via-Los Angeles style makes this one a head nodder from start to finish. And while occasionally .Paak can get a little obvious and misogynist on the lyrical front, this project earns its place in the long line of historically dope collaborative albums put out by Stones Throw (Jaylib, Madvillian). While .Paak's solo output makes him one of the most important artist in music, I hope that his collaborative effort with Knxwledge is not a one-off project, as the world needs more of this shit.
Ka
Honor Killed the Samurai
Ka is a 44 year old New York City firefighter who is a better rapper than almost any human being currently releasing music and a better producer than 99% of humans with access to a sampler and protools. With minimal drums, Honor Killed the Samurai offers a hauntingly minimalist musical backdrop for Ka's hushed and intricate flow. Occupying a musical lane used only by himself and collaborate Roc Marciano, this is the sort of project you listen to at night while wearing headphones so you can catch every line. Because he doesn't waste words, after multiple listens you still find yourself catching references and wordplay you failed to notice after your first ten listens. In a banner year for hip-hop albums being made by 'old dudes', Ka offers further evidence that the genre is more like wine than malt liquor.
And the rest…
 While on its own it wasn't one of the top albums of the year, Common's Black America Again was a timely album that channeled the political despair of 2016 into his best work in over a decade and reminded us why at one point Common was considered 'Chi Town's Nas'. Saba's Bucket List Project was quietly one of top projects to come out of Chicago during the windy city's most notable rap year ever. Full of understated production and relaxed delivery, this record makes Saba one of strongest younger rappers out right now. And while not really a hip-hop album as such, Jamila Woods' HEAVN was an artistically rich and politically charged album that showed us what contemporary hip-hop influenced soul music can be. Even though he still gets a disproportionate amount of hate for being a caucasian, Mac Miller's The Divine Feminine is one of the most cohesive and concise records of the year, and even more impressive considering that Miller produced the thing himself. He also had the balls to feature a Kendrick feature where he's more-or-less just singing the hook. If you're still hating on Mac Miller for being a goofy white guy, you are missing the fucking point and deserve all the J Cole you can handle. Smoke Dza and Pete Rock's Don't Smoke Rock was a non-nostalgic reminder that hard bars over Pete Rock beats is hip-hop's version of apple pie and good bourbon. For those in need of contemporary instrumental hip-hop (with the occasional guest verse from Action Bronson or Earl Sweatshirt), Samiyam's Animals Have Feelings was as good as it gets. And while it's not yet out, the collaboration between Vic Spencer and Big Ghost, The Ghost Of Living is an insanely dope project mixing one of the fiercest rappers on the planet with a rap writer turned producer who gets iller with every project (full review coming when the project is released on December 23).
And the absences…
 I imagine some of you may have noticed two absences from my list: Kanye Trump West's The Life of Pablo and Chance The Rapper's Coloring Book.
 When it comes to TLOP, I just can't get past a few things. Kanye West does not rap well. At all. It is clear that this album doesn't include help from his usual bullpen of ghostwriters (thank god Consequence was busy at Q-Tip's house) and that there was no one within a 25 mile radius willing to tell Kanye that most of his lyrics are trash. While Ye stans will find an infinite amount of justifications for this, I can't ride for someone who ruins one of the most beautiful tracks of the year ('Father Stretch My Hands Pt.1') with a line about getting asshole bleach on his t-shirt, or another great track ('Highlights') with a line about having a Go-Pro for his dick. Big Pun didn't die so we had to listen to Kanye West say stupid things over lush production. The best parts of the record (the production and the guest appearances) were not created by Kanye West. As John Legend has confirmed, Kanye hasn't made a beat with his own hands since Graduation, so at best he is a pretty good curator of other people's work. But the best beats of others mixed with one Chance verse and one Kendrick verse does not a classic album make. And now the man has bleach blonde eyebrows and is hanging out at the Trump Tower. I hope all the Ye stans are ready for all the work they are going to have to do to justify all the insane shit this guy is about to pull in 2017….
And while I have been a fan of Chance since 10 Day, Coloring Book is at best a really fun pop album, but it is not a good rap record. Also, this shit is basically a christian album including multiple gospel choirs and tons of lyrics about how great Jesus is. And I am sorry, but in 2016 everything is fucked and going to church more isn't going to fix shit. Also, Justin Bieber is on the record, and it will be a cold day in hell before I put a record featuring that Canadian shit stain on any list that I write. #BlameChance
#PRAYFORYE