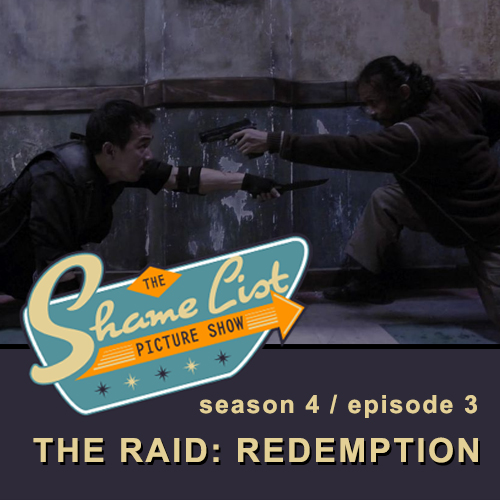 Podcast (shamelistpicture): Play in new window | Download
Subscribe: RSS
Season 4, Episode 3 (originally released on February 21, 2020)
On today's episode of the Shame List Picture Show, Michael and Nick discuss Gareth Evan's THE RAID: REDEMPTION as requested on Patreon by Robert Ward. Also featured are reviews for TAKING TIGER MOUNTAIN (1983), PLEDGE NIGHT (1988) and THERE'S NOTHING OUT THERE (1991) from Vinegar Syndrome and ROXANNE (1987) by Mill Creek Entertainment.

Edited by: Michael Viers
Produced by: Nick Richards & Michael Viers
Theme Music by: The Directionals
Opening Narration by: Zach McClain
Credits Music by: Ten-Speed
Logo Design by: Amanda Viers
This episode is brought to you by
Midnight Movie Society
Vinegar Syndrome
Mill Creek Entertainment
Don't forget to use the promo code shamelist to receive 33% off your first 3 months.
show insta: @shamelistpictureshow
michael's insta: @michael_viers
michael's twitter: @themichaelviers
nick's insta: @pacifistpugilist