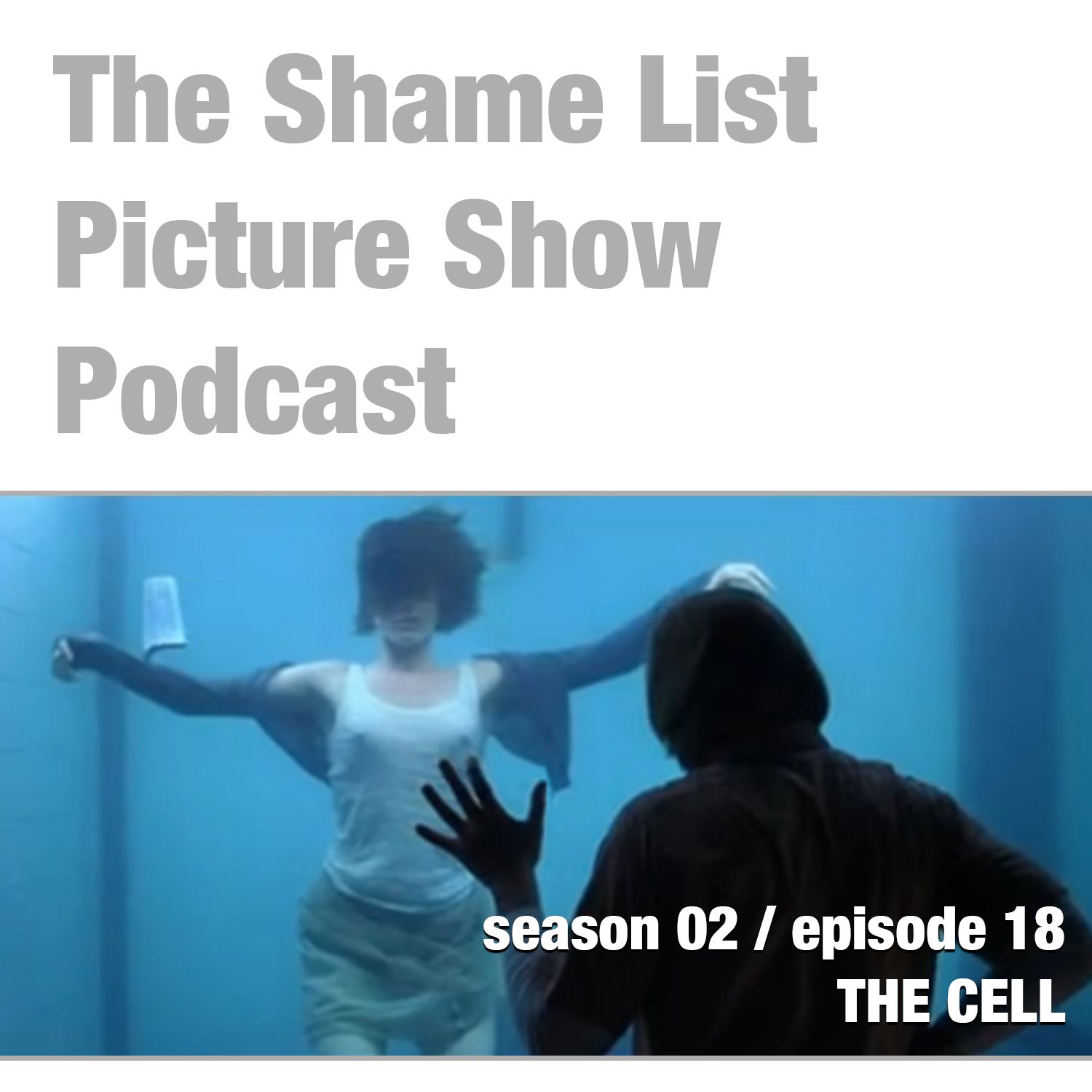 Podcast (shamelistpicture): Play in new window | Download
Subscribe: RSS
Season 2, Episode 18 (originally released on November 23, 2018)
On today's episode we'll be discussing two movies over the span of two episodes. First up is a movie on my shame list that was recommended to me back on our Dark City episode, Tarsem Singh's THE CELL. THE CELL is a twisted serial killer film that's part Police procedural and part fantastical, sci-fi inspired acid trip. It's definitely an odd combination, but comes together is an oddly satisfying way. The film is about Dr. Catherine Deane who helps treat Coma patients with an experimental virtual reality machine that allows her to go into the dreams of her patients to help communicate with them. While all this is going on, FBI agents Peter Novak and Gordon Ramsey are hot on the tails of a serial killer that has a fascination with turning his female victims into dolls. The FBI are finally able to catch the killer, but a rare disease causes him to fall into a coma… so the FBI must get Dr. Deane to help find where a missing girl is held by going into the dark and twisted dreams of a serial killer. The film had a mixed reaction from critics calling it a mess of stunning visuals but lacking in substance. That being said, the film has taken on a new cult following and is arguably one of the most interesting films J-Lo ever starred in. It also features a fascinating score by Howard Shore. The film stars Jennifer Lopez, Vince Vaughn, Marianne Jean Baptist and Vincent D'Onfrio as serial killer Carl Rudolph Stargher.

You can find out more about our sponsors at:
POWERBOMB (www.clevelandcinemas.com)
Vinegar Syndrome (www.vinegarsyndrome.com)
Mill Creek Entertainment (www.millcreekent.com)
Don't forget that the newest film by Zach Shildwachter and BJ Colangelo, POWERBOMB, debuts on Thursday December 6th at 7pm at the Capital Theatre in Cleveland, Ohio Also worth mentioning is that Vinegar Syndrome is doing their massive Black Friday sale this weekend. Go pick up something cool!
You can find me on Instagram at @michael_viers and @theshamelistpictureshow You can find Nick on Instagram at @awordworth1000pics
As always, please rate, review, and subscribe.
Be sure to check out our Patreon at www.patreon.com/shamelistpictureshow
Edited by: Michael Viers
Produced by: Nick Richards & Michael Viers
Theme Music by: The Directionals
Opening Narration by: Zach McClain
Credits Music by: Ten-Speed
Logo Design by: Amanda Viers