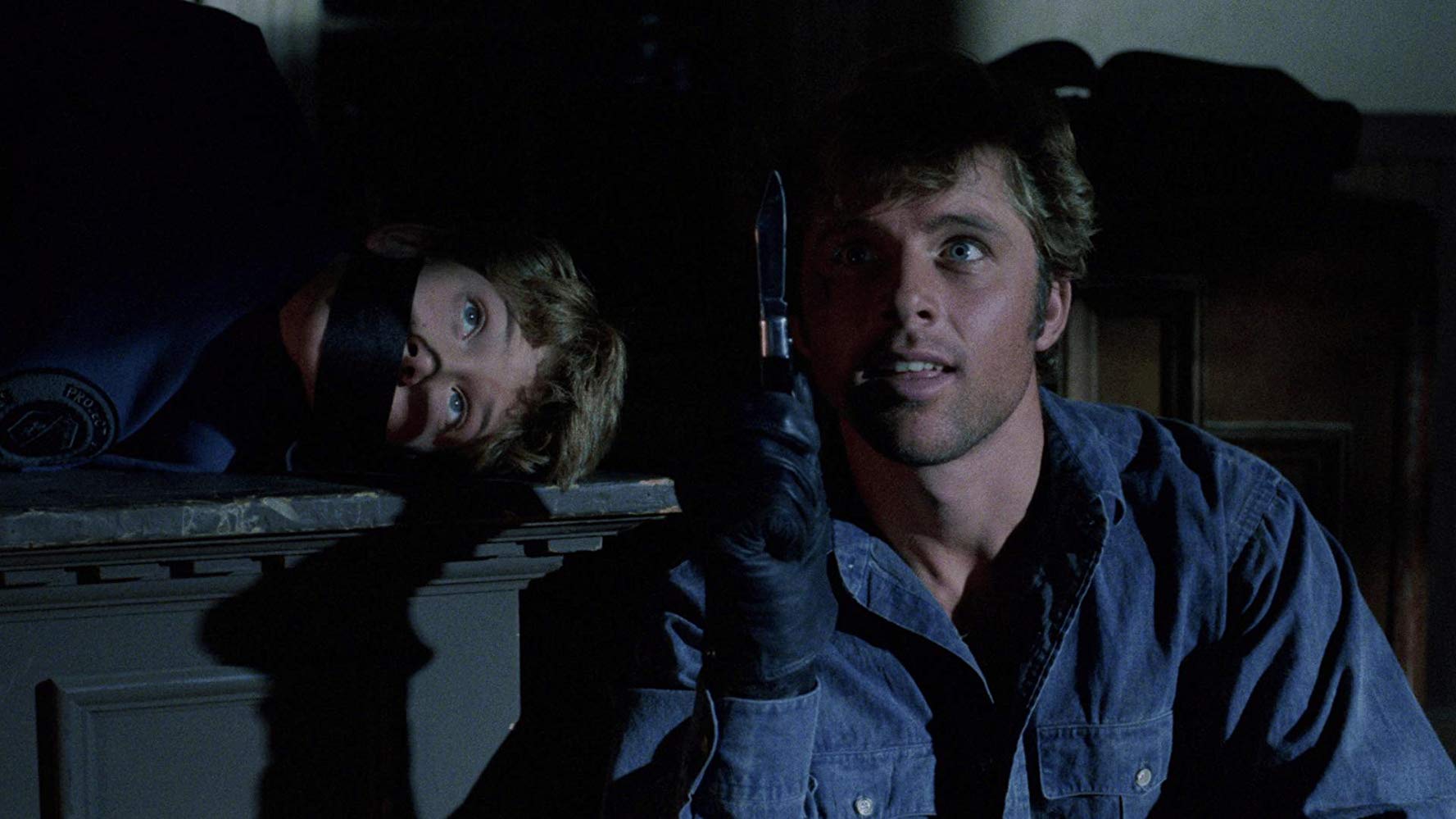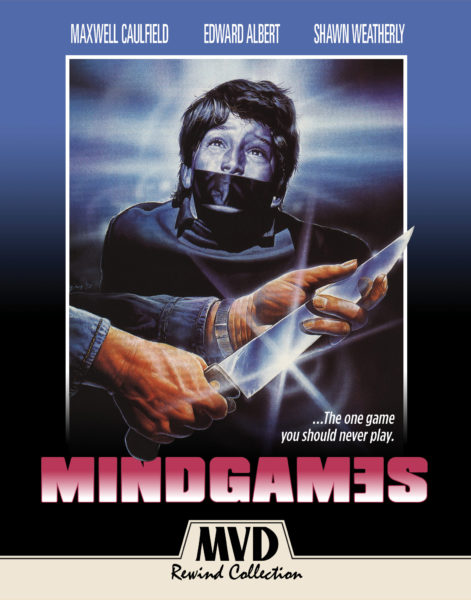 Starting with the release of punk rock doc D.O.A.: A Right of Passage and comedy-horror film Attack of The Killer Tomatoes in December 2017, the MVD Rewind Collection instantly became a way for fans to get "'cult classics and more from the video store' in special edition Blu-ray + DVD collector's sets loaded with special features," as the company puts it. Amazingly, though, despite their latest release – Bob Yari's 1989 film, Mind Games – being the 21st installment in the series, I've not yet had a chance to check any of them out. So, what's the deal?
"Maxwell Caulfield (Grease 2, Empire Records) stars in this taut psychological thriller from director Bob Yari (producer of the Academy Award® winning Crash) about a family's battle for survival against a cruel, scheming stranger.
Trapped in an unhappy marriage, Dana Lund (Edward Albert, Galaxy of Terror) and his wife, Rita (Shawn Weatherly, Police Academy 3: Back in Training) try to breathe new life into their relationship by taking a trip through northern California with their 10-year-old son Kevin (Matt Norero, "Roseanne"). Along the way they pick up Eric (Caufield) an amiable hitchhiker who's a psychology student. But Eric's charm masks the fact that he is psychotic. Sensing the Lund's vulnerability, he decides to take control of the family, then destroy it through deceit and emotional manipulation. At first the Lunds are easy prey until they realize they've become victims of a bizarre reign of terror. They begin to fight back in a desperate attempt to save themselves from Eric's madness and perverse MIND GAMES."
The whole idea behind the MVD Rewind Collection is to present really nice versions of films which fall somewhere between cult classics and unknown obscurities. I think a perfect example of this is the 1990 Jean-Claude Van Damme action film, Lionheart. It's not nearly as beloved a cult film as Bloodsport or Kickboxer, nor the box office smash of Universal Soldier or Timecop, it falls in that late '80s / early '90s realm of video store staples that you probably remember seeing, even if you don't remember a single thing about the movie itself.
So goes Bob Yari's Mind Games. Despite starring three familiar faces as the adult leads, thanks as much to their work on various television series as their other film roles blurbed above, I'd literally never heard of this thriller. If you watch it, you'll soon discover why, as it's really bizarre. Dana and Rita's marriage is going to hell, their kid is caught in the middle, and their vacation soon takes a bizarre turn when they inexplicably allow their 10 year-old to befriend a college student and hang out with him as they travel through California.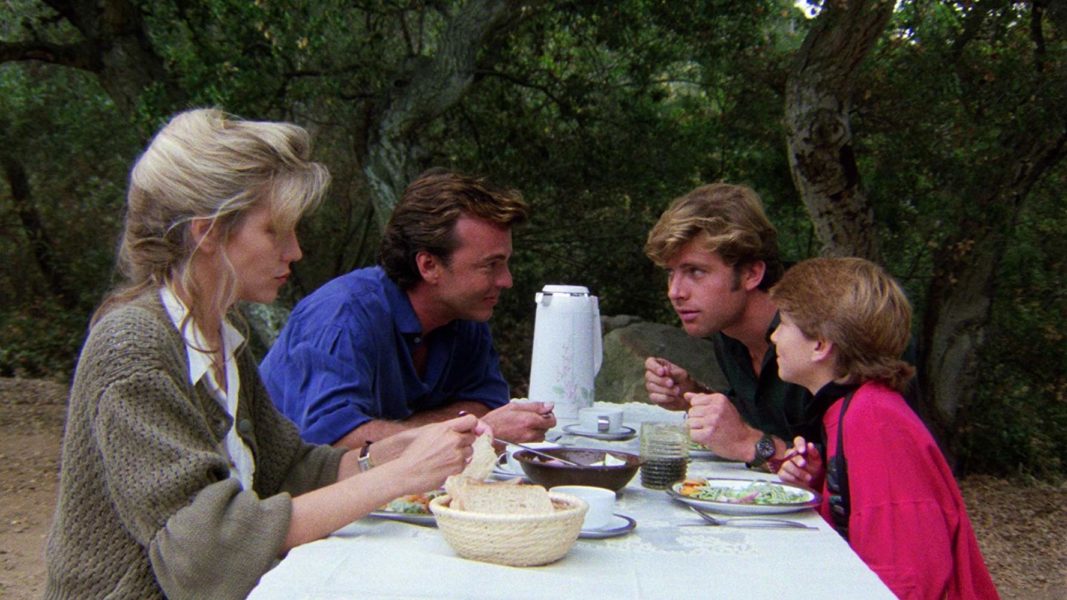 Obviously, Eric is a total psychopath, and he begins to attempt to tear the family apart from within. He gets Kevin to help him destroy the contents of a home while the owners are gone, then has the kid – clad only in his underwear – crawl into his sleeping bag to keep warm, then goes on to seduce Rita. The seduction is weird, because Rita at first seems to be the only person to understand how fucking weird it is for Eric to be hanging out with a kid and taking him camping. Even though this is 1989, people still knew about child molesters, right?
Anyhow, everything goes to shit, Dana comes around and realizes that everything has gone to pieces, and there's a showdown in an old mining town wherein it all comes to a head. The family reconnects through their traumatic experiences, and I assume start intense therapy the following week.
The performances are fairly decent, with Caulfield toggling nicely from nice guy to creep and back again, although Weatherly and Albert seem incapable of any middle ground between jaded ennui and sheer fucking panic. The suspension of disbelief required to even conceive of the fact that parents – even ones as messed-up as this pair, and even considering "it was a different time" – would allow their kid to spend this much time with an adult man, is overwhelming. Even when confronted with irrevocably-damning proof that Eric is trying to kill them, they still don't just up sticks and head home, and it boggles the mind to such an extent that the film plays out like some kind of bizarre fever dream where all logic is thrown out the window.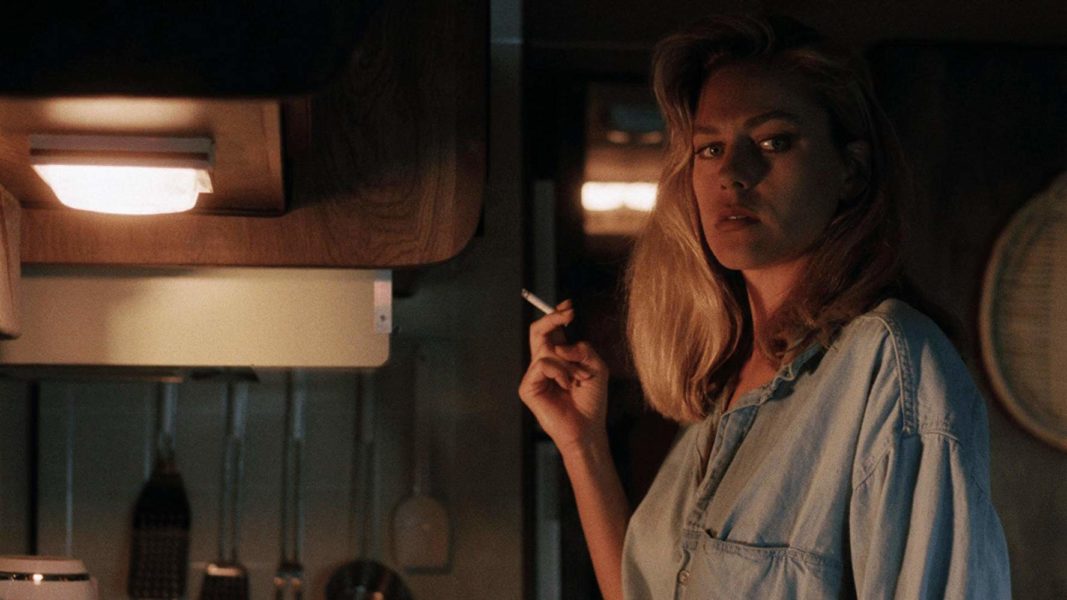 By the end of this, I was wrung out and in no mood to watch a documentary about the making of Mind Games, especially when I saw that "The Making of Mind Games" was a solid 20 minutes longer than the film it was about. However, when I finally mustered up the gusto to click play on it, I was glad I did. The feature-length doc has interviews with stars Caulfield, Norero and Weatherly, along with producer Mary Apick and director Yari. Albert, having died in 2006, is remembered by the cast and crew, and his work up to that point is also mentioned. Obviously, it is very positive.
It's a fantastic insight into making low-to-mid budget films at the end of the '80s, and the compromises and considerations required to make things happen. Everyone involved has detailed stories about key scenes, as well as some great remembrances of what the film meant in terms of their respective careers. As a matter of fact, you basically get little capsule histories for both Caulfield and Weatherly in their own words, and it's quite illuminating to see exactly how they came to be in this particular film at that particular time. You'll have to sit through Mind Games itself for it to make sense, but it's such a gem, it's 100% worth it.
There's also a half-hour retrospective featurette entitled "Bob Yari: Portrait of a Producer," focusing on the career of then-director and future producer of Crash and The Illusionist, among other films. It's a little glad-handing, and Yari basically gets to praise some really awful movies while not really owning up to the fact that he was grabbing lots of movies and throwing them into video stores to see what stuck, but it's not terrible.
The Blu-ray comes with a slipcover which makes it look like an aged and battered VHS rental copy, complete with "Mystery Thriller" sticker and TSR Video label, and there's a mini poster of the new cover art inside the case, as well. The cover art is reversible, allowing you to instead choose the original VHS cover art, which features the far-superior tag line "The dream vacation that became a nightmare," as opposed to "… The one game you should never play." Snooze.
In the end, Mind Games as a film is mediocre, verging on terrible, but Mind Games as a Blu-ray reissue is really worth it for fans of late '80s VHS cinema who want insight into how it was all done. Bravo, MVD Rewind. This is how it's done.
You can snag Mind Games and many other MVD Rewind titles from Diabolik.