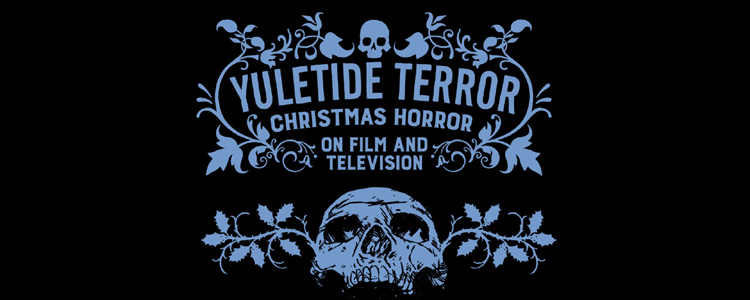 Canadian small-press publisher Spectacular Optical has started to become the go-to place for intriguing books on genre topics. Be it their look at '80s hysteria in Satanic Panic: Pop Cultural Paranoia in the 1980s, the first comprehensive analysis of director Jean Rollin in Lost Girls, or "the cool and inspiring kids of cult film and television" in Kid Power, Spectacular Optical is killing it.
The same can be said for their upcoming Yuletide Terror: Christmas Horror On Film And Television, due out just in time for the holiday season. A brief run-through of the essays included reads like a who's who of genre writing: "Ringing The Changes: Bob Clark's Black Christmas" by Nightmare USA's Stephen Thrower, Destroy All Movies' Zack Carlson's "Santa Vs. Satan: How Santa Conquered Hell and Mars to Create Holiday Horror," and "Our Best Tree Ever: When Experimentalists Tackle Yuletide Terror," by They Came From Within's Caelum Vatnsdal are just three of the pieces on tap for Yuletide Terror.
The Indiegogo campaign for Yuletide Terror runs through Monday, and we talked with Spectacular Optical's Kier-La Janisse about the book and how it came together.
Was there a particular film which put this project in motion?
I don't think there was a particular film, although it may have been the result of an article I wrote a few years ago about the BBC Ghost Story for Christmas series (which I've expanded for this book), and how I just loved the idea that for decades the BBC had Christmas programming that often involved ghost stories, and that it would be a tradition for people to watch these TV specials on Christmas Eve or Christmas Day.
And, of course, that got me to thinking about the wealth of Christmas horror films that exist, and how there really are a lot of them. Any previous books on the topic tended to be a bit more taxonomic, so I wanted to put together a book that kind of did both – there is a compendium section for quicker reference, but also over 20 chapters of insight into specific Christmas horror films, television specials or episodes, that all take a different approach to their topic: from historical, to psychoanalytical, to religious.
Why do you think holidays are so ripe for horror?
I think holidays in general are times of celebration and so it's tempting to subvert them with a horror story that contrasts that joyousness. For Christmas in particular – there are way more Christmas horror films than any other holiday – we are really hammered over the head with "the meaning of Christmas" and whether we are talking about the religious meaning (the birth of Jesus) or the secular meaning (a time of goodwill), most of us fail miserably at it, and so horror films just exaggerate that reality, and I think that's why they resonate with people so much.
Most of us have a Scrooge in our family (or we are the Scrooge ourselves), we hate the holiday's rampant commercialism, many get annoyed by the constant repetition of Christmas carols, and many people also don't have that warm and fuzzy concept of 'family' that holidays tend to celebrate – so there's a built-in irony to Christmas that makes it the perfect holiday to dissect in a horror context.
How does one assemble a collection of essays? Given that you've done a few at this point, is there a process for searching out writers, topics, and the like?
For all of our previous books we've done a combination of inviting people to contribute and having an open call where people can submit. They submit proposal and we weigh the strength of each proposal, and the diversity of the proposals overall, and try to come up with a balanced survey using the strongest proposals. I tend to be more of a creative editor and Paul [Corupe] is the more experienced copy-editor, so I can look at a piece and see whether its level of research, tone or approach works for me, and what might need more work in that regard, whereas Paul takes the first and last stab at copy-editing with me in the middle.
What brought about the short film you'll be releasing along with the book?
This is something I'm really excited about, because it's finally coming into fruition after being an idea born many years ago. I used to work at Fangoria with Sam Zmmerman, who now is a curator at Shudder. Back then, we had the idea to do a Christmas horror short and premiere it on the site on Christmas Eve, in the tradition of the British Christmas specials.
We immediately wanted Sean Hogan to do it, and we approached him about it and he was into it. We had figured out a way to monetize it with advertisements on the website, and our editor Chris Alexander was on board too – but then the infamous publisher of the magazine decided that he wanted any and all ad revenue to go straight into his pocket, and that if he wanted a short film on the website, "anyone would just do it for free because we're Fangoria." The guy had no vision and was always after the quick cash-grab, and so the idea just died on the spot.
So, when Paul and I got the idea to do this book, I immediately went to Sean and asked if he would be open to making the film still, as part of this book release. And I'm so glad it worked out that he was willing to do it! I know roughly what the story is about but I can't wait to see what he comes up with.
Spectacular Optical has ran Indiegogo campaigns for its three previous books. What does crowdfunding offer a small company, especially a publisher?
Crowdfunding is necessary for paying the printing bills, because otherwise you just can't raise the capital all at once, there just isn't the cash flow in a company as tiny as mine. So, crowdfunding allows us to raise the money and spread the word at the same time – which then lets people know to keep an eye out even beyond the campaign – but it also allows us to collaborate with other companies that have related merch, such as the Gremlins sweaters we are getting from Mondo and Blu Rays from Vinegar Syndrome for the campaign. As I mention in the campaign text, we work in a small economy of film enthusiasts, so any way we can support each other to keep us all going, the better.
Find out more about Yuletide Terror by visiting their indiegogo page here: https://www.indiegogo.com/projects/yuletide-terror-christmas-horror-on-film#/