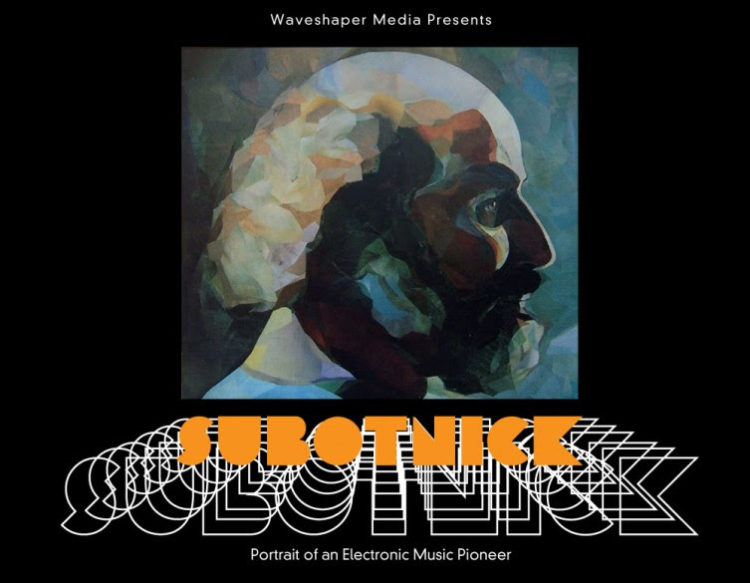 This year marks the 50th anniversary of Morton Subotnick's landmark electronic album, Silver Apples of the Moon. Thus, it makes perfect sense that Waveshaper Media – the duo of director Robert Fantinatto and musician Jason Amm – is putting together a documentary on the musician. Subotnick appeared in the company's last documentary, In Search of Wires, which is a film on the enduring appeal of the modular synthesizer, and from that relationship sprang their upcoming film, Subotnick. Waveshaper has an Indiegogo campaign going to raise the funds to finish the film, and so we spoke with the company's Jason Amm about the enduring legacy and importance of Subotnick's work.
What was the impetus behind starting the documentary?
Jason Amm: Morton was in I Dream of Wires – we interviewed him for that. So, we wanted to do a really big screening event in Berlin, when the film was about to be released, so we actually got Morton Subotnick to perform at that. He performed live, and did a little Q&A, and it was just an amazing night. We spent some time with him through that and he said that it was one of his favorite concerts – a very memorable concert. The place was packed and the audience was very enthusiastic and it got a ton of press, so he was very happy with the night.
I think I was following up with him – just sending him some of the press that we got for the event – so I was just in contact with him, here and there. Honestly, he's just so amazing to talk to. He just talks so much and he's so easy to get along with, and I just thought to myself, "We should do a documentary on him," so just spur of the moment, I was like, "By the way, has anybody proposed doing a documentary with you before?"
He was like, "No," and I asked if he'd be interested, and he agreed. It just sort of came about naturally. There wasn't a specific sort of timing: it just worked out that we were dealing with him and he seemed very happy with I Dream of Wires. I mean, it is working out perfectly, because right now is the 50th anniversary of his Silver Apples album, and he's about to premiere a new piece for the Lincoln Center, so it does seem to be perfect, timing-wise, but there was no real planning that made it that way.
Silver Apples of the Moon is such a seminal recording that there could almost be a film dedicated to it alone. Does it loom large in Subotnick?
It will definitely play an important role, I would say. We're going to be talking to the guy who commissioned that record. It was a landmark record, but not just that – it was a turning point in [Subotnick's] life, and really led to all of the opportunities that came for him afterward. We actually visited the location where he recorded that. It was like, an apartment that he lived in New York City. We spoke with him about that era and the place and the recording, right outside the studio where he recorded it, so that was pretty cool.
Is your work as an electronic musician under the Solvent guise what's drawn you to working with these documentaries? I saw that in addition to I Dream of Wires and Subotnick, Waveshaper is working on a Bob Moog film.
I'm not a filmmaker. I'm an electronic musician. I mean, I guess I am a film producer now, but the reason I came into I Dream of Wires was that [Fantinatto] was a local director, and he actually contacted me about doing the soundtrack for this film that he was working on about modular synthesizers. So, I agreed to that. It looked pretty interesting: he'd already interviewed Morton Subotnick by that point. Subotnick was kind of the only famous person that he had in the film at that point, but it seemed like a very promising film, and I was very interested in it.
So, I just kept sort of suggesting to him – because I'd been running a record label and releasing music for 20 years, so I had various contacts – that I could probably set up an interview with Carl Craig, who's a Detroit techno musician. Once I started getting some more popular people, then it opened doors to be able to get more people on board.
You know – if you say, "Oh, we've got Morton Subotnick interviewed, we've got Carl Craig," then it becomes easier to approach Vince Clarke [Erasure]. Then, at the end of it, we got people like Trent Reznor, and I never thought that we would be getting that kind of a name on board. I was just making suggestions like that to Robert, my partner, so much, I just finally proposed to him that I was putting so much work into this, maybe I could come on board officially, and he just said, "Yeah. For sure."
That's how I came into doing this. Working on I Dream of Wires was a great experience for me, and I feel like I found a new calling in life, and so we've just kept it up from there. I'm obsessed with electronic music, so these are the topics I'm drawn to doing documentaries about. We've kind of set up a little niche for ourselves, as a production company specializing in electronic music documentaries.
The synthesizer was derided for so many years, it's kind of amazing that now, musicians who play vintage electronic synthesizers and perform in that vein are being taken seriously – if not outright lauded – for the first time in what seems like decades.
It's true. That's the thing with the Morton Subotnick documentary: he's basically at a career peak right now. He's playing to huge audiences all over the world – and young audiences. This is really the time. We came into doing these documentaries right at the time that electronic music had people starting to recognize that it's not a gimmicky, lesser-than, form of music. It's something that people understand now deserves to be taken seriously, and Morton Subotnick is ground zero for that.
More information on Waveshaper Media can be found at their website.
Morton Subotnick performs at Lincoln Center in New York City on July 20-22. More information on the artist can be found at his website and tickets can be found at Lincoln Center's website.