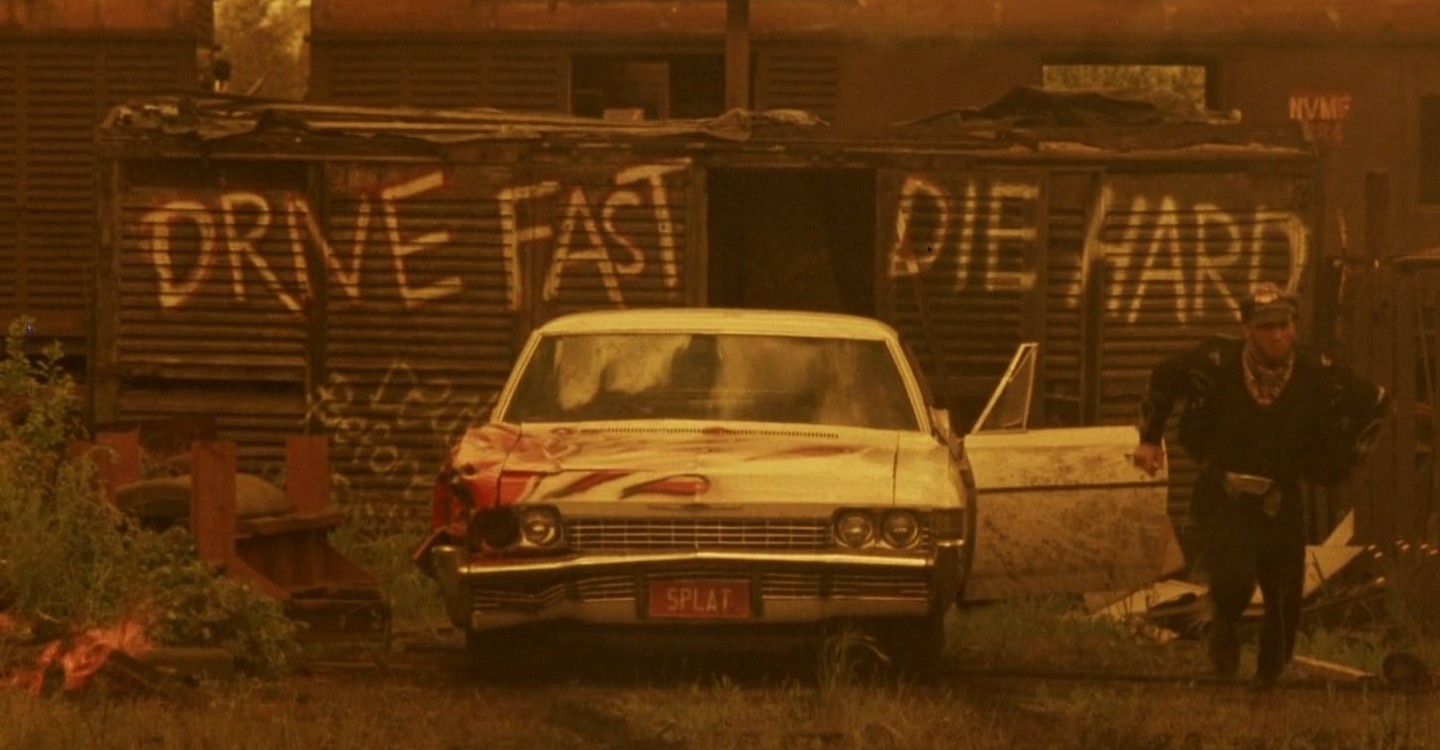 Podcast (horrorbusiness): Play in new window | Download
Subscribe: RSS
Greetings, and welcome back to Horror Business. We have one awesome episode in store for you guys. In this episode we're talking about 1986's Dead End Drive in and Neon Maniacs.
First and foremost, we want to give a shoutout to our sponsors over at Lehigh Valley Apparel Creations, the premiere screen-printing company of the Lehigh Valley. Chris Reject and his merry band of miscreants are ready to work with you to bring to life your vision of a t-shirt for your business, band, project, or whatever else it is you need represented by a shirt, sweater, pin, or coozy. Head on over to www.xlvacx.com to check them out. Also, thank you to our Patreon subscribers. Your support means the world to us and we are eternally grateful for that support. Thanks!
We start by briefly discussing what we've done lately involving horror. Liam talks about watching Z and a few of the films from director Brian Trenchard-Smith. Justin talks about watching the films Skyquake, Radius, The Neon Dead, Nine Miles Down, and We've Forgotten More Than We'll Ever Know.
Up first is Dead End Drive In. We begin with Liam explaining why he chose the film, why he enjoys it, and how he believes it should be a more widely known film. Justin talks about how the film feels almost like a dream, in that it had a subtle un-logic too it.
We discuss the film as a metaphor for both concentration camps and Palestine, and how the film has a very Australian look to it. We talk more about Trenchard-Smith's filmography, and how impressive the film looks for being made so cheaply. We talk about the weird paradox of the film never being widely received in America, despite being quite good and coming out at a time when America was obsessed with Australian culture.
The film's depiction of the phenomenon in Australia in which East Asians are singled out for a particularly venomous strain of racism and the history of racial violence in Australia. We touch upon the films use of the protagonist as a very effective audience surrogate and the paradox of despite the drive in being little more than an open prison, many of the people there are fine with it because the world outside of it is hopeless and uncertain.
Up next is Neon Maniacs. We give a brief summary of the film and talk about the weird '80s phenomenon of casting thirty-year old's as high school students. We talk about the similar dreamy feel that our previous film had. The films constantly running out of money as both its biggest handicap and its largest source of strength is discussed, with Liam describing it as "barely existing" and "finished?"
We talk about how the movie would have never made it unless Lloyd Kaufman had rescued it. The disjointed and uneven look of the film is touched upon, as is the somewhat murky lighting of the film. We have a disagreement on whether or not the film is meant to look corny. The constant conflict amongst the crew members is cited as another source of the films lack of coherence.
We talk at length about the film's lack of ending and how it feels like the filmmakers ran out of money for the fifth time, shrugged at one another, and called it a day. We talk about how despite the fact that the film is an absolute mess and the seams are showing a hundred percent it's too charming to hate. The film's similarity to Masters Of The Universe action figures is touched upon.
First and foremost, thank you for listening. Thank you to everyone and anyone who donated on Patreon, checked this episode out, or shared a tweet/shared a post on FB/gave us love by recommending us to someone. We love you forever for listening and donating. Any questions, comments, suggestions for movies and guests, or if you yourself want to join us for a movie viewing or even an episode, can be sent to [email protected]. We would love to hear from you! Thanks always to Justin Miller, Jacob Roberts, and Doug Tilley for their technical contributions and fliers, Mike Smaczylo for the shirts and fliers (you can check more of his work out at here), and also thanks to Josh Alvarez for the theme song, Chris, Brad, Alexis, and LVAC for the support and buttons (check them out at www.xlvacx.com and on Twitter), and a HUGE thank you to anyone who retweeted us or shared something on Facebook that we posted. Follow us on Twitter and Instagram at @thehorrorbiz666, like us on Facebook at facebook.com/thehorrorbiz66, check out our Spotify account at Cinepunx, and remember to rate, review, and subscribe to us on ITunes. In fact, if you write us a review, email us with your mailing address and we'll send you some free pins and stickers!  Check out www.cinepunx.com for more info on some of our other podcasts, some ultra stylish Cinepunx related merchandise, and how you can donate to our Patreon! Until next time…thanks!