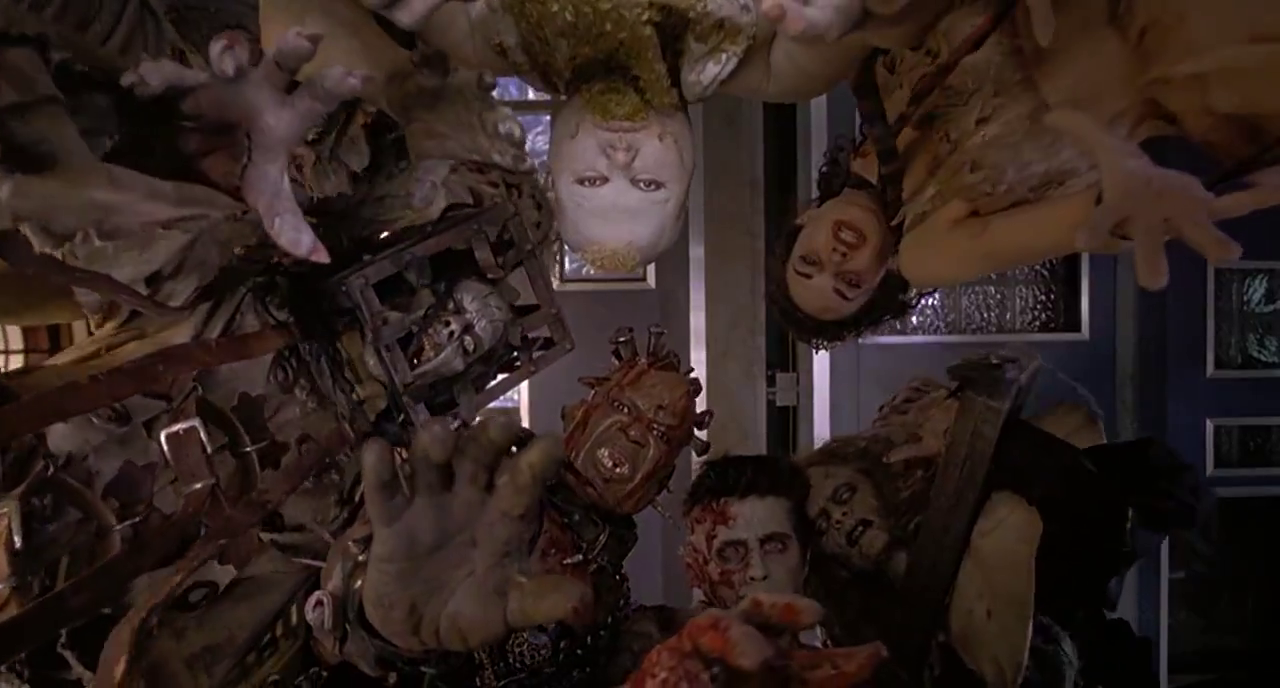 Podcast (horrorbusiness): Play in new window | Download
Subscribe: RSS
Greetings, and welcome back to Horror Business. We have one awesome episode in store for you guys. This week we're talking about 1999's House On Haunted Hill and 2001's Thirteen Ghosts.
First and foremost, we want to give a shoutout to our sponsors over at Lehigh Valley Apparel Creations, the premiere screen-printing company of the Lehigh Valley. Chris Reject and his merry band of miscreants are ready to work with you to bring to life your vision of a t-shirt for your business, band, project, or whatever else it is you need represented by a shirt, sweater, pin, or koozie. Head on over to www.xlvacx.com to check them out. Also, thank you to our Patreon subscribers. Your support means the world to us and we are eternally grateful for that support. Thanks!
We start by briefly discussing what we've done lately involving horror. Liam talks about rewatching the original House On Haunted Hill. Justin talks about watching Penny Dreadful: City Of Angels, Into The Night, and the Shudder exclusive film Z.
Up first is House On Haunted Hill.  We talk about our initial experiences with the film, and how it kind of got swept under the rug due to being released the same year as several other huge blockbusters. We briefly talk about the history of Dark Castle Films.
We touch upon the idea of the film having several aspects of early 2000s horror films that eventually became beat to death and cliched but is still effective. We talk about some of the strengths and weaknesses of the film, including the more bizarre imagery, the operating theatre scene, and some of the camera techniques, along with Chris Kattan and the lack of relatable characters.
Liam talks about the films failure to honor the original films spirit of pure campiness. We talk at length about the films CGI-heavy climax and the unearned appearance of Kattan's ghosts at the end. The heavy influence of Jacob's Ladder is discussed, and Justin has a dramatic realization that the aliens in Fire In The Sky were steampunk.
We talk about the mid-90s obsession with a dirty and old aesthetic when it came to making things scary. We continue to disagree about the dusty CGI in the climax. We conclude by agreeing that the movie overall is a fun watch despite its flaws.
Up next is Thirteen Ghosts. We open up by giving a general summary of the film. We begin by giving a general summary of the film, and Justin posits that despite being a weak film overall the film actually has some interesting mythos behind it, although Justin admits the ridiculousness of ghosts being afraid of Latin for some reason.
The films lack of distinction due to the house being made of glass is touched upon, as is the weak plot device of there being goggles that allow the viewer to see the ghosts. We talk about how much of the energy of the production of the film seems to have gone into the design of the ghosts, and how the editing of the film is distracting in how fast it is.
We touch upon how the remake fails to translate the theatrical gimmick of the original film. Justin argues that if Matthew Lillard's character was transplanted to House On Haunted Hill it would make way more sense for the ending of a ghost saving the survivors.
Liam defends the presence of Rah Digga in the film, and we hate on the little kid in the film. Liam laments the fact that the film had such a low bar to hit in being a remake, but it instead decided to "extreme" the film up and we conclude that the film is largely "unfun".
Thank you to everyone and anyone who donated on Patreon, checked this episode out, or shared a tweet/shared a post on FB/gave us love by recommending us to someone. We love you forever for listening and donating. Any questions, comments, suggestions for movies and guests, or if you yourself want to join us for a movie viewing or even an episode, can be sent to [email protected]. We would love to hear from you! Thanks always to Justin Miller, Jacob Roberts, and Doug Tilley for their technical contributions and fliers, Mike Smaczylo for the shirts and fliers (you can check more of his work out at here), and also thanks to Josh Alvarez for the theme song, Chris, Brad, Alexis, and LVAC for the support and buttons (check them out at www.xlvacx.com and on Twitter), and a HUGE thank you to anyone who retweeted us or shared something on Facebook that we posted. Follow us on Twitter and Instagram at @thehorrorbiz666, like us on Facebook at facebook.com/thehorrorbiz666, check out our Spotify account at Cinepunx, and remember to rate, review, and subscribe to us on iTunes. In fact, if you write us a review, email us with your mailing address and we'll send you some free pins and stickers!  Check out www.cinepunx.com for more info on some of our other podcasts, some ultra stylish Cinepunx related merchandise, and how you can donate to our Patreon! Until next time…thanks!