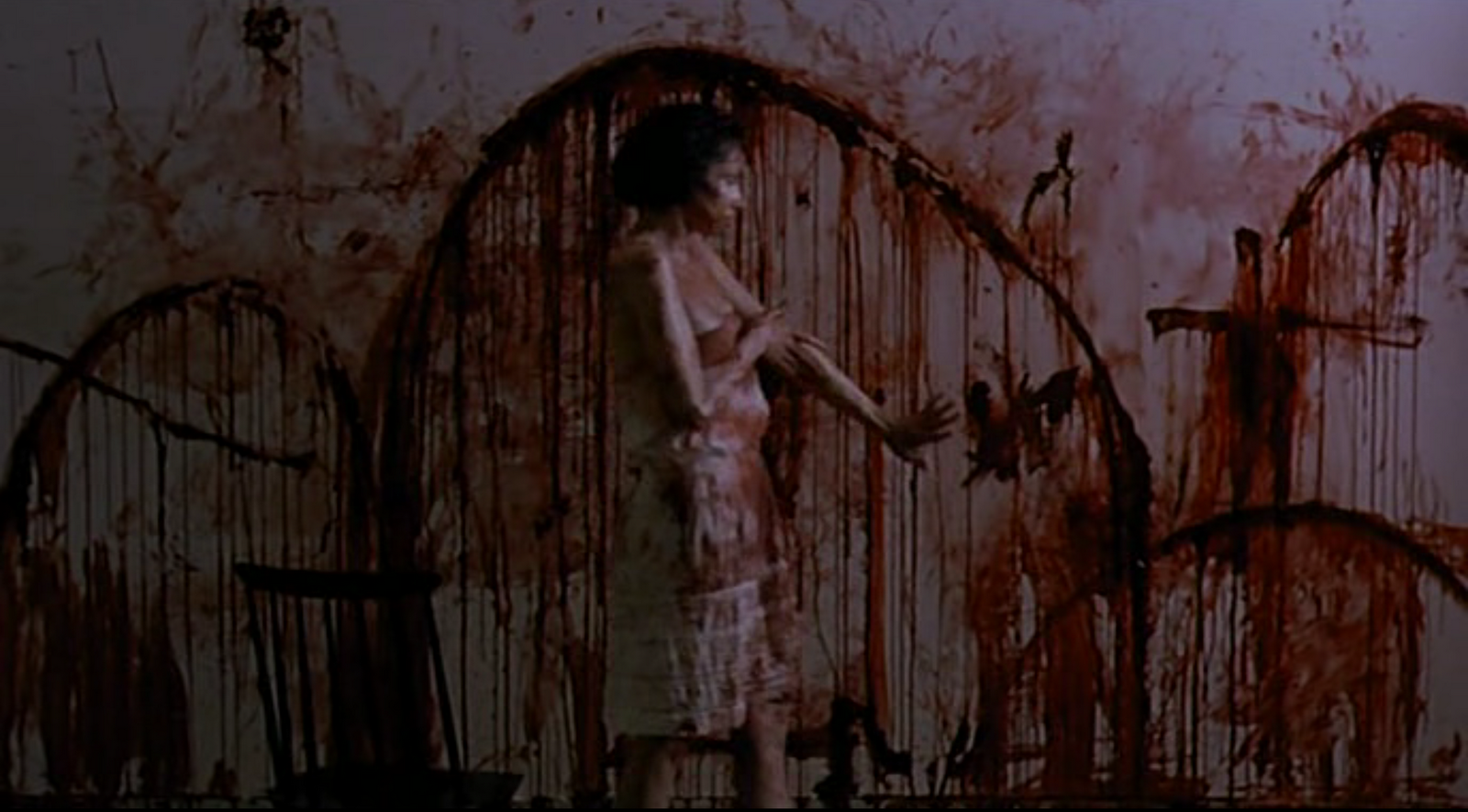 Podcast (horrorbusiness): Play in new window | Download
Subscribe: RSS
Greetings, and welcome back to Horror Business. We have one awesome episode in store for you guys, and a very special guest! On this episode, in honor of February being Women In Horror Month, we're discussing two films directed by women: 1986's Sorority House Massacre and 2001's Trouble Every Day. And, to make it even more special, we're joined by Al White, co-host of the Geeks podcast on the We Are Tessellate network and the writer/director of a film we both enjoyed, 2018's Starfish.
First and foremost we want to give a shoutout to our sponsors over at Lehigh Valley Apparel Creations, the premiere screen-printing company of the Lehigh Valley. Chris Reject and his merry band of miscreants are ready to work with you to bring to life your vision of a t-shirt for your business, band, project, or whatever else it is you need represented by a shirt, sweater, pin, or coozy. Head on over to www.xlvacx.com to check them out. Also, thank you to our Patreon subscribers. Your support means the world to us and we are eternally grateful for that support. Thanks!
We start by talking about what we've seen or done lately in the field of horror. Al discusses being on a huge slasher kick and watching Student Bodies, The Funhouse, Bloody Birthday, and Mother's Day, as well as playing the newly released Resident Evil 2. Liam talks about reading Grady Hendrix's new book We Sold Our Souls. Justin talks about the TV series The Passage, as well as the series Project: Blue Book, and the YouTube documentary series Hellier. We also talk about the upcoming horror documentary Horror Noire, available on Shudder.
We begin by talking about Sorority House Massacre. Al begins by talking about how he initially enjoyed the movie upon first seeing it, and that despite it being a technically bad movie, it still has a certain weird charm.
We talk about the film heavily lifting plot elements from both Halloween and A Nightmare On Elm St. Liam talks about how the killer in the movie isn't scary or engaging in the least, and this movie suffers from not only having an interesting killer but also lacking actual developed characters. We also talk about how the movies strongest element (the strange dream sequences) are the elements the film uses the least.
Justin talks about how it was something of a disappointing movie because it becomes extremely predictable once the film starts to hit the same beats as Halloween.
There's more discussion on the weak portrayal of the killer, and Al talks about how at the very least the film avoids giving the female characters "cartoon" personalities and seemed like actual real people but nonetheless the lead is the only character who only really stands out.
Some of the film's lackluster attempts to recreate certain elements of Halloween and how they fall woefully short are dissected. The lack of "leering"/the male gaze and the strange contextual nudity in the movie is discussed.
Next up is 2001's Trouble Every Day. Al discusses his first experience of the movie being due to him being a fan of Tindersticks (who do the soundtrack) as well as Vincent Gallo's Buffalo '66 being his all time favorite film. Justin cops to not being a fan of Vincent Gallo, and we discuss the somewhat controversial nature of Gallo's career.
Al talks about how he enjoys the ambiguous nature of the film and how the wife in this film is the most fascinating character, as well as he personally enjoys movies that are "love stories that exist to the detriment of the characters." We talk about how the movie avoids the beats and tropes of horror movies, and how aside from the cannibalistic element the movie is more of an art film than a "horror" film. Justin talks about how the attack scene in the movie was extremely graphic and unsettling, as well as comparing the film in a broad sense to Don't Look Now.
The nature of addiction and obsession is discussed, as well as the way loved ones of addicts often justify the addiction. The subgenre of "French Extremity" in horror films is touched upon. The idea of two moods existing at the same time the same scene for an actor is briefly discussed, as is some of the cinematography of the film.
The intensity of the ending, Gallo's seemingly apathetic performance at times, and the film's technical details on the nature of Gallo's behavior being it's weakest element are discussed.
As always thanks to everyone and anyone who donated on Patreon, checked this episode out, or shared a tweet/shared a post on FB/gave us love by recommending us to someone. We love you forever for listening. A huge thanks you to Al for joining us to talk about these movies. Al can be found on IG and Twitter at @mralwhite, and info on his upcoming tour of his film Starfish can be found at www.starfishmixtape.com. Go follow him and if he's in your city on tour do yourself a favor and go see Starfish, and if you're a fan of nerd culture check out his podcast Geeks. Any questions, comments, suggestions for movies and guests, or if you yourself want to join us for a movie viewing or even an episode, can be sent to [email protected]. We would love to hear from you! Thanks always to Justin Miller and Doug Tilley for their technical contributions and fliers, Mike Smaczylo for the shirts and fliers (you can check more of his work out at here), and also thanks to Josh Alvarez for the theme song, Chris, Brad, Alexis, and LVAC for the support and buttons (check them out at www.xlvacx.com), and a HUGE thank you to anyone who retweeted us or shared something on Facebook that we posted. Follow us on Twitter and Instagram at @thehorrorbiz666, like us on Facebook at facebook.com/thehorrorbiz66, and remember to rate, review, and subscribe to us on ITunes. In fact, if you write us a review, email us with your mailing address and we'll send you some free pins and stickers! Check out www.cinepunx.com for more info on some of our other podcasts, some ultra stylish Cinepunx related merchandise, and how you can donate to our Patreon! Until next time…thanks!